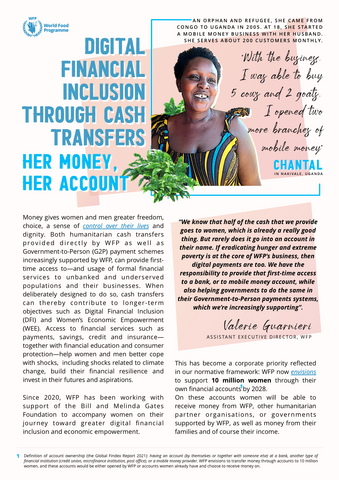 WFP's Cash-Based Transfers have increased in scale and reach over the past years representing 35-40 percent of the global WFP portfolio in any given year. In 2022, WFP sent US$3.3 billion to 56 million people (52 percent women and girls) in 72 countries. In addition, we supported 65 countries in setting up or scaling up their national cash programmes and Government-to-People payments.
However, the combination of conflict, climate change, and the COVID-19 pandemic have devastated people's lives, livelihoods, and national economies.  Combined with a global food crisis, women continue to bear the brunt. Our work needs to be more efficient and impactful than ever. Unleashing women's economic power is our best bet to achieve gender equality and lift millions out of poverty and food insecurity. Evidence shows that when women are economically empowered, everyone benefits, and economies grow. 
WFP can provide first-time access to bank or mobile money accounts owned by women and can help governments do the same. When women have accounts in their names and are confident using them, they can be financially resilient, save or access loans, and build a future for themselves and their family. It means that families and entire societies flourish - women can break the cycle of poverty and hunger, truly saving and changing lives.
Listen to Thérèse's story in the Central African Republic on how she started a savings group with other women in her community, to Maylun on her experience receiving mobile money in Somalia and to Valerie Guarnieri-  WFP Assistant Executive Director- on how cash operations are serving women.