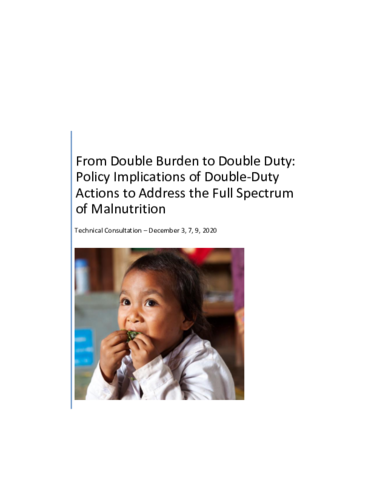 This publication provides a summary of a technical consultation on the double burden of malnutrition, discussing policy implications and double-duty actions to be taken.
This publication by the WHO, in partnership with the GFF, IFPRI and the City University of London provides a summary of a three-day technical consultation on the double burden of malnutrition and what double duty actions are required to address the full spectrum of malnutrition.
The publication reflects on the identified double duty actions, including school feeding, and discusses the need for monitoring and data collection to gather evidence on the effectiveness of these double duty action interventions.
It furthermore covers how to integrate them into new and existing policies. Four sectors, including health and education, have been identified as key entry points to best integrate and operationalize the double duty actions.
Additionally, it touches on the implications of COVID-19 on double duty action integration.
All participants of the consultation agreed on actions and commitments in order to implement and strengthen each double action duty intervention.