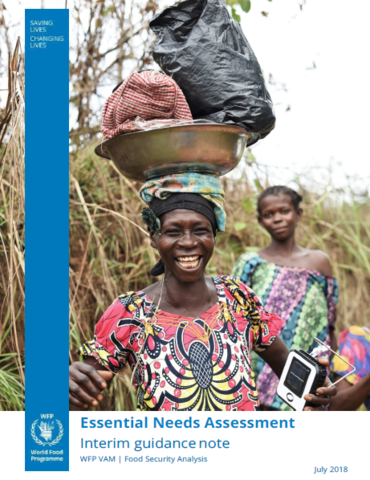 Essential Needs under International Humanitarian and Human Rights Law and Humanitarian Sphere Standards include the rights of crisis-affected persons to food, drinking water, soap, clothing, shelter, life-saving medical care, essential sanitation, contagious disease prevention and education. Food is a central component of these Essential Needs, towards which households often dedicate the largest share of their resources. Nevertheless, the other needs interact with food security and to truly understand food security, analysts need to adopt a holistic approach, which factors in the interactions and relationships with the other goods, assets, opportunities and services required to meet Essential Needs.
WFP's "Essential Needs Assessments" workstream aligns with the broader Sustainable Development Goals agenda and with WFP's 2017-2021 Strategic Plan according to which WFP seeks to more pro-actively pursue a life-changing strategy alongside its life-saving focus. The Country Strategic Plans (CSPs), too, represent an opportunity for shifting the focus from purely meeting basic food needs to addressing food security in a more holistic way by looking at it through an Essential Needs lens. Building on WFP's traditional approaches, existing reference papers, and studies conducted by WFP and partners on Essential Needs in various countries since 2016, three inter-linked Essential Needs Assessment guidance documents were produced to assess people's capacity to meet Essential Needs:
The Essential Needs Assessment interim guidance note guides the reader through the appropriate analytical approaches to profile those who cannot meet their Essential Needs and to monitor outcomes of multi-sectoral programmes;
the Minimum Expenditure Basket interim guidance note outlines methodologies for defining a Minimum Expenditure Basket against which to assess economic vulnerability and determine transfer values; and
the Supply Assessment of goods and services for essential needs interim guidance note defines if and to what extent markets are able to satisfy Essential Needs.