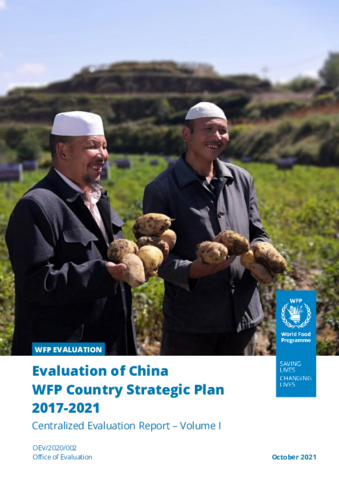 The evaluation was commissioned by the WFP independent Office of Evaluation to provide evaluative evidence for accountability and learning to inform the design of the next WFP CSP in China. It covers WFP activities from 2017 to 2020.
Conducted between August 2020 and April 2021, the evaluation assessed WFP's strategic positioning and role and the extent to which WFP has made the strategic shift expected by the CSP; WFP's contributions to strategic outcomes; efficiency and factors that explain WFP performance.
The evaluation concluded that:
Overall, the CSP is aligned with the direction of the government and has remained a relevant approach to supporting the government to meet the food and nutrition needs of the country.
Looking forward, more emphasis will be required on evidencing the results of the domestic pilot projects to demonstrate their added value for China as an entry point for possible WFP engagement on domestic issues. This would also help promote their upscaling within China and possible dissemination abroad through SSC.
Technical advice provided through the Centre of Excellence could be better adapted to the specific context of recipient countries.
The current financial model for the CSP needs stabilizing through a more strategic funding approach for the CSP priorities.
Mutually satisfactory procedures for WFP to access official development assistance funding from China still need to be confirmed.
| Document | File |
| --- | --- |
| Summary evaluation report | |
| Rapport succint de l'évaluation | |
| Informe resumido de la evaluación | |
| Summary evaluation report (Arabic) | |
| Management response | |
| Réponse de la direction | |
| Respuesta de la dirección | |
| Management response (Arabic) | |
| Post-hoc quality assessment | |
| Terms of reference | |