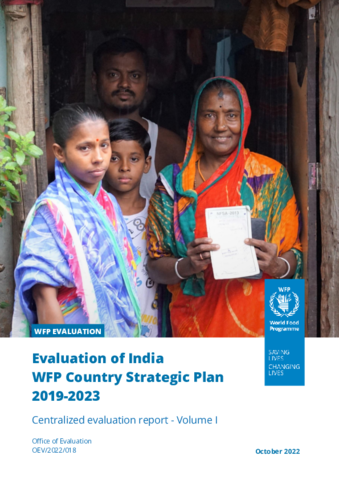 The evaluation was commissioned by the independent Office of Evaluation to provide evaluative evidence for accountability and learning to inform the design of the next WFP country strategic plan (CSP) in India. The evaluation covers WFP activities implemented from 2019 to November 2021 as implemented both at the national level and in the states of Kerala, Odisha, Rajasthan, Uttarakhand and Uttar Pradesh.
Conducted between August 2021 and April 2022, the evaluation examined WFP's strategic positioning and the extent to which it has made the strategic shift expected by the CSP; WFP's contributions to strategic outcomes; and efficiency and factors explaining performance.
It concluded that:
WFP maintained its strategic relevance and demonstrated flexibility in responding to emerging needs, especially during the COVID-19 pandemic. Maintaining close links with government counterparts driven the CSP's strategic positioning, through technical assistance and capacity strengthening. Supporting the food-based safety net programmes' supply chain and systems was relevant and exploration of technology-based solutions could also be very appropriate at state governments levels.
Subject to the availability of resources, WFP's contribution in India can be further amplified by expanding engagement in areas emerging as priorities for governments, replicating successful interventions in new states where needs are high, and expanding WFP's support to evidence generation to more disaggregated levels of decision-making.
WFP has been successful in supporting the Government to make their programmes and systems more efficient and effective. It contributed to both the supply and demand for quality foods and addressed institutional challenges as well as capacity gaps. WFP also established the importance of rigorous evidence and evaluation and promoted knowledge exchanges between India and neighboring countries.
Further efforts to generate evidence would also support advocacy for more inclusive and gender-sensitive food-based safety net programmes delivery by government, unveiling challenges faced by disadvantaged groups in accessing their entitlements under government programmes. 
More targeted efforts to strengthen public policy around specific themes can amplify WFP's impacts on the ground and further galvanize support, including within the UN System, towards SDG 2. WFP can contribute further to national and state level outcomes by pro-actively sharing lessons learned, convening, and advocating for greater visibility of food security and nutrition challenges at the national and state.
Effective partnerships with Governments have been key to the CSP successes. Closer collaborations with certain governmental and non-governmental institutions offers potential avenues for addressing the needs for greater impact to better advance the SDG2 agenda and Leaving No-One Behind.
The country office has mobilised sufficient funds for the current level of operations in India, and active strategies to mobilize resources from new sources are appropriate and needed to further efforts.
| Document | File |
| --- | --- |
| Summary evaluation report | |
| Rapport succint | |
| Informe resumido | |
| Summary evaluation report (Arabic) | |
| Management response | |
| Réponse de la direction | |
| Respuesta de la dirección | |
| Management response (Arabic) | |
| Post-hoc quality assessment | |
| Terms of reference | |
| Summary terms of reference | |