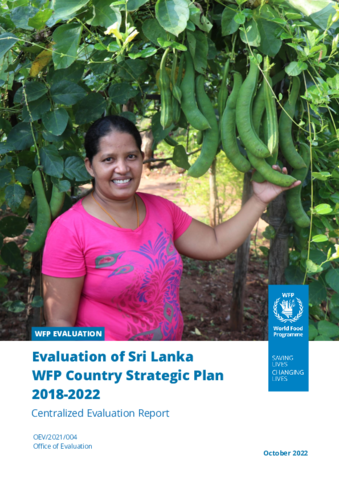 The evaluation was commissioned by the Independent Office of Evaluation to provide evaluative evidence for accountability and learning to inform the design of the next WFP country strategic plan (CSP) in Sri Lanka. It covers WFP activities implemented from 2018 to 2021.
The evaluation was conducted between August 2021 and May 2022 to assess WFP's strategic positioning and role and the extent to which WFP made the strategic shift expected by the CSP; WFP's contributions to strategic outcomes; efficiency and factors that explained WFP performance.
It concluded that:
The CSP was well aligned with national and UN priorities and demonstrated strong relationships with government.
WFP's shift to nutrition mainstreaming in all Strategic Outcomes and to country capacity strengthening was highly relevant given the risk of natural disasters, persistent high levels of undernutrition and the uncertain economic situation.
The performance of the CSP's strategic outcomes on nutrition and resilience were appreciated by stakeholders. However, WFP needs to narrow the CSP's strategic focus on its comparative advantages.
WFP was perceived by the Government and UN agencies, as proactive, responsive, and flexible. However, there is a need to balance ability to adapt and maintaining overall coherence and alignment with the CSP strategy.
While WFP's approach to targeting was good, it could not always serve some of the most vulnerable.
WFP's performance was on track in cross-cutting aspects such as protection and accountability to affected populations. There were good strides forward in mainstreaming gender equality and women's empowerment, but more attention was needed to achieve the CSP gender goals.  
The sustainability of Strategic Outcomes' achievements remains uncertain mainly because of the short-term nature of projects, funding uncertainties, lack of strategic tie-ups with other development partners and the civil society.
Sustained collaboration between WFP and other UN partners is needed to build an evidence-base and support momentum for nutrition, social protection, school feeding and disaster management and preparedness.
| Document | File |
| --- | --- |
| Summary evaluation report | |
| Rapport succint | |
| Informe resumido | |
| Summary evaluation report (Arabic) | |
| Management response | |
| Réponse de la direction | |
| Respuesta de la dirección | |
| Management response (Arabic) | |
| Post-hoc quality assessment | |
| Summary terms of reference | |