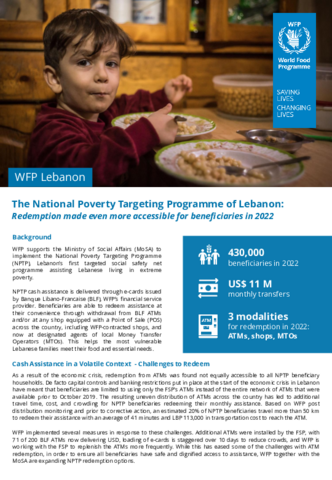 The WFP Lebanon – Expanding Redemption Options for the National Poverty Targeting Programme in 2022 provides an overview of how WFP increased accessibility and redemption options for Lebanese benefitting from the programme.
To enhance the redemption process of beneficiaries assisted through the National Poverty Targeting Programme (NPTP) in areas with limited or overcrowded ATMs, WFP and the Ministry of Social Affairs are expanding the redemption points for NPTP assistance to include designated agents of the local Money Transfer Operators (MTOs) - BoB Finance.
Through this modality, transport time and cost for beneficiaries to reach the nearest redemption point from their dwellings is expected to reduce by half. In areas with crowded ATMs, redemption at MTOs is also expected to significantly reduce crowds during loading days.