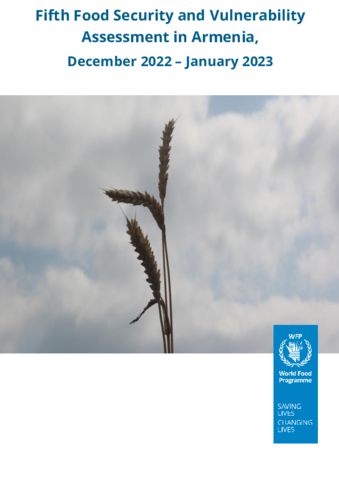 The fifth Food Security and Vulnerability assessment was carried out from December 2022 to January 2023 to evaluate food security levels in the light of anticipated increase of expenditures related to winterization
The results of the FSVA5 showed that 30 percent of households were food insecure in Armenia. An additional 44 percent of surveyed households was marginally food secure suggesting that more than half of the population are at risk of becoming food insecure in case of a new shock or prolonged crisis. Only 1 out of 5 households (20 percent) in Armenia were categorized as food secure.  
The food insecurity levels were significantly higher in rural (34 percent) and other urban areas (31percent) compared to Yerevan (24 percent). In regions the highest rate of food insecurity was seen in Gegharkunik (39 percent), Lori (39 percent), Shirak (36 percent) and Tavush (36 percent). The lowest rates were revealed in Yerevan (24 percent), Armavir (27 percent) and Syunik (27 percent). The analysis of food security levels per demographic characteristics showed that female-headed households were more food insecure compared to male-headed. Household heads (HH head) having a lower level of education were more prone to food insecurity. Other factors found to negatively influence food security in Armenia include household size, number of children and composition of only elderly households.