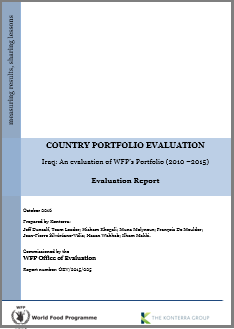 This country portfolio evaluation covered WFP's portfolio of seven operations in Iraq from 2010 to 2015, and the 2010–2014 country strategy. It assessed WFP's alignment and strategic positioning; factors and quality of strategic decision-making; and the performance and results of the portfolio as a whole.
Overall, WFP interventions during the evaluation period were well aligned with emergency humanitarian needs, and the policies and objectives of the Government of Iraq and donors in addressing ongoing social safety net and development needs.
While performance was found to be mixed, with social safety net activities being placed on hold or falling short of targets, WFP did use its comparative advantage and large logistics expertise to support a significant number of internally displaced people across a broad geographical area. It positioned itself strategically alongside its United Nations counterparts, both responding to immediate humanitarian needs and promoting and introducing more flexible support modalities in a challenging operational context.
The evaluation identifies opportunities and challenges and makes seven recommendations focusing on a new country strategy that acknowledges both the protracted nature of the conflict in Iraq and the opportunity for longer-term support for government-led programmes, and is informed by a solid evidence base with improved targeting and programme design.
| Document | File |
| --- | --- |
| Evaluation Report | |
| Volume II - Annexes | |
| Evaluation Brief | |
| Summary Report | |
| Rapport Succint | |
| Informe Resumido | |
| Summary Report - Arabic | |
| Terms of Reference | |
| Summary Terms of Reference | |
| Management Response to the Summary Report | |
| Réponse de la direction du rapport succinct | |
| Respuesta de la dirección a las recomendaciones | |
| Management Response - Arabic | |