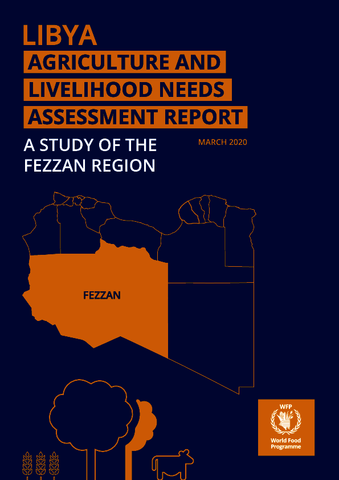 In order to understand the main impacts of the conflict on the agricultural sector and the people relying on it, WFP conducted an agriculture and livelihood needs assessment in the southern Fezzan region of Libya.
This region remains extremely important for the country's agricultural production and, due to its geographical position, hosts many migrants and Internally Displaced Persons (IDPs), many of whom are employed in this sector.
This study was conducted over a three-month period (December 2019 - February 2020) and consisted of data collection, analysis and report writing. An independent international consultant was recruited to lead the assessment, working remotely with the direct support of the local Service Provider (SP), Fezzan Libya Organization (FLO). The SP was responsible for gathering field data. A mix of primary and secondary data collection methods were used in this assessment, including semi-structured interviews at the Household (HH) level, Focus Group Discussions (FGDs), Key Informant Interviews (KIIs), Face-to-Face Interviews, as well as a comprehensive desk review of existing information. Farmers, IDPs, migrants, women involved in agriculture, traders, representatives of the Ministry of Agriculture (MoA), farmers' associations and food commodity and agricultural inputs vendors were interviewed during the assessment process. All six main administrative districts or Mantikas in the Fezzan region (Al-Jufra, Ghat, Murzuq, Sebha, Ubari, and Wadi Ash Shati) were assessed during the study.