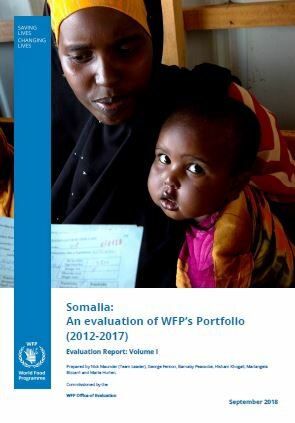 The country portfolio evaluation covered all WFP activities in Somalia from 2012 to 2017.
It assessed WFP's strategic positioning, the quality of and factors influencing WFP's decision making, and the performance and results of portfolio activities. The evaluation provided evidence to inform the design of the new WFP Somalia interim country strategic plan.
The evaluation found that WFP strategically positioned itself well for responding in areas of its comparative advantage – emergency response, common services and preparedness activities – and nutrition. WFP's portfolio was broadly relevant to beneficiaries' needs and coherent with national policies at both the federal and state levels. Collaboration and alignment among United Nations agencies, however, were challenging given the goal of achieving integrated humanitarian, development and political objectives. Important opportunities for gender and protection analysis were missed. Limited attention was given to the longer-term needs of urban internally displaced persons. Country office leadership based strategic decisions appropriately on the national context, the food security situation, WFP's mandate, national policy frameworks, donor conditionalities and changing governance structures. Strong safeguards were established against fraud and corruption, but a fine balance was required between protecting reputational risk and maintaining operational flexibility.
Several important lessons and good practices from the Somalia portfolio deserve wider consideration and dissemination throughout WFP, including the improved timeliness of assistance provision associated with the introduction and extensive use of the  Global Commodity Management Facility; the decision to pre-register potential beneficiaries in WFP's corporate beneficiary and transfer management system, SCOPE, as a preparedness measure; the successful use of cash rather than voucher transfers at scale; the feasibility of establishing a single biometric registry at scale, piloted through SCOPE; and the establishment of strategic partnerships with selected non-governmental organizations in specific thematic areas.
The evaluation makes eight recommendations for WFP: to provide technical leadership in developing and piloting a national safety net programme; to develop a long-term approach for assisting internally displaced persons; to shift the primary objective of food assistance for assets or training to the creation of productive assets and livelihoods; to strengthen the integration of gender and protection considerations in programming; to enhance the quality of targeting; to engage in broader inter-agency dialogue on approaches to capacity building; to improve implementation of the health and nutrition strategy; and to reorient the provision of school meals to an educational objective.
| Document | File |
| --- | --- |
| Evaluation report: volume I | |
| Evaluation report: volume II - annexes | |
| Post-hoc quality assessment | |
| Evaluation brief | |
| Summary evaluation report | |
| Rapport succint | |
| Informe resumido | |
| Summary evaluation report (arabic) | |
| Management response to summary report | |
| Réponse de la direction | |
| Respuesta de la dirección | |
| Management Response to Summary Report (Arabic) | |
| Terms of reference | |