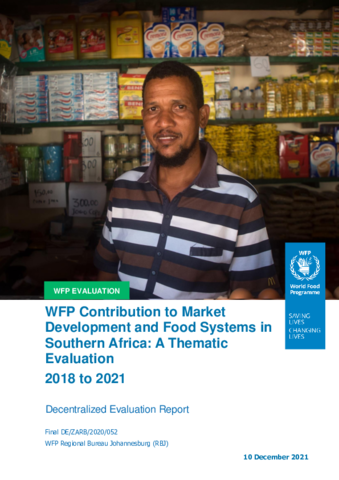 The WFP Regional Bureau Johannesburg commissioned this decentralized thematic evaluation, which was conducted by Forcier Consulting
The evaluation which covered six countries (Lesotho, Madagascar, Malawi, Mozambique, Tanzania, and Zimbabwe) focused on WFP's contribution to market development and food systems in Southern Africa and covered the 2018 to 2021. Data collection took place from the 8th of May to the 30th of June 2021.
The main objective of this evaluation was to fill an evidence gap about how WFP contributes to market development and food system strengthening, what lessons WFP staff are learning, and, most importantly, how these lessons can enhance such contributions. The evaluation also made recommendations on how to better integrate market development activities (MDAs) into WFP CSPs, programme designs, delivery mechanisms, and performance monitoring systems and frameworks. Since previous evaluations were based on performance and monitoring systems that lacked specific objectives, indicators, and targets relevant to this area of WFP work, the evaluation serves a dual purpose of accountability and learning, with a greater emphasis on the latter. It aimed to assess the relevance, effectiveness, impact, and sustainability of MDAs implemented as part of CBT and related interventions. The overarching evaluation question was: "What is the WFP's contribution to market development and food systems, and how can such contribution be enhanced to contribute to Zero Hunger?"
Some of the key evaluation findings included:
There are no corporate objectives, targets, or indicators for MDAs. WFP headquarters has prepared guidance materials for design, implementation and monitoring of MDAs. WFP, the government, and partners must expand their capacity to contribute to market development.
WFP MDAs designed and implemented in the study countries were largely relevant to the needs of those assisted. However unrestricted cash MDAs are yet to be developed. Partnerships, particularly with governments, have not been used effectively to implement MDAs.
The use of WFP multisectoral assessments varies by country. These assessments' recommendations are not usually comprehensive, and they do not address gender, disability, and other inclusion issues. Gender dimensions in MDAs have been mostly overlooked in all countries evaluated.
Smallholder farmer support was critical in all countries to address low production, post-harvest losses, loan availability, and fair markets.
According to the findings, WFP lacks a specific results framework for MDA activities. However, WFP Corporate Results Framework indicators for capacity strengthening are insufficient to identify WFP contributions to market development in each country.
From 2018 to 2021, MDA outputs and outcomes varied between countries. The achievements are not extensively recorded since they are part of the wider CBTs and supply chain interventions.
WFP assistance improved retailers' businesses and financial security by increasing demand for products and improving their capacity to supply that demand. WFP financial support increased business and performance in Lesotho and Zimbabwe.
Retailers benefited from increased demand and competitiveness because of WFP financial assistance in Mozambique. The Tanzania Railway Corporation, marine services, and transporters, as well as smallholder agricultural market support, are expected to help reduce market inefficiencies in Tanzania.
In Lesotho (linking retailers to millers and retailers' buying clubs), Tanzania (supply chain capacity strengthening activities in the Lake Victoria corridor), and Mozambique, there is evidence that some MDA benefits are or will be sustainable beyond WFP assistance (RIAB and associated retailer trainings). In other instances, including Madagascar, Malawi, and Zimbabwe, the evidence is insufficient.
Key recommendations from the evaluation included:
WFP Markets and Supply Chain divisions should develop a theory of change for market development that can guide regional bureau and country offices in conceptualizing, designing, implementing, monitoring, and evaluating MDAs.
Consolidate and strengthen frameworks and tools for designing and implementing MDAs within a broader food systems approach.
Enhance WFP market assessments and retailer performance tracking and improve MDA monitoring and evaluation, and retail engagement measurement.
WFP needs to develop country retailer (and other supply chain actors) market engagement strategies to help WFP contribute to market development.
To address the capacity gaps to contribute to market development in various contexts, relevant institutions should assess the participation of women in retail, supply chain, and logistics.
Encourage cross-functional collaboration between units such as CBT, VAM, M&E, Gender, Nutrition, and Supply Chain to achieve programmatic outcomes.
Strengthen multisectoral partnerships in MDA design and implementation.
Enhance retail and other market partnerships. Acknowledge retailers/traders as partners and involve them in CBT and MDA design.
Advocate for multi-year MDA funding. Document and share MDA results with donors, governments, and partners.
WFP should use QuIP methodology for (i) exploratory or formative evaluations, (ii) identifying change drivers, and (iii) large evaluations on a budget.
| Document | File |
| --- | --- |
| Summary evaluation report | |
| Management response | |
| Country summary - Lesotho | |
| Country summary - Madagascar | |
| Country summary - Malawi | |
| Country summary - Mozambique | |
| Country summary - Tanzania | |
| Country sunmmary -Zimbabwe | |
| Terms of reference | |
| Post-hoc quality assessment | |