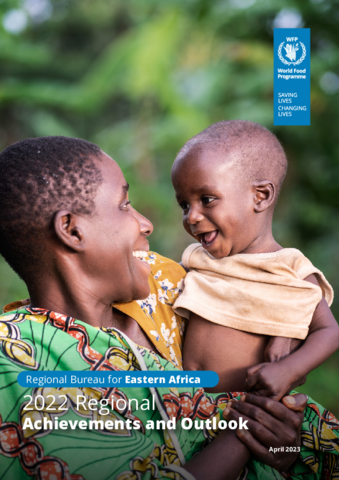 This fourth edition of the WFP Eastern Africa Regional Achievements reflects WFP's capacities in numerous domains, among them emergency preparedness and response, food system, gender, nutrition, school-based programming, social protection, supply chain, innovation and digitalization, staff wellness, environment, knowledge management, and evidence generation. This publication additionally celebrates our work and the difference we make.
The World Food Programme (WFP) Regional Bureau for Eastern Africa oversees and provides support towards the life-saving and life-changing operations in nine country offices, namely Kenya, Burundi, Sudan, South Sudan, Ethiopia, Uganda, Rwanda, Djibouti, and Somalia. WFP's activities are articulated in the Country's Strategic Plans linked to host countries' National Development Plans and Frameworks, and Sustainable Development Goals (SDGs).
WFP's regional, national, local, and community level footprint and expertise have continually enabled WFP to interact with governments and communities to address food security and nutrition challenges in the Eastern Africa region. Furthermore, WFP's operational capacity, agility, and reliable systems have supported the delivery of humanitarian assistance, particularly in the most difficult contexts characterized by remoteness, weak infrastructure, and insecurity.
In 2022, the Region was recovering from the COVID-19 pandemic, albeit with increased conflict, localised violence, displacement of people, and immense climate-related shocks which left 82 million people food insecure, the highest number on record. WFP worked with host governments, the humanitarian community, other UN Agencies, international finance institutions, academia, and 358 cooperating partners to maximize an efficient response to challenges in the region. Through these partnerships, WFP responded on a massive scale, reaching 40 million people (46 percent female) – a historic high.
WFP Burundi Annual Country Report 2022
WFP Djibouti Annual Country Report 2022
WFP Ethiopia Annual Country Report 2022
WFP Kenya Annual Country Report 2022
WFP Rwanda Annual Country Report 2022
WFP Somalia Annual Country Report 2022
WFP South Sudan Annual Country Report 2022
WFP Sudan Annual Country Report 2022
WFP Uganda Annual Country Report 2022
| Document | File |
| --- | --- |
| WFP Eastern Africa - 2022 Regional Achievements & Outlook - Cooperating Partners | |
| WFP Eastern Africa - 2022 Regional Achievements & Outlook - Emergency Preparedness and Response | |
| WFP Eastern Africa - 2022 Regional Achievements & Outlook - Food Safety and Quality | |
| WFP Eastern Africa - 2022 Regional Achievements & Outlook - Food Systems | |
| WFP Eastern Africa - 2022 Regional Achievements & Outlook - Gender | |
| WFP Eastern Africa - 2022 Regional Achievements & Outlook - Knowledge Management and Evidence Generation | |
| WFP Eastern Africa - 2022 Regional Achievements & Outlook - Nutrition | |
| WFP Eastern Africa - 2022 Regional Achievements & Outlook - People and Culture | |
| WFP Eastern Africa - 2022 Regional Achievements & Outlook - Procurement | |
| WFP Eastern Africa - 2022 Regional Achievements & Outlook - Protection and Accountability to Affected Populations | |
| WFP Eastern Africa - 2022 Regional Achievements & Outlook - Resourcing Outlook | |
| WFP Eastern Africa - 2022 Regional Achievements & Outlook - School-based Programmes | |
| WFP Eastern Africa - 2022 Regional Achievements & Outlook - Social Protection | |
| WFP Eastern Africa - 2022 Regional Achievements & Outlook - Staff Wellness | |
| WFP Eastern Africa - 2022 Regional Achievements & Outlook - Strengthening Government Capacity and Systems | |
| WFP Eastern Africa - 2022 Regional Achievements & Outlook - Supply Chain | |
| WFP Eastern Africa - 2022 Regional Achievements & Outlook - United Nations Humanitarian Air Service (UNHAS) | |