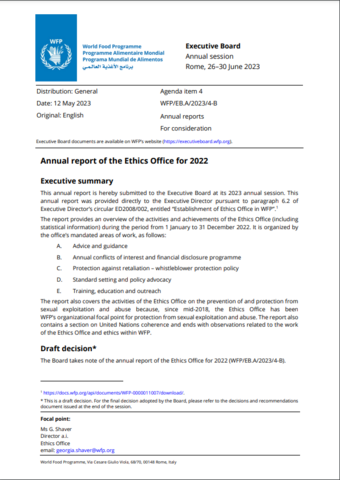 This collection of Annual Reports and Annual Report Summaries provides an overview of the activities of the WFP Ethics Office over the years.


The Ethics Office is required to submit an annual activity report to the Executive Board of WFP. These Annual Reports provide an overview of the Office's activities by mandated areas of work, ethical initiatives, as well as Protection from Sexual Exploitation and Abuse.
Since 2014, the Ethics Office also prepares abbreviated versions, called Annual Report Summaries, to provide a more dynamic, reader-friendly overview of the Office's activities.
| Document | File |
| --- | --- |
| 2022 – WFP Ethics Office Annual Report (English) | |
| 2022 – WFP Ethics Office Annual Report (French) | |
| 2022 – WFP Ethics Office Annual Report (Spanish) | |
| 2022 – WFP Ethics Office Annual Report (Arabic) | |
| 2021 – WFP Ethics Office Annual Report (English) | |
| 2021 – WFP Ethics Office Annual Report (French) | |
| 2021 – WFP Ethics Office Annual Report (Spanish) | |
| 2021 – WFP Ethics Office Annual Report (Arabic) | |
| 2020 – WFP Ethics Office Annual Report (English) | |
| 2020 – WFP Ethics Office Annual Report (French) | |
| 2020 – WFP Ethics Office Annual Report (Spanish) | |
| 2020 – WFP Ethics Office Annual Report (Arabic) | |
| 2019 – WFP Ethics Office Annual Report (English) | |
| 2019 – WFP Ethics Office Annual Report (French) | |
| 2019 – WFP Ethics Office Annual Report (Spanish) | |
| 2019 – WFP Ethics Office Annual Report (Arabic) | |
| 2018 – WFP Ethics Office Annual Report - Summary (English) | |
| 2018 – WFP Ethics Office Annual Report (English) | |
| 2018 – WFP Ethics Office Annual Report (French) | |
| 2018 – WFP Ethics Office Annual Report (Spanish) | |
| 2018 – WFP Ethics Office Annual Report (Arabic) | |
| 2017 – WFP Ethics Office Annual Report – Summary (English) | |
| 2017 – WFP Ethics Office Annual Report (English) | |
| 2017- WFP Ethics Office Annual Report (French) | |
| 2017 – WFP Ethics Office Annual Report (Spanish) | |
| 2017 – WFP Ethics Office Annual Report (Arabic) | |
| 2016 – WFP Ethics Office Annual Report - Summary (English) | |
| 2015 – WFP Ethics Office Annual Report - Summary (English) | |
| 2014 – WFP Ethics Office Annual Report - Summary (English) | |