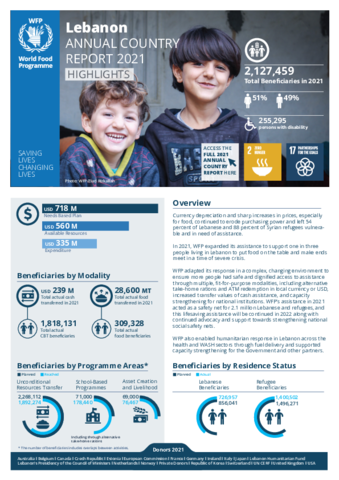 The 2021 Annual Country Report Highlights describes how WFP adapted and responded to the needs of 2.1 million beneficiaries in Lebanon vulnerable to food insecurity and extreme poverty.
In 2021, WFP expanded its assistance to support one in three people living in Lebanon to put food on the table and make ends meet in a time of severe crisis.
WFP adapted its response in a complex, changing environment to take-home rations and ATM redemption in local currency or USD, increased transfer values of cash assistance, and capacity strengthening for national institutions. WFP's assistance in 2021 acted as a safety net for 2.1 million Lebanese and refugees, and this lifesaving assistance will be continued in 2022 along with continued advocacy and support towards strengthening national social safety nets.