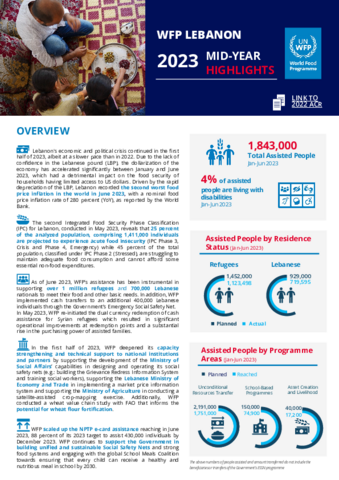 WFP Lebanon 2023 Mid-Year Highlights report outlines WFP's achievements and support to refugees and Lebanese between January and June 2023
In a context of continuous socio-economic and political instability, WFP's assistance has been instrumental in supporting over 1 million refugees and 700,000 Lebanese nationals as of June 2023, to meet their food and other basic needs. In addition, WFP implemented cash transfers to an additional 400,000 Lebanese individuals through the Government's Emergency Social Safety Net.
In May 2023, re-initiated the dual currency redemption of cash assistance for Syrian refugees which resulted in significant operational improvements at redemption points and a substantial rise in the purchasing power of assisted families. Moreover, WFP continues to support the Government in building unified and sustainable Social Safety Nets and strong food systems and engaging with the global School Meals Coalition towards ensuring that every child can receive a healthy and nutritious meal in school by 2030.