Bhutan: How school meals are nourishing futures
How technical support for the Government from the World Food Programme is changing lives
, Svante Helms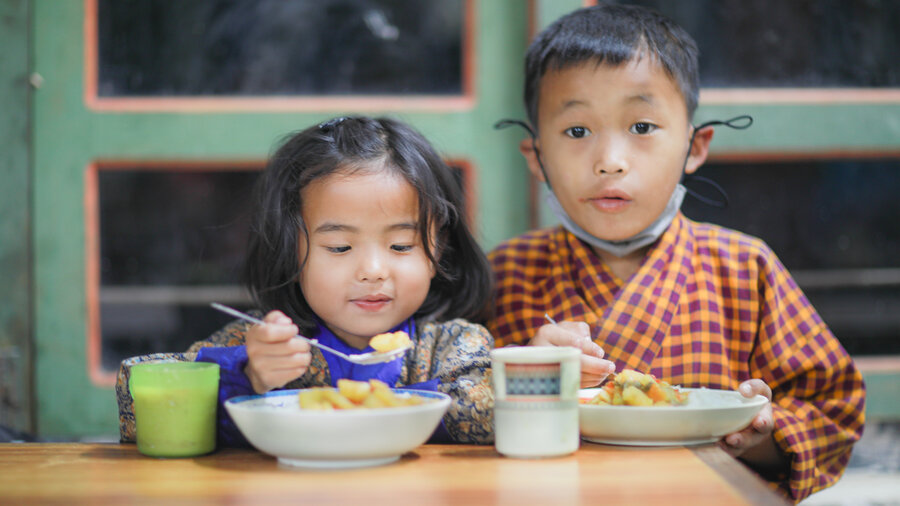 Starting next week, schools across the Bhutan will be opening their doors to children returning after an extended winter break, all having received their COVID-19 vaccines. 
For more than 100,000 children, this means getting at least one nutritious meal from their school kitchens, sourced from local farmers. Those who are in boarding schools, as usual, will receive all three meals. 
Since the successful handover of the school feeding programme to the Royal Government from WFP in 2019, the National School Feeding and Nutrition Programme has expanded its mandate to not just feed children, but to consider their nutritional needs for best health, growth, and physical and cognitive development. 
In Bhutan malnutrition intersects with undernutrition, overnutrition and micronutrient deficiency. The latest available figures, from 2016, suggest schoolchildren are big consumers of junk food. About 40 percent of students aged 13  to 17 drink carbonated soft drinks at least once a week and about 30 percent eat fast food at least four times a week. Anemia, a deficiency in iron, affects one in three adolescent girls. 
Considering these nutritional needs, the school feeding and nutrition programme strives to make school meals more nutritious, based on specific nutritional requirements of the children, yet within the stipend of Bhutanese Ngultrums (Nu) 1,500 per child, around US$20, per month that the Government provides. The rice used in school meals is also fortified with multiple nutrients including iron and zinc to maximize the meals' nutritional value.
It is important to use the stipend diligently, to procure as much fresh local agricultural produce as possible so that meals are home-grown, cheaper and boosts the local economy. Here, WFP has supported the Ministry of Education and Ministry of Agriculture and Forests by providing an innovative tool called School Meal Planner (SMP) PLUS to link local farmers to schools. The web-based tool is used for designing nutritious school menus, using local, seasonal agriculture produce. Based on the menu, food requirement information is sent to local farmers ahead of time. 
In the four districts of Wangduephodrang, Zhemgang, Haa and Trongsa where the SMP PLUS tool was rolled out, about 2,000 farmers were linked to 96 schools. There are 14,200 children receiving nutritious meals, and about 1,300 women farmers benefiting from this tie-up. In these schools, by using SMP PLUS tool, the cost of meals has reduced by 15 percent, the diversity of food and nutrient have gone up, and the amount of food procured locally has increased by 20 percent.
With 101,800 students receiving at least one meal a day from their schools, the National School Feeding and Nutrition Programme account for about one-seventh of the food market in the country. The SMP PLUS tool can be used as a platform to drive transformation of the food systems from a supply to a demand driven system.  The tool can, like it has done for schools where it is implemented, quantify the annual food requirement. This provides an assured market for the farmers, while also driving change in production patterns towards production of more local, fresh and nutritious food.
Shifting procurement of food from imports to local farms can create a viable market for the local agriculture sector, which must grow if food self-sufficiency goals are to be met. About 60 percent of Bhutan's population depend on agriculture for livelihood. Import substitution, improved rural incomes, women empowerment, youth employment and addressing rural-to-urban migrations are some of the other possible outcomes of this partnership between the agriculture, health and education sectors. 
Addressing children's nutritional needs, however, is not the responsibility of the Government alone. Families and caregivers must be active participants too. For this, raising public awareness and education on the importance of healthy diet for a healthy body and mind is important, so that society helps build the vision of a healthier Bhutan.
Currently, WFP and the Ministry of Education are collaborating with the Ministry of Health and the Ministry of Agriculture and Forests on a National Social Behaviour Change Strategy, to improve nutrition and healthy diets for school-aged children. It will include both community-level and in school activities, including a television show on healthy diet called Pinda's Magic Bowl and development of an interactive game-based learning application called EduTrition. EduTrition is an innovative digital treasure-hunt-based learning platform where children learn about healthy eating while they move around outside and burn calories.
WFP's partnership in school feeding goes back to 1974. After 45 years of providing food, WFP now provides technical assistance to the Government on innovative ways to improve children's nutrition and farmers production and income. Children from the past have now become adults and leaders at the helm of Bhutan's economic and social development. Our vision for their children remains the same and our commitment, steadfast. 
Svante Helms is Head of Office for WFP Bhutan
Now is the
time to act
WFP relies entirely on voluntary contributions, so every donation counts.
Donate today