'A brighter future for Bhutan's children'
Yesterday's school meals recipient, today's first woman minister
, WFP Asia & Pacific
Ms. Dorji Choden still remembers the days when she woke up every morning before dawn, braving the morning chill and trekking a long way to get to her village school. Coming from a humble family, she understood from an early age that education held the key to her future. Besides, the hot, tasty lunch offered to her and all her friends, gave her another reason to go to school and study as hard as they could.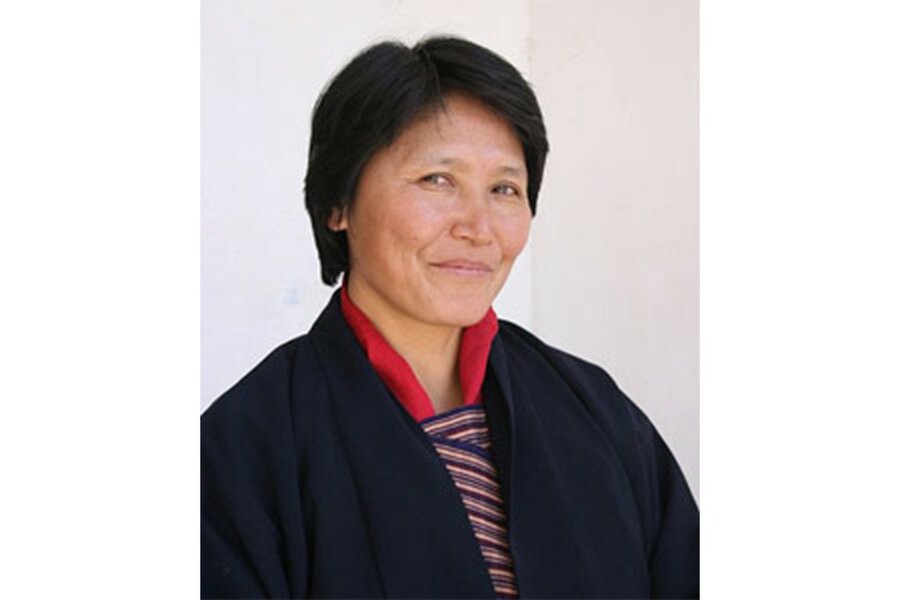 "I loved the school lunch of rice, dahl mixed with potatoes and occasionally the big, flat, dried fish that I later learnt came from Norway," recalls Ms. Choden. "In those days, many families couldn't afford three square meals a day in some months of the year, and education was never a priority for the struggling parents. So the food we were getting at school meant a lot to me and my community."
After secondary school, she went on to university and graduated with a degree in Engineering — a remarkable achievement for a child of her generation, and even more so for a woman. Ms. Choden then became an engineer — the first woman engineer in this landlocked kingdom — and in 2013, she was appointed by the King as the Minister of Works and Human Settlement, making her the first female minister in Bhutan's history.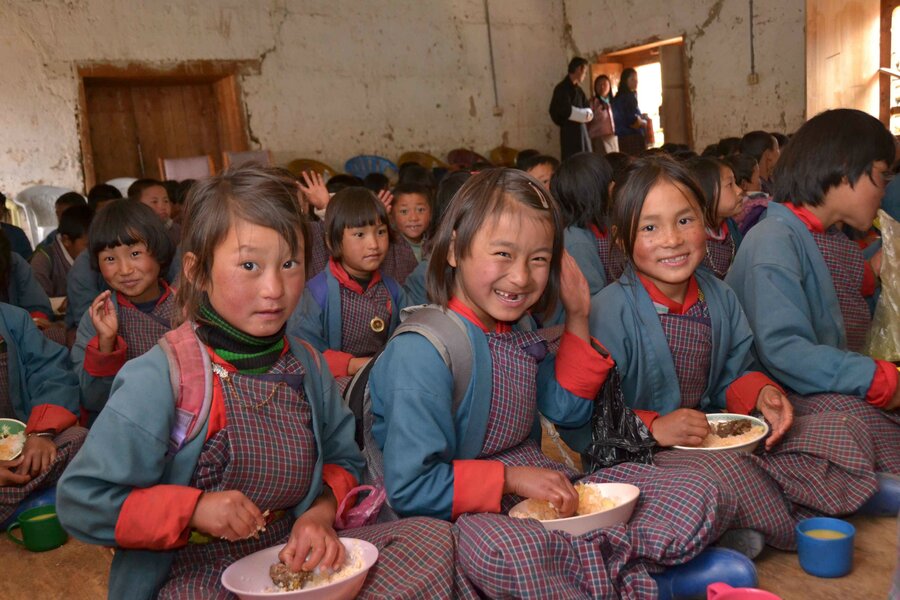 The school meals that Ms. Choden enjoyed as a child had been supported by the World Food Programme (WFP) for more than 40 years. In 2018, WFP handed the responsibility for the programme to the Government, signaling the organization's strategic shift in Bhutan as the once poverty-ridden country is now on course to graduate to Lower Middle Income status by 2023.
Under its new Country Strategic Plan (2019–2021), WFP now allocates most of its resources to building capacity and systems to help the Government take the National School Feeding Programme to scale. Some 75,000 children, almost half the total population of school-aged children, are now receiving school meals under the programme. Soon, an additional 30,000 children — all from remote parts of the country — will also enjoy the delicious lunches and tea breaks Ms. Choden once did.
Working with partners, WFP also promotes optimal dietary and health practices in schools, challenging traditional eating habits that are heavy on carbohydrates, fat and salt and low on protein, vegetable and fruits. Innovative tools introduced by WFP are embraced by the country's leaders, many of whom, like Ms. Choden, grew up with the school feeding programme. There is an online game to make nutrition education fun for children; an online menu-design programme that helps cut down the cost of school meals and encourage the use of locally produced food; and a real-time, electronic monitoring and reporting system that generates much-needed data and promotes dietary diversity.
"A brighter future for Bhutan's children is finally within our reach," said Ms. Choden. "My life, and that of tens of thousands of children in Bhutan have been transformed through education as a result of this generous investment made by WFP and its supporters. Because of this, WFP's school meals will always hold a special place in my heart."
Story written by Kun Li.