Coronavirus: WFP helps communities create potentially life-saving equipment while boosting incomes
WFP project in Guinea sees activities that protect health and overall food security
, Kadijah Savane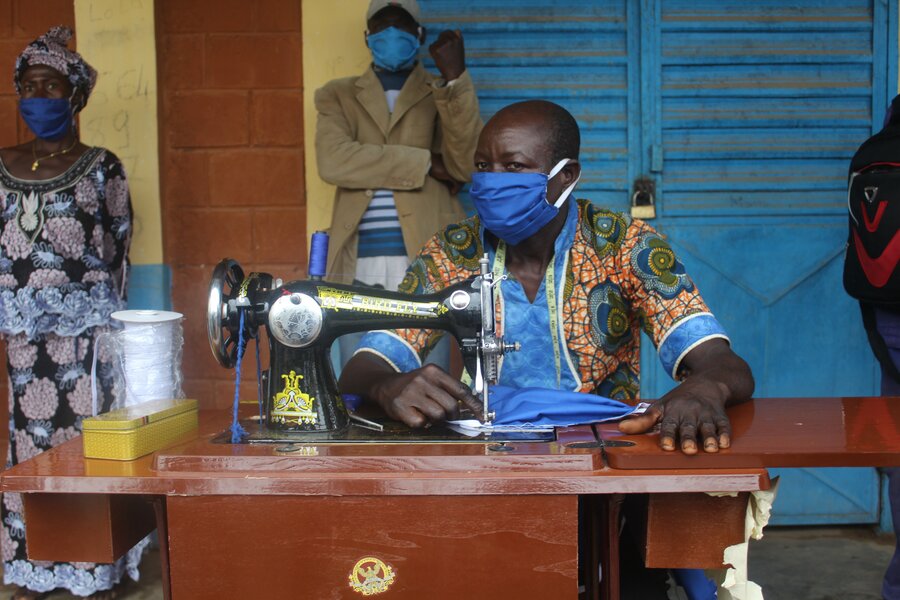 Communities in southeast Guinea are facing down the threat of COVID-19 to both their health and their food security.
While the capital Conakry is the epicentre of the pandemic, coronavirus has hit communities hard in the Nzerekore, Kankan and Boke regions, hampering access to products such as fertilizers and the movement of food to sell and buy.
Under an initiative launched by the World Food Programme (WFP), equipment and training are provided for the local production of face masks and soaps, and the installation of handwashing kits.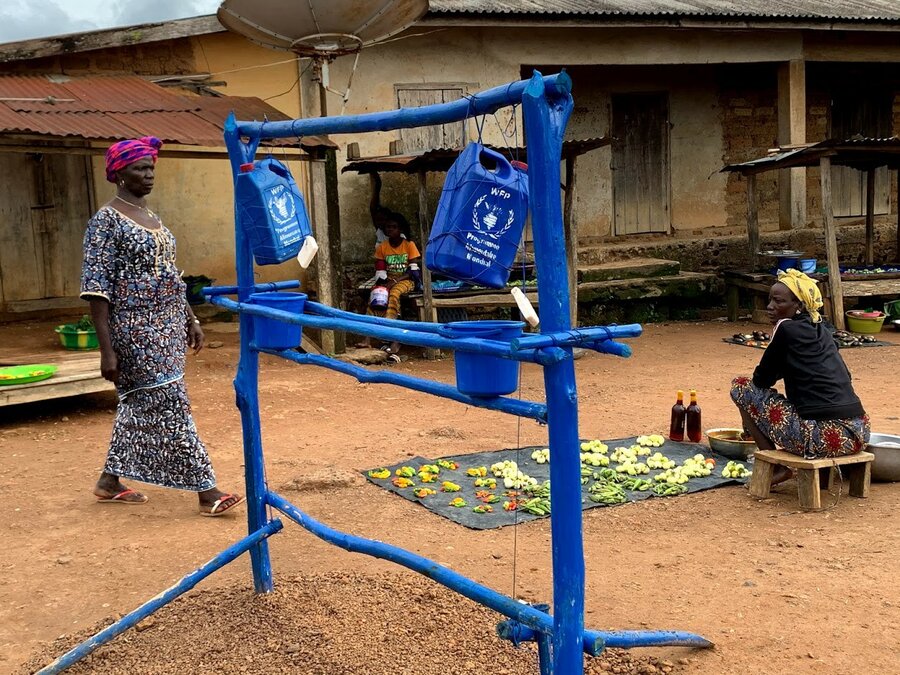 More than 25,500 people including smallholder farmers, artisans and their families are benefiting from the programme, which provides cash transfers in return for work on the equipment.
Cash transfers of US$400,000 are provided to smallholder farmers trained in the production of equipment, and more than 2,300 artisans, across eight prefectures. More than 1,150 of the artisans are women, with the activity involving 48 days' work to produce 67,600 bars of soap and 185,600 masks. In addition, WFP provided materials including sewing machines, irons, cotton cloths, moulds, barrels and petroleum.
The community also received chlorine solutions for the handwashing systems. A total of 826 handwashing kits have been installed with the assistance of WFP-contracted NGOs. They will be maintained by community members, who will also receive cash transfers.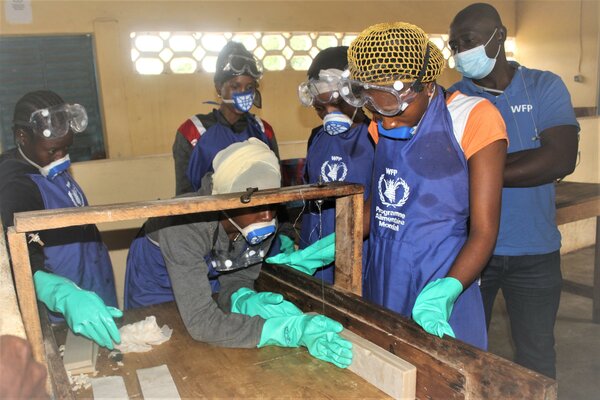 Yaramon Ninahara, aged 18, is a high school student in Lola city, 15 km away from her village Kokota, in the forest region of Nzerekore. She is the youngest in the family, which comprises her father, four brothers and a sister, having lost her mother a year ago.
"My family practises subsistence farming, cultivating rice, groundnuts and maize, a portion of which we sell in the market to meet our needs," she says. Every school holiday, Yaramon returns to her village to help the family with their farm work.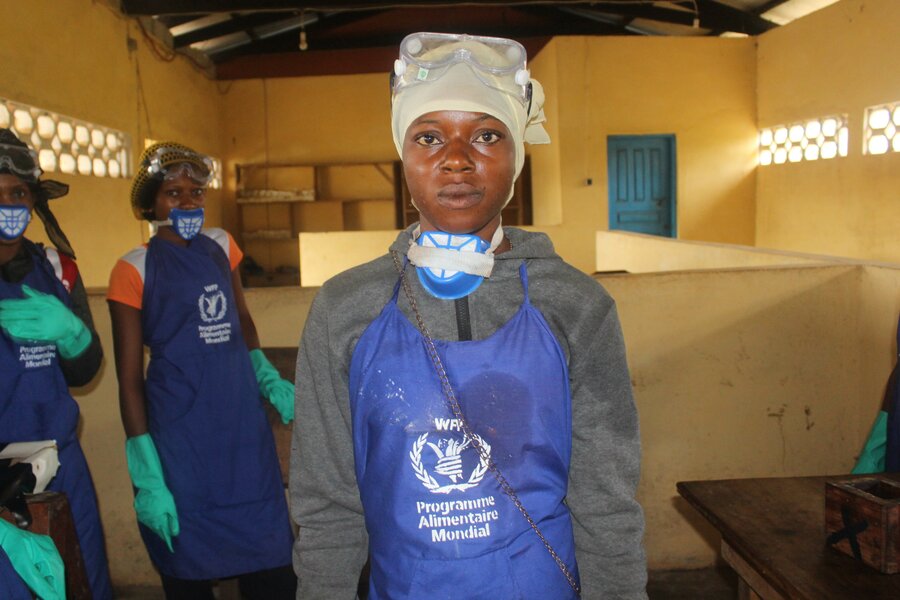 Due to school closures in light of COVID-19, she had to return early to the village, where she registered for the soap-making project. "I am a single mother of a child, who is 4 years old, and before the launch of this project I had no job," says Yaramon. In Guinea, a large number of girls become mothers before age 17. According to the 2018 Demographic and Health Survey, 26 percent of adolescent girls aged 15–24 have already begun their reproductive lives.
"Now I would like to continue this work alongside my studies, as it helps me to meet my needs and the needs of my child, and be able to set up my own soap-making enterprise."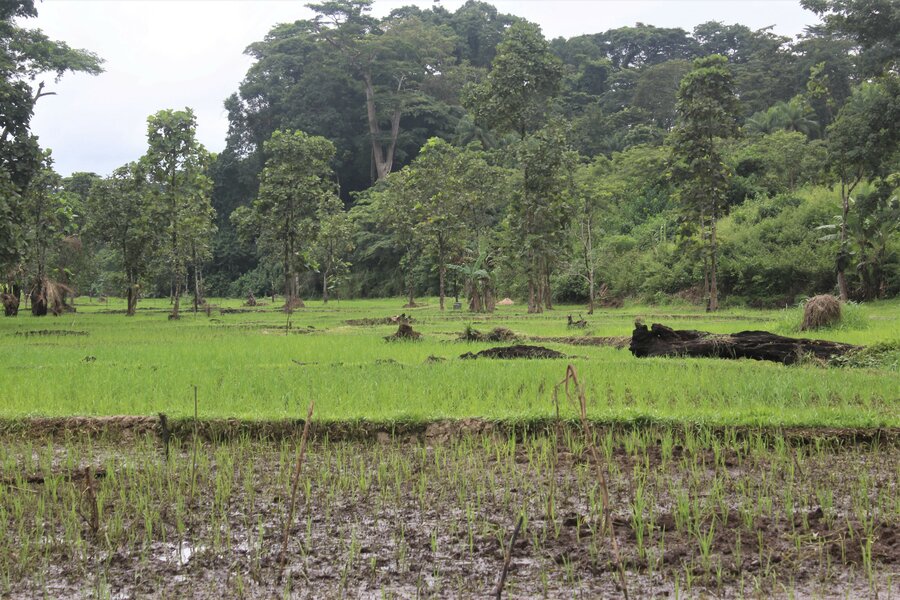 Kokota village already features among WFP Zero Hunger Communities in Guinea, an integrated approach involving school feeding, nutrition, support to smallholder farmers, livelihoods creation and a Food Assistance for Assets programme, which aims to help communities to become self-sufficient and resilient to disasters and other shocks, including economic slumps.
More than one third of people in the village are food insecure, with small-scale farming the main source of income. To increase their productivity and income, while building their resilience, activities include rehabilitating agricultural lands for rice production, along with market gardening and fish farming.
The village's inclusion in the current initiative shows the importance of WFP's adaptability in responding to changing needs here and across Guinea and other countries.