Diary from Aleppo: Amidst the Devastation, the Beginnings of Recovery
People need bread every day
, World Food Programme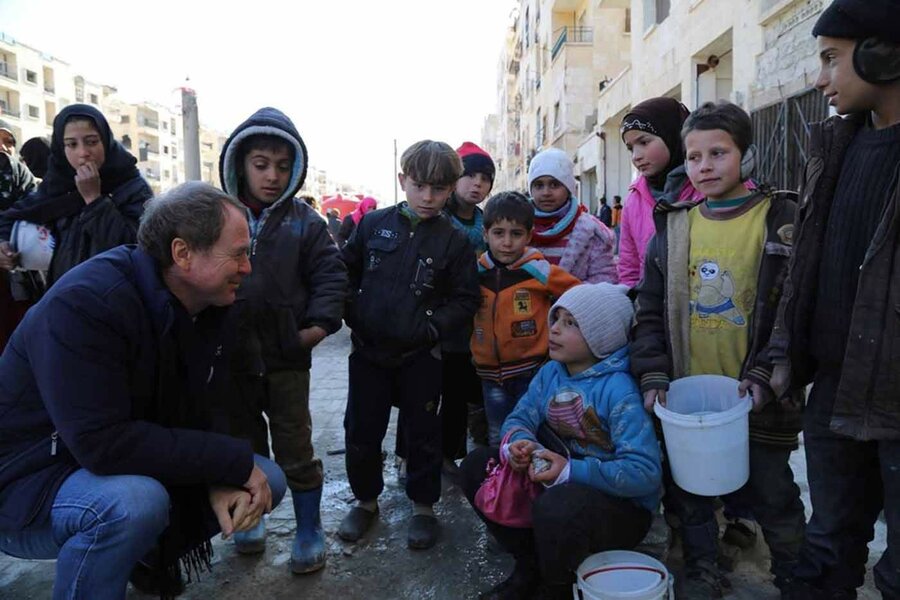 Jakob Kern (pictured above), World Food Programme Country Director in Syria, visited Aleppo where the organization has stepped up support to tens of thousands of displaced Syrians returning to their destroyed homes. Below is his first-person account of the destruction, the impact on families and their lives, and the efforts the World Food Programme is making to assist in people's recovery.
Wednesday 25 January 2017
I woke up to the sound of heavy shelling and air strikes. The ceasefire agreement of yesterday in Astana did not seem to have made it to Aleppo yet. Most of the noise was from outgoing artillery guns firing into the western countryside where the armed opposition is being targeted, but some mortars made it into town from the other side as well. Took it as a reminder that this place is far from totally safe. Opening the curtains revealed two things — the cold, cloudy winter sky and the smart recycling of WFP food bags, now filled with sand, to reinforce the windows in case of a rocket attack.
No hot water in the shower. They told me later that each room gets two minutes of hot water and I must have used it all up at the sink to shave. Will be smarter tomorrow. So my shower was also just two minutes but with cold water. Just what I needed after a cold night. Aleppo by the way still has no electricity or running water. There are generators everywhere and long lines at water stations where people collect water from tanks supplied by UNICEF.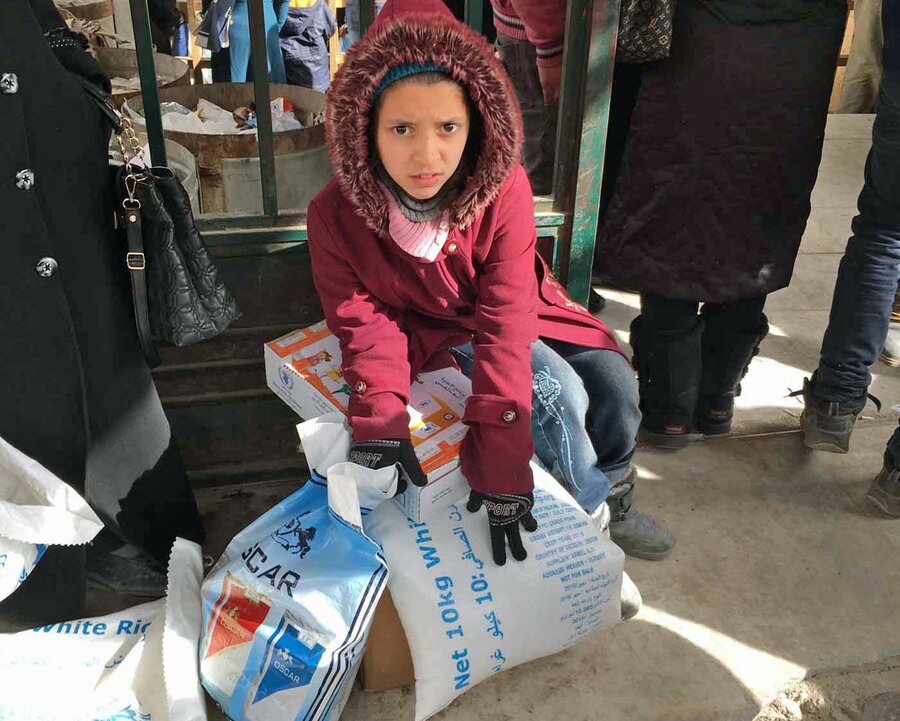 First call of business today was a meeting with the Syrian Arab Red Crescent Society (SARC), which is distributing our food to half of the 600,000 people we support in this city. There was a warm welcome and good discussions — it's always good to connect with partners and listen to their concerns and ideas.
Then off to an official visit to the governor's office. In order to reach over four million people in need across the country, we rely on the Government of Syria's support and collaboration for everything from travel and visa approvals to facilitation letters for the trucks — which then can cross all checkpoints along the route without being opened and checked — in addition to approval of access to distribution sites and the families we support. While the system is not perfect, reaching four million people every month is a testament to the hard work of our dedicated partners on the ground who serve those most in need.
The governor highlighted the need for bakeries in the eastern part of the city, where people want to return, but without a single running oven in a city of potentially 500,000 inhabitants there is no way people will return if they do not have bread supplies. Bread in Syria is an indispensable staple food, everybody needs to have it daily.
It reminded me of my growing up in Switzerland in a village with 1,500 inhabitants and 4 bakeries. That would translate into 1,300 bakeries for east Aleppo. At the moment we would be glad if there were 10. WFP is supporting 9 bakeries in West Aleppo and we have increased their capacity to support 50,000 people in the east with daily bread. Our plans are to build up to 15 private bakeries in the eastern part of the city.
The highlight of today, however, was the visit to another partner of WFP, a charity which has its headquarters, offices, warehouse, distribution centre and community kitchen in a mosque. Talk about a multi-purpose building, and more so a fancy warehouse floor with mosaics.
The charity also runs a community kitchen to provide cooked meals to 50,000 people every day. Quite an impressive operation — imagine, a kitchen in the basement of a mosque cooking for a mid-sized city! And the menu is a true cooperation between four actors: International Committee of the Red Cross (ICRC) provides the rice, WFP the beans, United Nations Development Programme the bread rolls, and the charity adds the vegetables and some meat, and runs the kitchen. The menu today was rice, beans and cooked quince, with a tomato sauce and some meat — 400 g per person. It tasted quite good, but if that is the only meal in a day it is not enough.
Thursday 26 January 2017
So far we have: no water, no electricity, no heating and no internet.
To make things worse, this afternoon there were reports that the only road from Aleppo to Damascus was attacked by ISIS, which had taken over four villages along the way, so no way out either. Now they are saying the road is open again, but who knows — last year one of my colleagues was stranded in Aleppo for several weeks for exactly this reason. I was planning to travel on Monday so there is plenty of time to make our way back safely to Damascus.
The rain is pounding on the window and I fear tomorrow morning this may be snow — just what we need in this place. But who am I to complain? At least I have four walls around me, some sort of a heating system (although very inefficient), running cold water and a bed, and most of all food and clothes. I consider myself extremely lucky compared to the people I met during today's visit to the eastern part of Aleppo, the part that was besieged until a few weeks ago.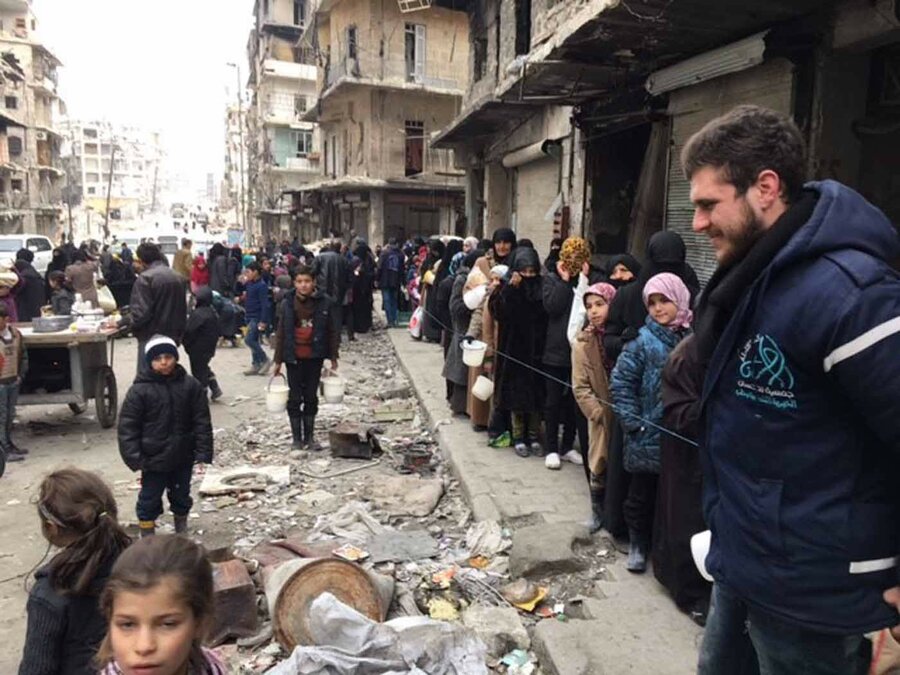 Today we followed the bread and cooked food we saw yesterday, and how it reaches the people in need, from the relatively intact western part of Aleppo to the east.
The bakery still in West Aleppo was state of the art for this part of the country, and is one of eight private bakeries working for WFP. Then, crossing the former frontline, the picture changed from one side of the street to the other — total destruction as far as one can see.
Rubble has been cleared from the main roads but the rest is just one big pile of concrete pieces, wires, metal and furniture. And people are living in this city, where we support over 50,000 people with food, under almost impossible conditions — no basic services, no windows, constant fear of mines and unexploded ammunition, collapsing buildings and most of all the cold.
Road to recovery
They stand in line for an hour and more every day to get their little plastic buckets filled with hot food — 400 g per person — and a bundle of bread. Today, many received a box of canned food and juices, and also other items such as blankets, clothes, diapers and hygiene articles.
People told me stories of living in constant fear from air strikes and artillery grenades, the constant noise of explosions and the struggle to survive on a handful of rice and beans during the besiegement. And now it is quiet, almost too quiet — no airplanes flying above with bombs, no incoming shells, no gun fire, certainly no traffic, just the quietness of a ghost town, with people living in it.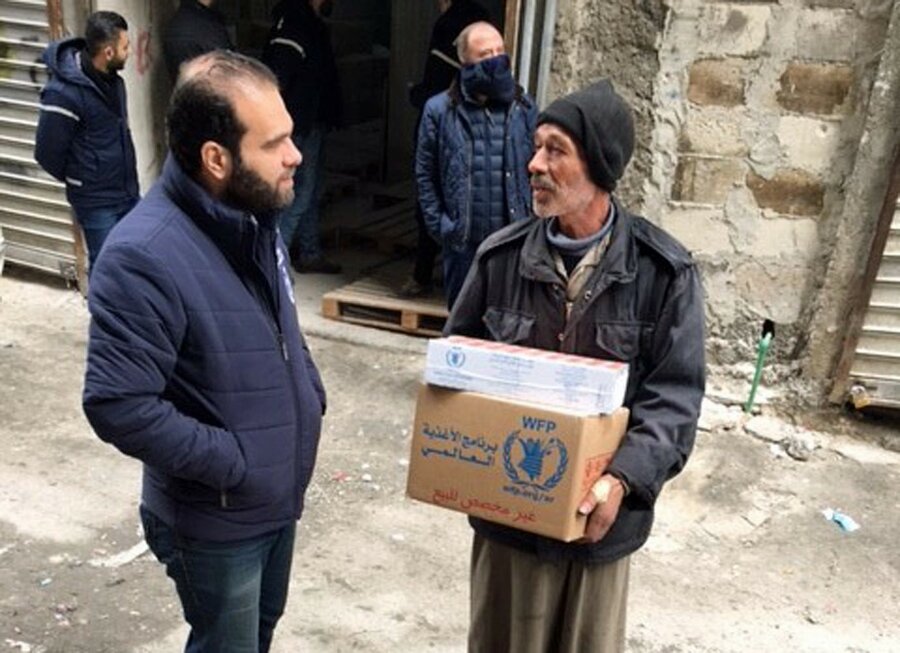 UNICEF has organized trauma classes for children to get over the experience of having grown up in a war zone all their lives. They shout their anger out so loudly that my ears hurt. And somehow this is what they should be doing, telling the world as loudly as possible how much they have suffered in recent years, particularly during these past several months when the battle raged to its climax. Tell the world not to forget them and to help them rebuild their lives.
Some signs of life — older children playing soccer in the street, or a few shops here and there trying to sell fruits and vegetables. On some corners you see a man sitting on a makeshift stool with a used WFP box in front of him selling cigarettes, no customer in sight.
A place where people once lived full lives
And each ruin, each pile of rubble where a house once stood, tells a story, with some most likely burying human lives underneath. Sometimes I see carpets and blankets still sticking out from under the concrete slabs that collapsed onto each other.
People lived in those buildings, people had a life in this once beautiful city. Even the cemetery and the mosques were not spared in this destruction. Then entry into the old city, where hundreds if not thousands of years of history turned into rubble.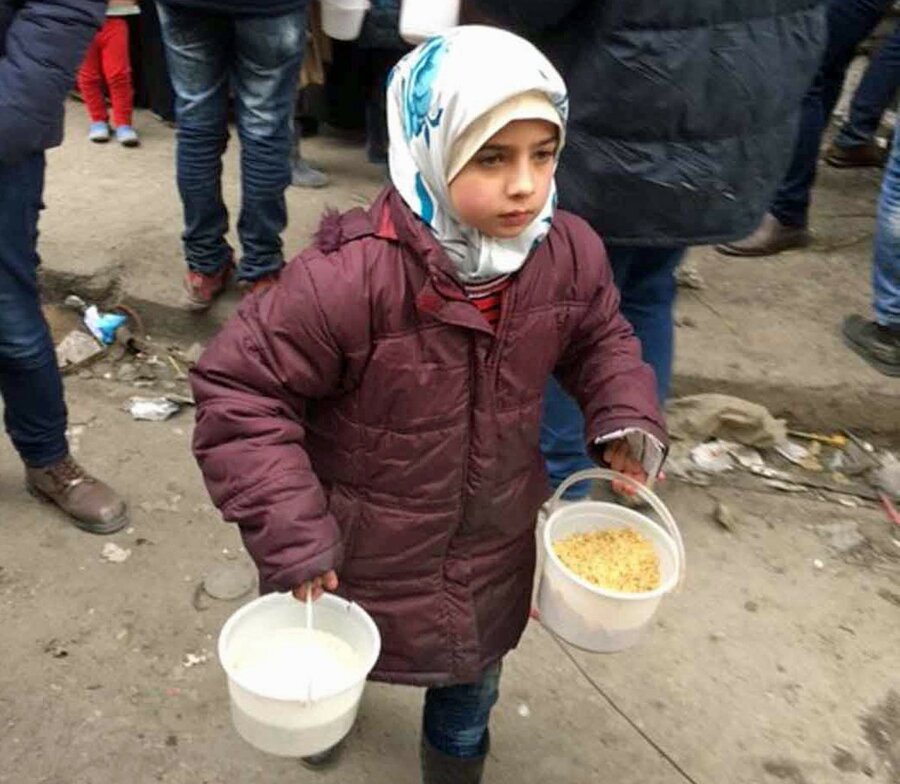 The sign at the entry says it all: Old Aleppo City, UNESCO World Heritage Site. That is all gone, some streets are still somewhat intact, but others completely gone. It's like walking through a movie set of a World War Two documentary but without cameras and with real people, not actors.
It broke my heart looking at all the destruction, pictures I will not forget so quickly, war at its absolutely worst, and in the midst of it children and women and men trying to survive.
In the afternoon our WFP Deputy Executive Director briefed the UN Security Council about Syria and what WFP is doing here. I had worked on the final version of his speech early this morning and talked to him in the afternoon before his presentations, and now saw him deliver it to the Council. Some of the sentences sounded very familiar!
Friday 27 January 2017
Friday in Aleppo, and that means waking up at 5am to the sounds of the prayers from the nearby mosque. It's weekend here and I think of my family back home as I look out the window on what is left of Aleppo city.
Did a radio interview in the morning and had two year-end performance review discussions with my staff here, before heading off to see the old city and the castle. It was heartbreaking to witness thousand-year-old history reduced to rubble.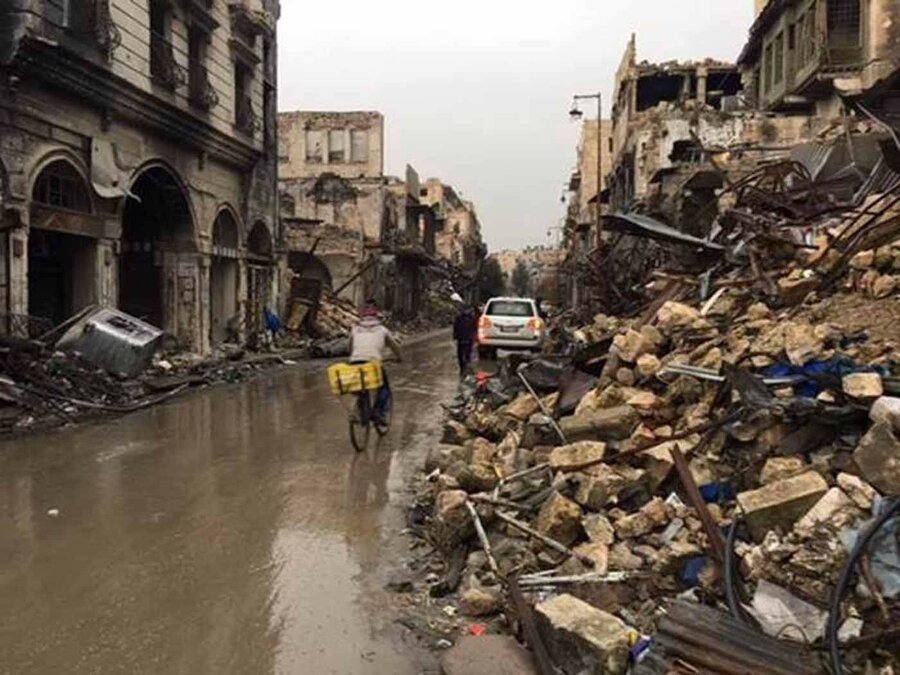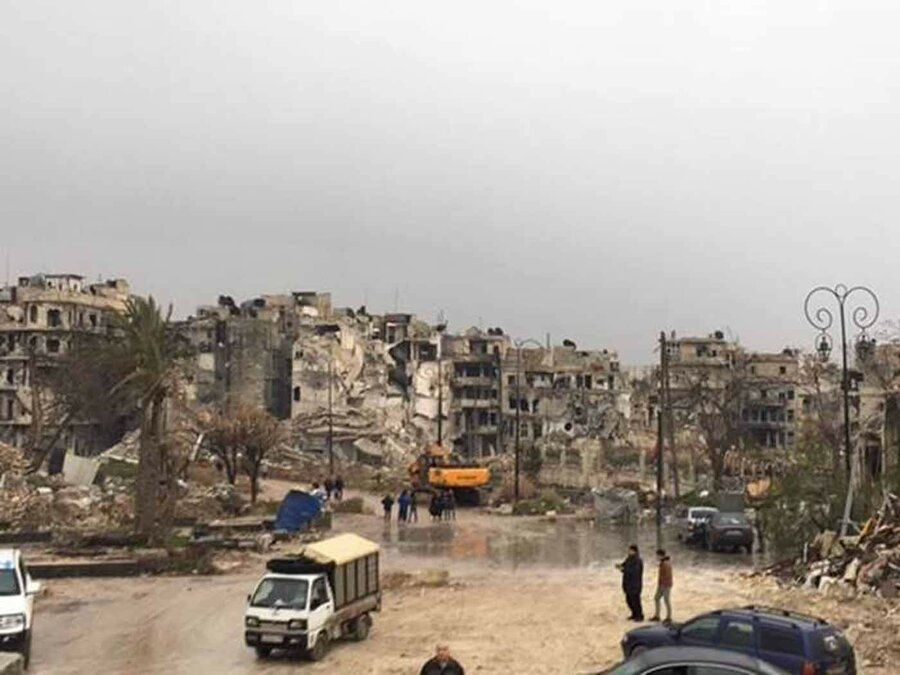 Saturday 28 January 2017
Today I woke up overlooking a sunny and crisp Aleppo, with a tiny amount of snow. I missed the period of hot water this morning by about five minutes, so back to the cold shower. No matter how much I convince myself that I grew up in the mountains of Switzerland with freezing temperatures in the bedroom and should be used to that, I am still struggling with the constant cold feet and cold water showers.
Went for a field visit to East Aleppo again with my team here. They have done a heroic job during the height of the battle around Aleppo, staying in their duty station despite constant mortar fire and lack of basic services in their homes.
WFP heroes of Syria
Those 30 WFP colleagues in Aleppo are my heroes. The head of the office once told me on the phone during the height of the bombardment: "All fine, business as usual, we are working normal hours." This was on a day when over 200 mortars hit the western part of town where they all live and where the office is located.
The office by the way is in the same hotel where I am staying now, but only the western facing rooms are used for accommodation and offices because the eastern facing side used to be hit by missile rockets from the besieged part. The holes are still visible in some of the rooms that got a direct hit.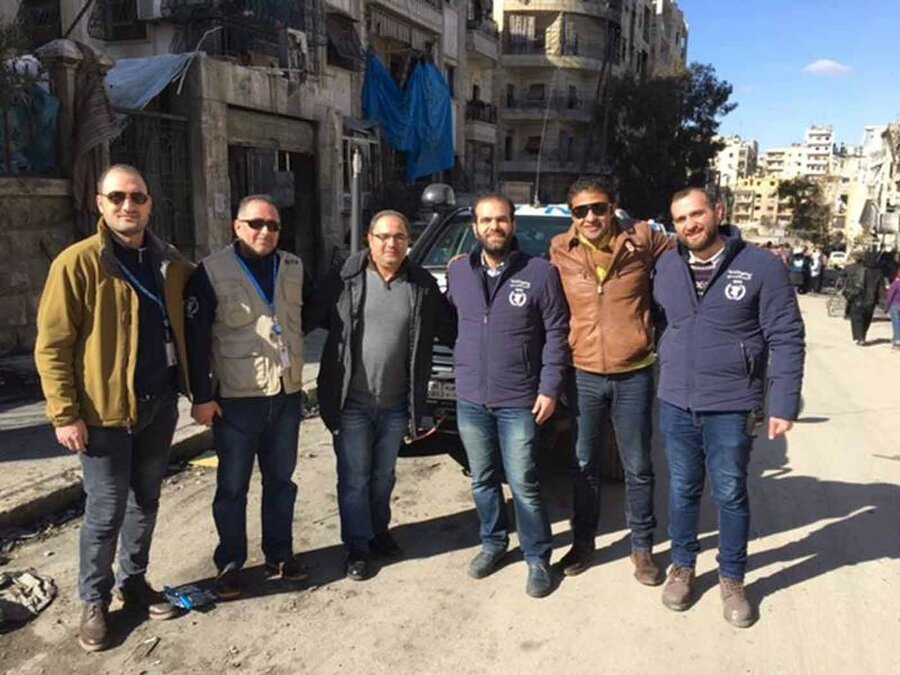 Again a long drive for miles into the heart of east Aleppo, along the road nothing but destruction. For miles and miles we drove past rubble and it is heartbreaking to take it all in, the magnitude is just too much. Street after street, city block after city block the same picture of collapsed buildings.
Talked to a few children at a distribution place, while they were waiting with their plastic buckets for the food truck to arrive. They stayed in their houses throughout the bombardment and now say it is too quiet to sleep. They start to smile again and this gives me hope they will eventually go on with their lives and maybe forget a childhood full of bombs and explosions.
'I will start my life again and count on the help I get from WFP'
Maissa and her three daughters returned recently to find her apartment building somewhat intact — except some gaping holes in the staircase wall from rocket attacks — but her apartment itself was in shambles.
The furniture, whatever has not been looted, is broken and of course no more windows. Earlier she put plastic sheets over the open windows to keep the cold or at least the wind out. The street in front of the entrance still had some snow from last night.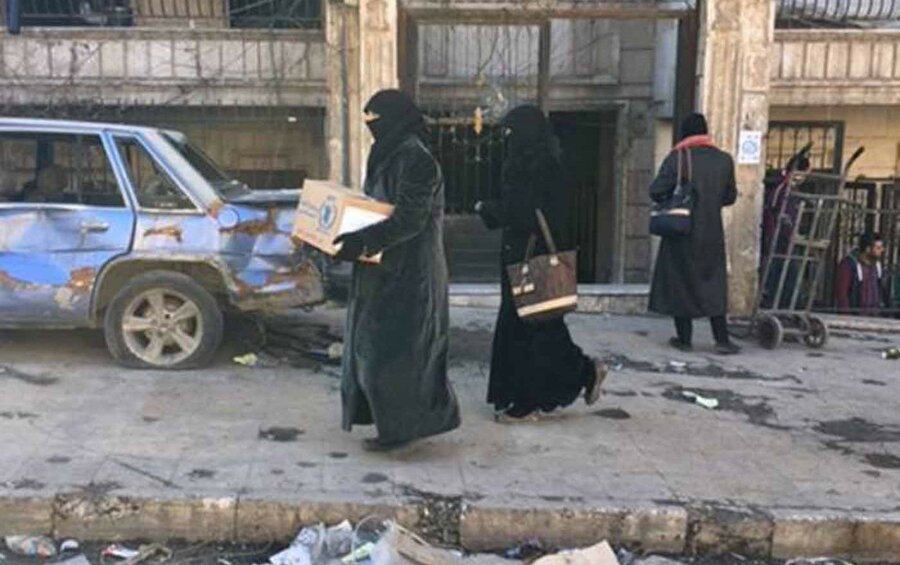 For heating she is using broken furniture with a small wood stove. Of course there is no running water, no electricity, no gas to cook and no toilet. But she says: "At least I can come back to my place, at least the building is still standing. I will start my life again and count on the help I get from WFP and from other agencies who provide water, medicines, hygiene articles and so on."
This reminds us that even in destroyed cities like east Aleppo, life goes on — women give birth to children, babies become sick, need vaccines, have colds, and all of a sudden basic services become a matter of life and death. Having soap to clean your hands or wash your clothes becomes a necessity one cannot not afford.
Sunday 29 January 2017
This will be the last note from Aleppo, for tomorrow morning we will drive to Homs and stay for a day there before going back to Damascus.
The day could not have started better. After two weeks of suspension due to heavy fighting in the city, we resumed our high-altitude air-drops over Deir Ezzor again, with a new landing zone away from the ISIS front line. It was a success, and we can now continue dropping life-saving assistance into this besieged city with its 93,500 civilians in urgent need of food.
Delivering the daily bread
Today a cross-line mission to a Kurdish neighbourhood, which was until now inaccessible for any UN or NGO staff. Only our partner SARC (Syrian Red Crescent) was able to bring our food there on a monthly basis, and deliver the daily bread bundles for the remaining 30,000 inhabitants.
I had asked the governor earlier whether I could go in with a small team, but then it took three days to have all the guarantees and security clearances to actually drive into this neighbourhood, which in effect is closed off from the rest of the city. It once housed over 75,000 Kurds.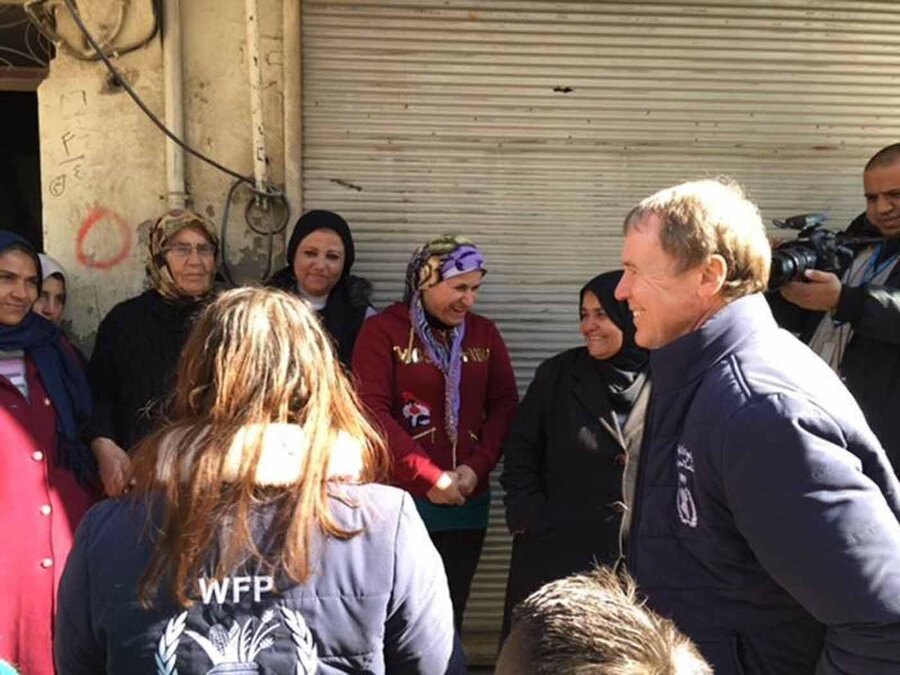 So at 11 am our convoy with three armoured vehicles — one from SARC, two from WFP — showed up at the last government checkpoint ready to go in. Then the usual drive through the buffer zone and entering Sheikh Maqsoud through the Kurdish-controlled checkpoint. The city itself has always been a poor neighbourhood of Aleppo and now it is almost deserted, with only half the population remaining.
The destruction was only visible at the outskirts of the city. Inside there was almost no damage — it escaped the aerial bombing and the mortars. Not many shops and prices much higher than in Aleppo, where people are really in need of everything since they are in effect cut off from the rest of the world.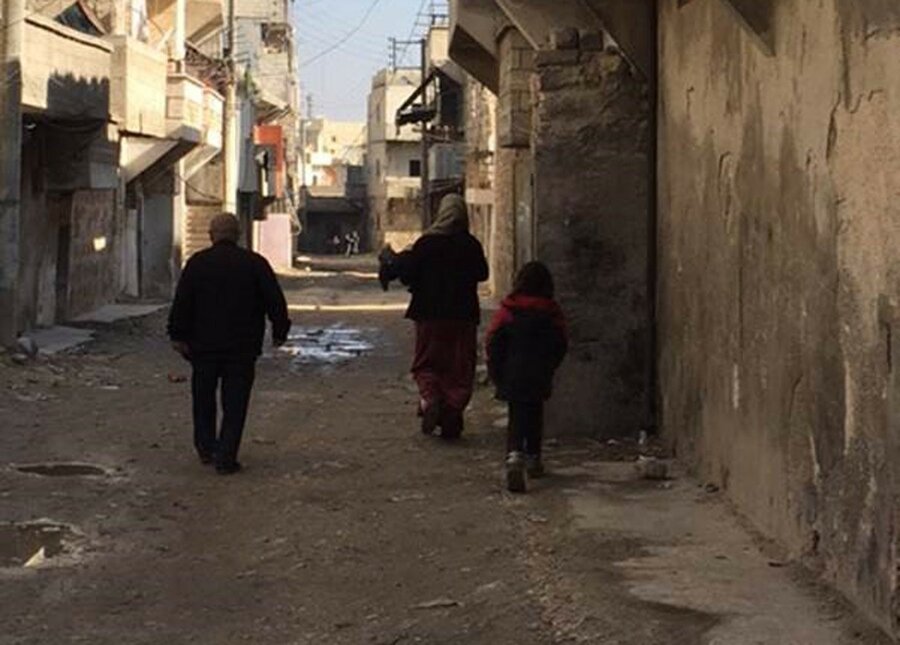 Talked to women and children and they were so happy to see us, and to tell us what they need, from blankets and clothes to hygiene articles to vaccines and medicines. Food needs seem to be covered thanks to our monthly rations and the bread that we saw being distributed today. On the way out we saw once more the totality of destruction, this time along the northern edge of the metropolitan Aleppo area along the famous Castello Road, where control changed hands several times and houses were used as fortresses, and therefore bombed more often.
The day was rounded up with yet another of those famous Aleppo meals with all staff of the WFP office and now I am preparing for a BBC interview.
Thank you for bearing with me during these challenging yet hopeful days in Aleppo.
See also: WFP Providing Life-Saving Food To People Returning To Eastern Aleppo City