Spotlight on Hugo Rosales who believes drones are crucial for responding to extreme weather challenges in Central America
, Katarzyna Chojnacka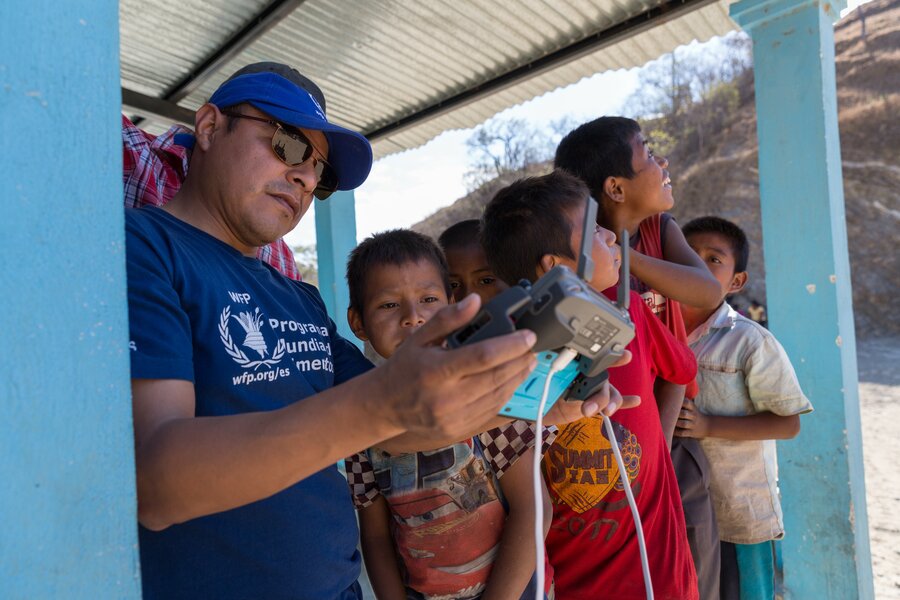 When he joined the World Food Programme (WFP) as an IT officer the second incarnation of the iPod was out and the must-have mobile handset was the Nokia 6610. In the ensuing 17 years, Hugo Rosales's role has changed as much as the tech and Hugo is ever keen to embrace the next innovation.
"I have seen how the organization has been evolving with the trends, technologies and digitalization," he says. "Even the name of the division has changed [from IT to Technology]".
Hugo says Technology's biggest challenge is "supporting users to accept these constant changes and raising awareness in keeping their data safe".
His job is to ensure that computers, mobile phones, all manner of apps, and security networks work with seamless connectivity for the nearly 70-strong staff in WFP's El Salvador office.
Hugo regards his work at WFP as a form of civic duty. "Working for WFP, I know I am helping my country," he says.
El Salvador is the smallest and most densely populated country in Central America and faces serious socio-economic challenges. Gang violence and poverty continue to force many to flee the country.
Thousands have made their way to the United States in the past 20 years. "I will stay with WFP and in my country as long as I can," he says.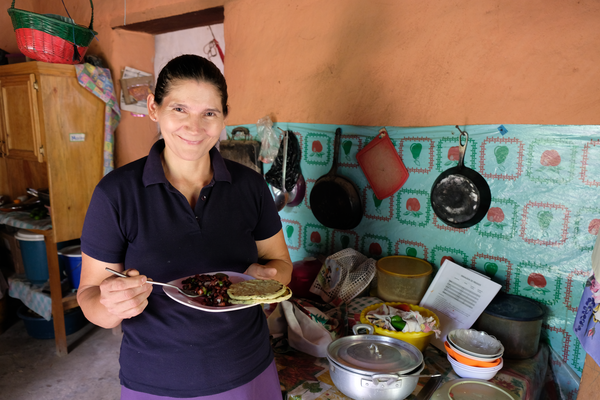 Hugo's always been keen to introduce drone tech to Central America. He believes they have the robust potential to complement key areas of WFP's work. For some time he has been pushing for a drone worskshop in El Salvador.
Finally, after meeting upon meeting, this week WFP's first Regional Drone Workshop was convened in San Salvador. In attendance were delegates from Guatemala, Honduras and Nicaragua — the countries along Central America's so-called "Dry Corridor" which are most prone to drought and extreme rain because of El Niño.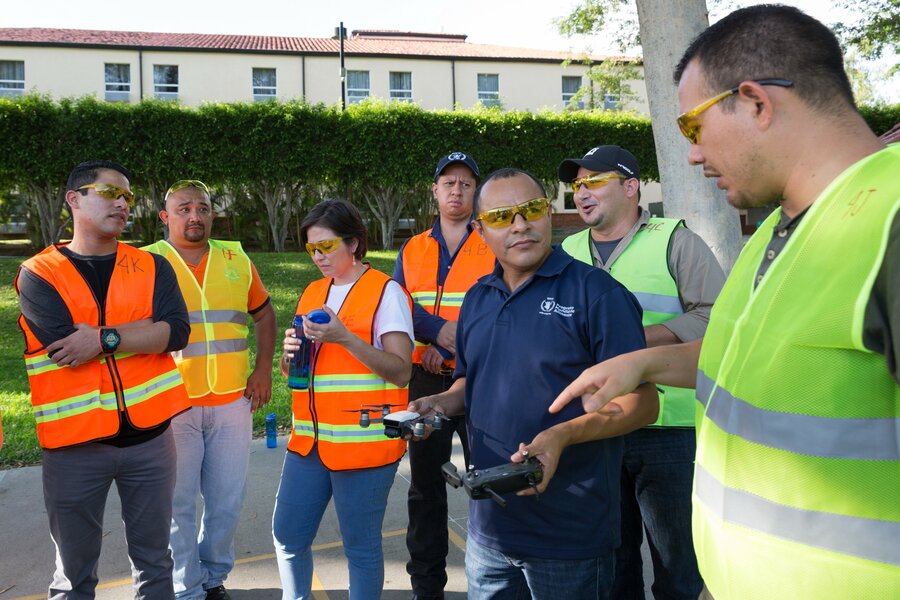 I meet Emilio Lara Haeussler from Guatemala's national disaster-management office, there.
"I knew how to fly drones, but I have never used them like this before," he says.
"There is so much to learn and now I am aware of different applications of the technology that I can take back [home]".
He has a photograph of a cliff edge in the Mixco township, south of Guatemala City. "It was a small landslide but it could be a sign of bigger disasters to come as the rainy season is just starting," he says. "With drones, we could prepare for events like that in the future and help save lives."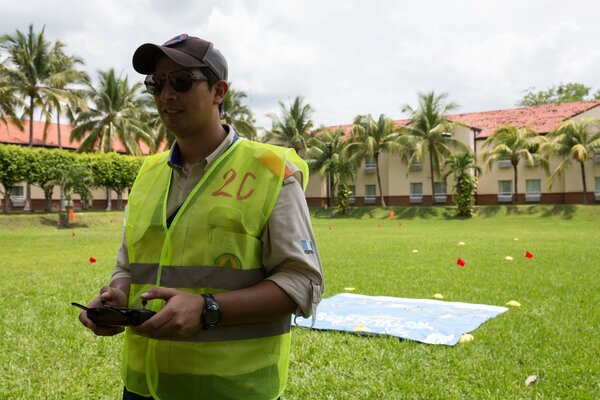 Jaime Hernandez, WFP's head of emergency preparedness and response in El Salvador, thanks Hugo for the workshop which equips participants with knowledge of how to operate drones and conduct mapping operations — and provides a chance for networking.
The Guatemala experience
Training for the local context not only boosts preparedness for disasters but also brings efficiency to humanitarian projects — Hugo tested the potential of drones for monitoring WFP's Food Assistance for Assets (FFA) programme in Guatemala.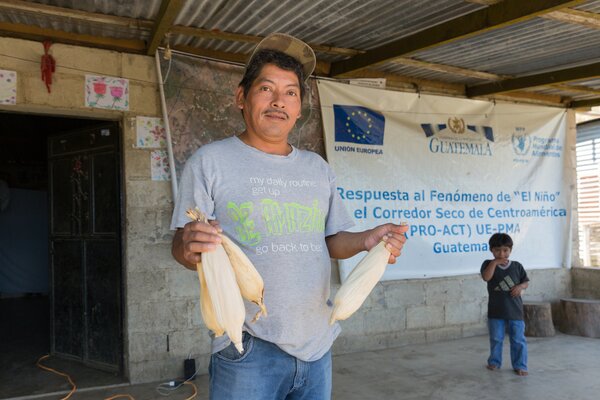 Hugo has supported diverse projects in all corners of Central America and the Caribbean, ranging from workshops in Panama to emergency-response in Dominica following Hurricane Maria in 2017 but he sees drones as crucial to humanitarian jobs.
In Guatemala, under the supervision of an experienced drone pilot from a partner organization, Help.NGO, Hugo gained 40 hours of hands-on flight experience.
"Each flight was a lesson on how to perform assessment, which checks we need to take into account, and how to keep the information safe," he says.
When a drone approached its landing pad, Hugo exclaimed, "Coming in to land!" while looking for obstacles and unexpected guests, such as the occasional excited dog or curious child.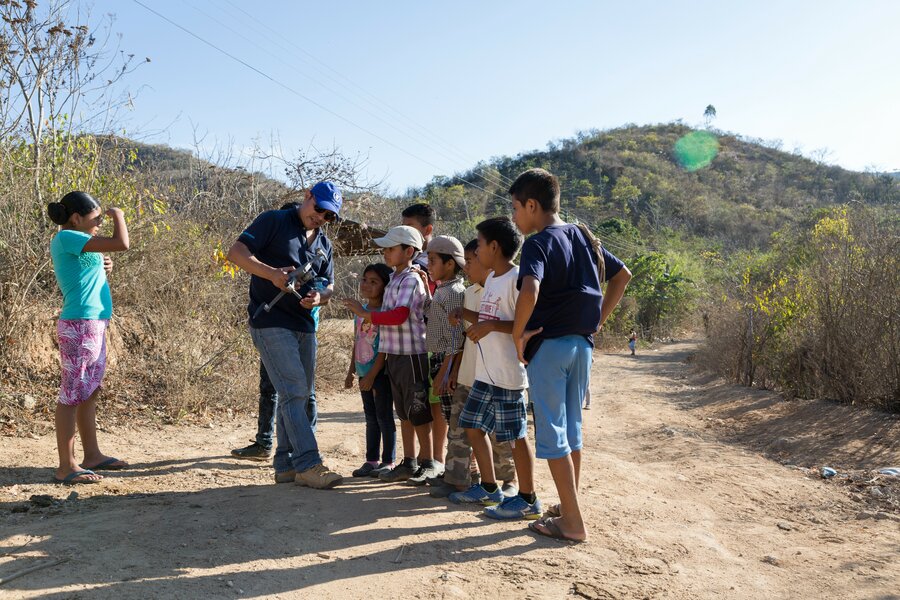 I join Hugo on a visit to the Peralta community in the Zacapa region, in the central-east of Guatemala, a rural part of the country.
"We have four propellers to keep the drone stable," he tells a group of children, holding a drone upside down.
They listen and then scatter away in a flurry of giggles. But their parents — community leaders and government representatives — are amazed and wanted to know more. "They were very interested to see how they had advanced in their [community] assets and to see them on the map," he tells me later.
Maps produced from aerial images are a hundred times more precise than satellite imagery and allow for a detailed evaluation of communities, individual farms, or even specific assets such as beehives or chicken coops.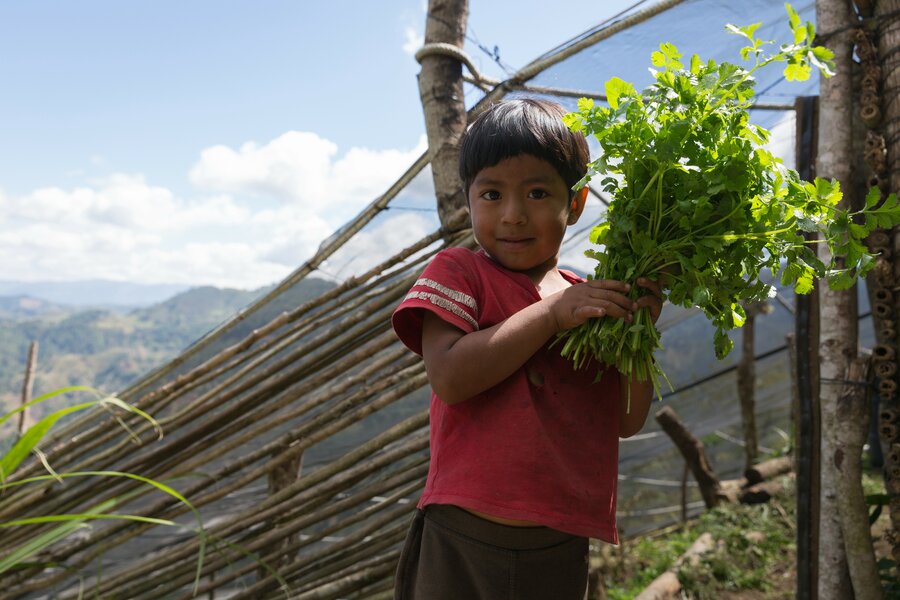 Fighting El Niño
Central America is up against a host of climate change challenges. "El Salvador is very similar to Guatemala, in terms of problems faced by communities that are affected by drought, lack of water, damaged crops," says Hugo.
How drones might be deployed to tackle El Niño-linked extreme weather was the subject of much heated debates during the regional workshop. The technology "opens up the possibility of innovating how we do our work and obtain information quickly. We will be able to carry out assessments and be more proactive."