The game-changing water reservoirs of Kalobeyei
How water is bringing together communities and keeping drought at bay
, Martin Karimi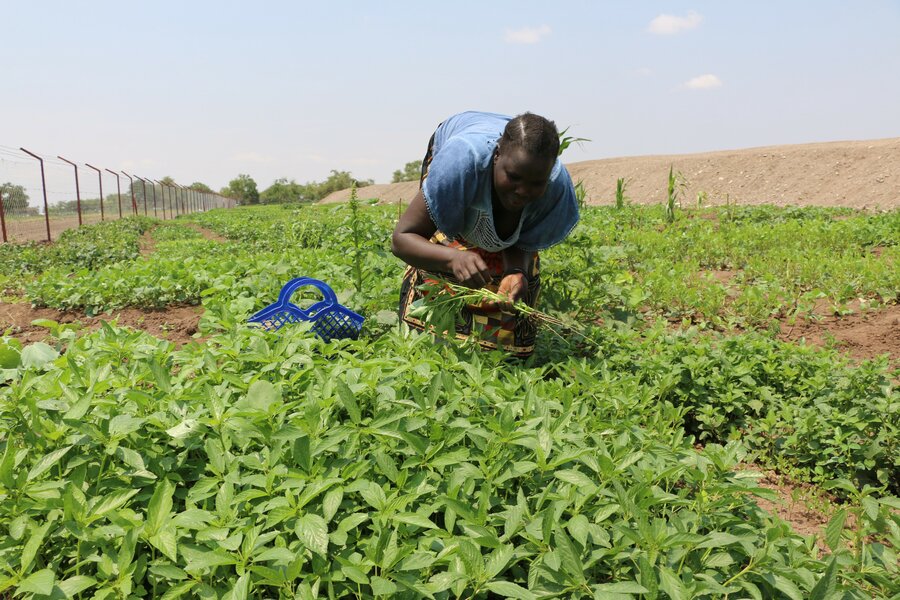 Kalobeyei settlement is set in the heart of the arid Turkana county, about 30 minutes drive from Kakuma refugee camps.
The World Food Programme (WFP) is responsible for providing food to refugees living here and in the camps on a monthly basis. In Kalobeyei, with the support of the European Union, WFP and the Food and Agriculture Organization (FAO) in collaboration with the County Government of Turkana are actively promoting models that enhance social and economic integration and reduce the refugees' dependence on aid through agriculture.
Putting their own food on the table is the first step towards being independent. But farming is not always a lucrative option in Turkana.
Facing off with the harsh climate
Most of the refugees living in Kalobeyei come from farming areas in South Sudan. Margaret Emuta is one of these but since arriving in Kalobeyei in 2016 she has not been able to continue farming, which is the only way of life that she knows.
Recurrent droughts and a lack of stable water supply are her biggest obstacle.
But Margaret's fortunes are changing thanks to a newly constructed water pan in Kalobeyei. Margaret is now happily growing her own vegetables. Her family of seven is one of more than 600 families farming on the periphery of the communal water pan. Each family has been allocated small plots measuring about four square metres.
"I'm growing onions, kale, and traditional vegetables, says Margaret. "I used to spend about 100 shillings [about US$1] buying vegetables in the market every week. This garden has eased my financial burden because I don't have to raise the cash to buy vegetables."
Side by side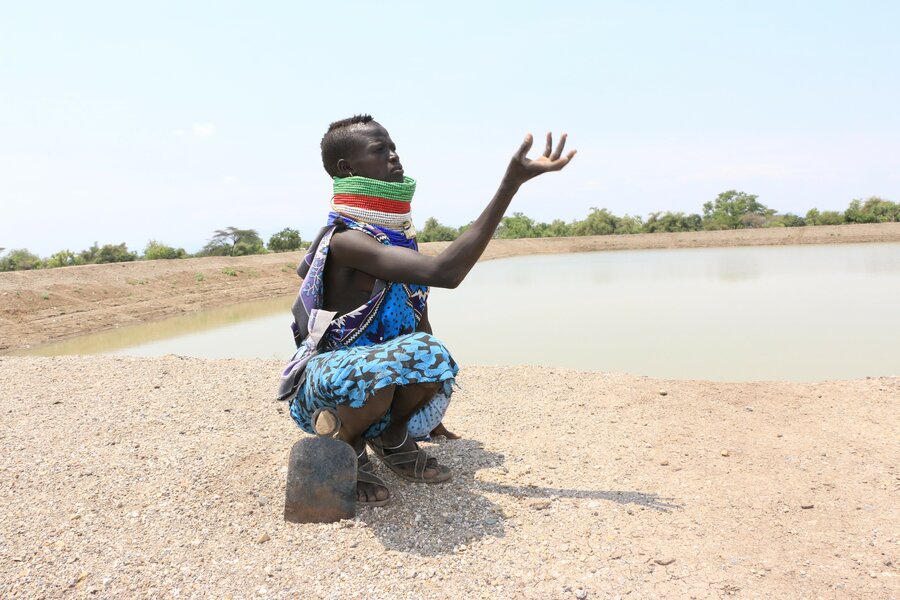 The Kalobeyei water pan is shared by both the refugees and the host population. The vegetable plots have been divided equally among them.
Selina Ekutan and Agnes Atabo are sisters who live in Esikiriati village, about half hour walk from Kalobeyei settlement. They come here almost every day to tend to their plots.
"We have planted some vegetables in a farm near our village," they say, "but there is no water there. We only harvest if it rains."
And rains in Turkana are unreliable. Currently, the country is grappling with a harsh drought.
Rich family meals
Two consecutive failed rain seasons have seen the number of people needing humanitarian assistance rise to 2.6 million across Kenya and malnutrition rates to climb to over 25 percent in some parts of Turkana. Farmers relying on rain-fed farming often suffer catastrophic losses.
"We are assured of a harvest here," says Selina. "The water here is enough. It will not run out."
Agnes adds that it only requires effort at tilling and planting and a good crop is assured.
"I'm growing cowpeas [as a leafy vegetable] and kale," says Agnes. "I will take some of it to the market so that I can get money to buy flour. The rest is for my family's meals."
The wide variety of vegetables enveloping the water pan are rich in nutrients and are contributing to improving family meals as well as increasing incomes.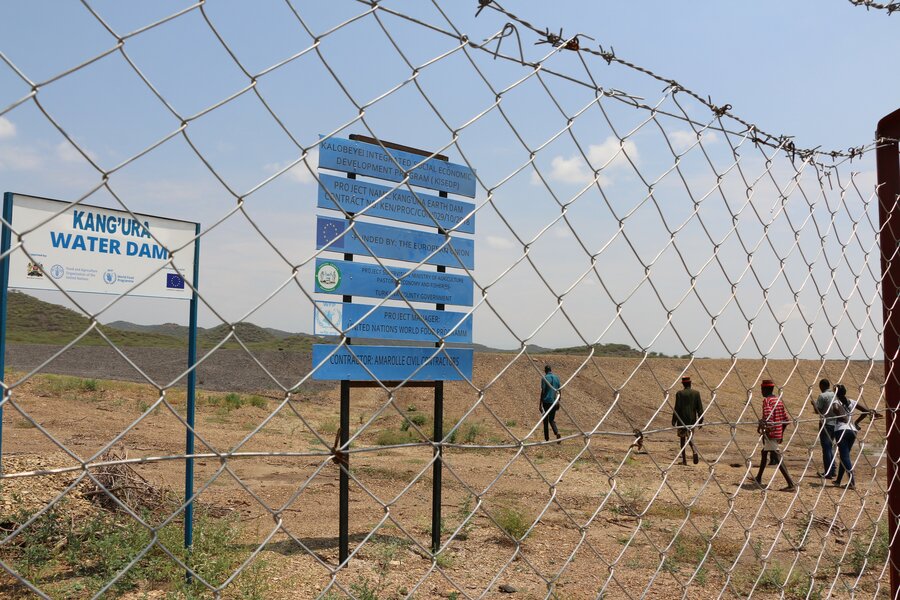 Respite for local families and livestock
WFP has further supported the local community with the construction of a water dam for both livestock and domestic use. WFP has fitted a tap stand for people to fill up water containers and a trough for watering animals.
The dam in Kang'ura village near Kalobeyei town harvests runoff water and is catering for close to 40,000 animals including cattle, goats and sheep, and camels.
The dam is estimated to serve about 51,000 people from Kalobeyei and Lopur wards in Turkana west.
"We used to walk about seven kilometres to access water," says John Ekitoi, one of the community members and the chairperson of the water user's committee. "This dam is a big reprieve for us."
"The families in this area migrate especially towards the border with Uganda in search for water exposing themselves to conflict," John says. "This will soon be a thing of the past."
Johns says that very soon, people will start settling around Kang'ura dam.
"People will settle here. As long as there is a permanent source of water, people will not migrate."
Sufficient water to beat drought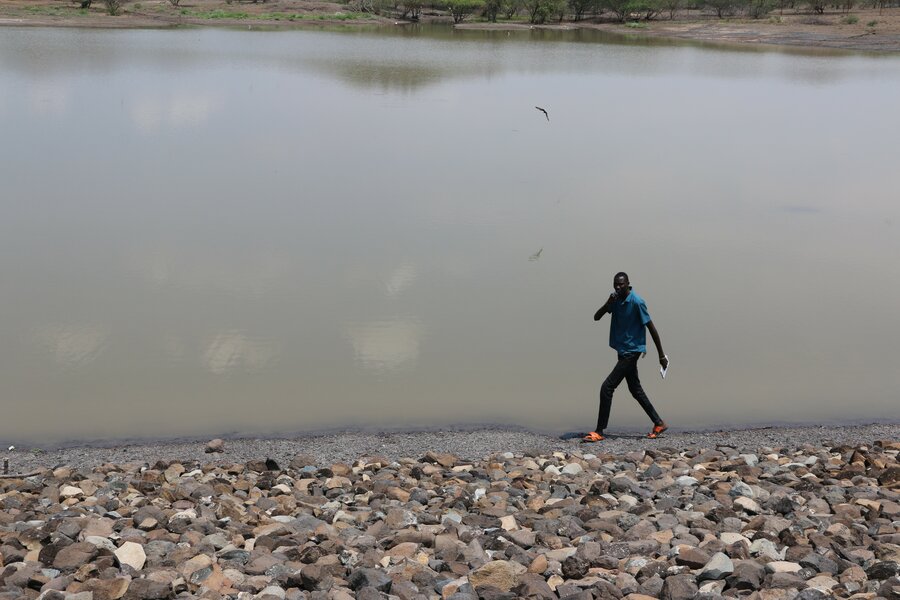 The Kang'ura water dam can hold about 100 million litres of water (100,000 cubic metres) while the pan has a capacity of 30 million litres (30,000 cubic metres). If filled to capacity, water in the dam can last the community up to eight months while the water pan can hold sufficient water to last six months.
These two water harvesting structures can sustain the population from one rainy to the next.
Both the water pan and the dam tap water from seasonal rivers whenever it rains. Instead of using plastic sheet to prevent loss of water through seepage, WFP used compacted clay, which is cheaper and easier to maintain. The dam embankment is lined with rocks collected by the community. These prevent erosion and siltation during the rains.
The water pan in the Kalobeyei settlement is being fitted with a solar-powered water pump to pump around 150,000 litres of water daily to a horticultural farm that is currently under construction.
Both structures are now in the hands of the community with little support from WFP or other agencies, which will increase the sustainability of the project.
WFP will construct four more water pans for irrigated farming and two more for watering livestock.
WFP's livelihoods activities in Kalobeyei are funded by the European Union Emergency Trust Fund for Africa.