Helping contain Ebola contagion in the Democratic Republic of Congo
, Jacques David
First-hand testimonies of how World Food Programme (WFP) assistance supports the response to the second largest Ebola outbreak in history.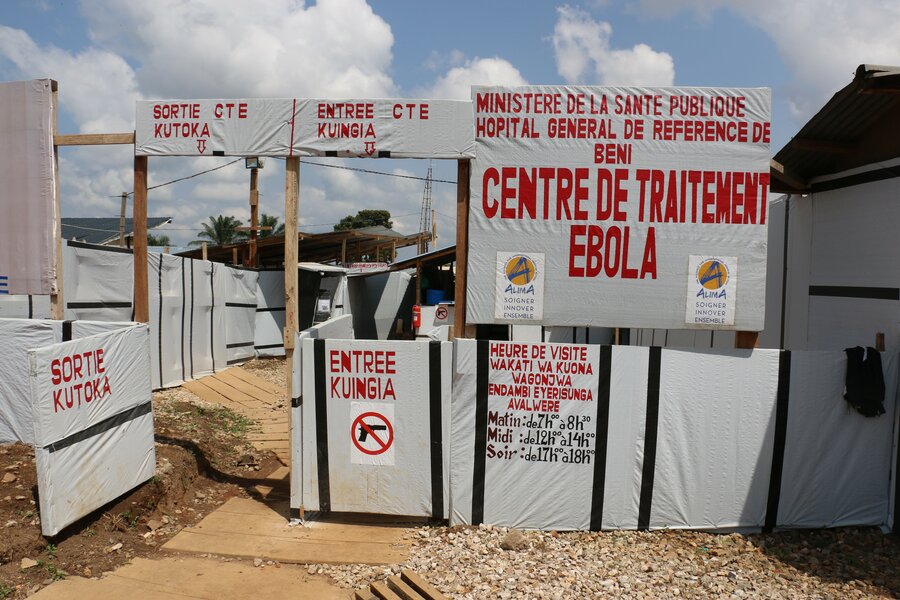 In the latest outbreak in the Democratic of Congo (DRC), more than 2,800 people have contracted Ebola. More than 1,900 of them have died. Nine months into the response, the epidemic is still contained within the provinces of Ituri and North Kivu. However, there is a high risk of it spreading to large cities such as Goma, or further afield.
One way to prevent this from happening is to trace people who might have contracted the virus and limit their movements. This is why WFP is distributing weekly food parcels to people suspected of carrying Ebola, so that they don't need to leave their homes to buy food while under medical observation. The more suspected cases stay in one place, the less likely the virus will spread.
Since August 2018, WFP has assisted 435,000 people with 5,600 tons of food and nutrition assistance as part of an integrated, government-led response strategy.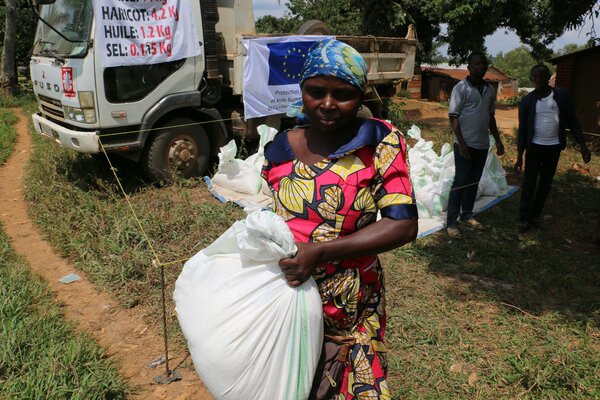 Kahindo Anastasie was identified as a suspected case by the Monitoring Commission because she had visited her aunt, who contracted the virus. She, therefore then became a 'contact person'. This scared her, she tells us. We meet her during at a food distribution by WFP and its implementing partner Caritas — her third. "As a contact person, I have to stay at home for three weeks — the time required to check whether I've been contaminated or not. The food serves as compensation for not being able to work in the fields," she says.
"As a nurse, I cannot abandon the people who come to the hospital."
WFP assistance also supports medical staff who, in spite of the risks, have remained dedicated to their patients: "As a nurse, I cannot abandon the people who come to the hospital. I had to treat people whose Ebola status was only confirmed at a later stage. Fortunately, I had already been vaccinated, so I was confident when I was identified as a contact. That's how I started getting this food. Even if I can't work at the moment, I have enough for my whole family to eat every day now," says 35-year-old Jolie Kauwaro.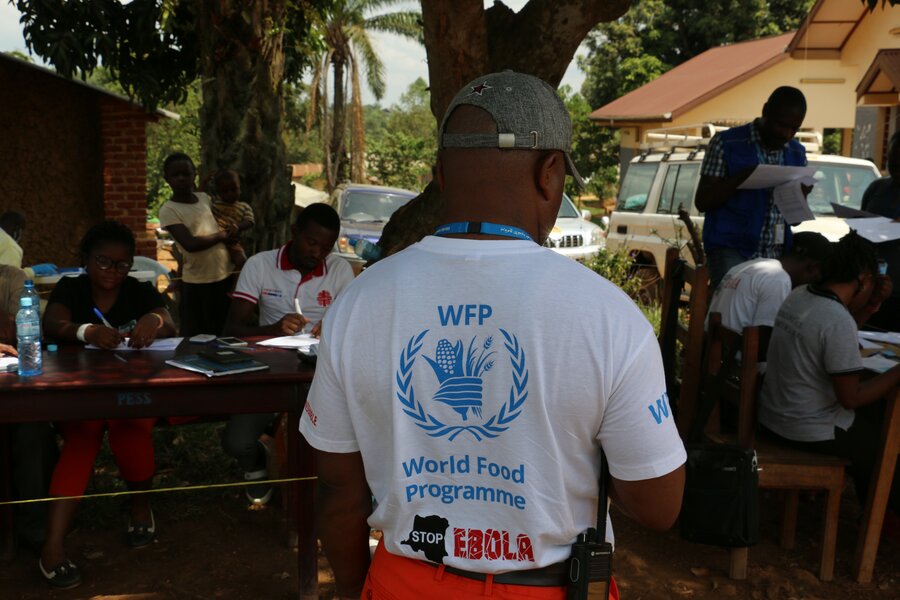 As in the case of Kahindo Anastasie and Jolie Kauwaro, tracing and monitoring persons who have been in contact with Ebola victims is a crucial to stemming the transmission of the virus. Weekly food distributions are an integral part of this response strategy, as they encourage contacts to come forward, make themselves known and be registered as a potential Ebola virus carriers requiring medical care.
"In my area, potential Ebola contacts came spontaneously to the Monitoring Commission because they had heard there were specific food distributions for them. Word of mouth works well in this kind of situations. Eventually the whole Ebola response process benefits from these distributions," says Doctor Belinda Ayumuna, from the Monitoring Commission in the Sayo Health Zone.
"When people receive food on regular basis, they are more willing to cooperate and engage."
In some areas, medical response teams have been struggling to gain the trust and cooperation of local communities, who had felt abandoned during years of conflict. WFP's food assistance makes communities more inclined to receiving medical care.
"When people receive food on regular basis, they are more willing to cooperate and engage in the vaccination process. The medical monitoring during distributions also creates a climate of trust and credibility," adds Doctor Ayumuna.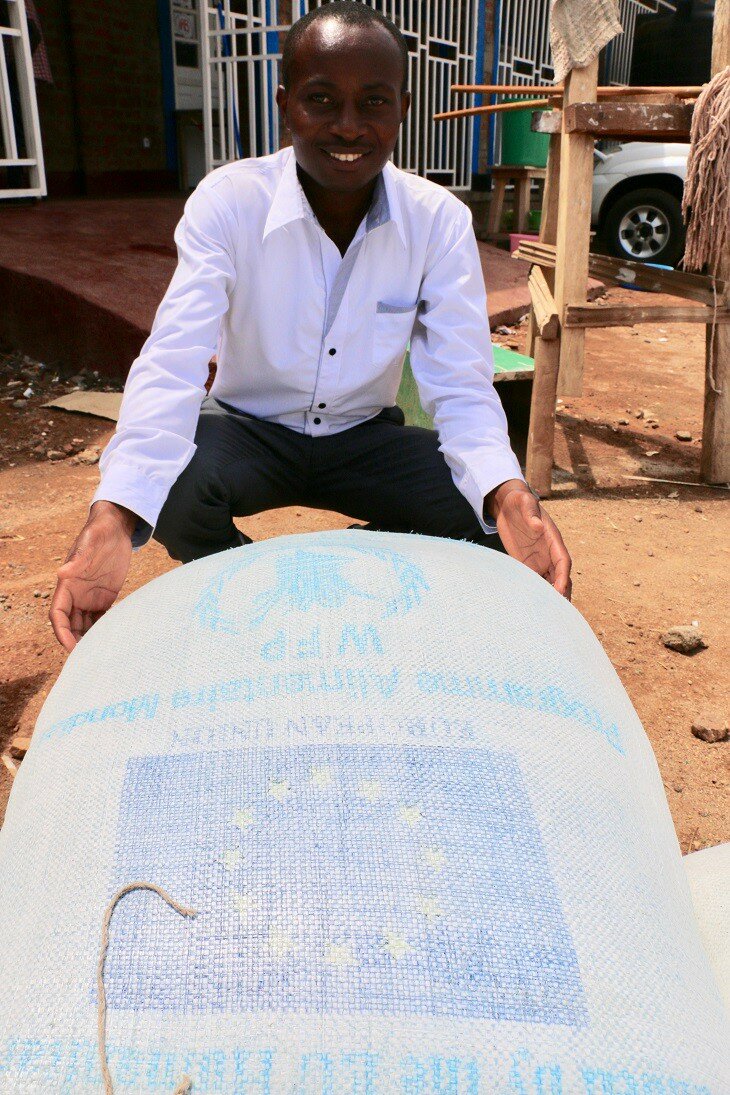 Besides assisting contact persons, WFP also delivers food and nutrition packages to Ebola patients in treatment and recovery, and to survivors, supporting their physical recovery and reintegration into the community.
"Many Ebola patients suffer from anorexia and lose up to 10 kg due to vomiting, diarrhea and high fever. Without the specialized food they receive from WFP, the healing and recovery process would be slower and the outcome more uncertain. The food assistance helps improve the condition of patients, who remain physically unstable for months after their recovery," explains Doctor Maurice Mutsunga, Chairman of the Ebola Cured Patients Committee.
Dr Mutsunga contracted Ebola at the hospital where he worked and transmitted the virus to his wife. Fortunately, they both survived. He is now working at the Ebola Treatment Center in Beni where he watches over children of suspected and confirmed Ebola patients. As a cured patient, he is now immune.
"I struggled and suffered because of Ebola and no one should experience this. So I want to continue fighting this disease that killed many of us so quickly. It's my duty," he concludes while collecting his monthly food ration.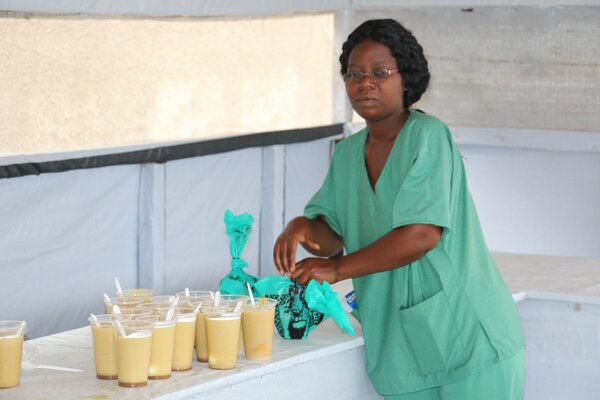 "WFP continues playing a critical role in the Ebola response and food assistance is a strategic part of it. Donors like Canada, the European Civil Protection and Humanitarian Aid Operations (ECHO) and the United States Agency for International Development (USAID) are crucial in supporting this. It is paramount that all donors keep on funding the response to avert further spreading of the epidemic, including to neighbouring countries," says WFP's DRC Country Director, Claude Jibidar.
The pressure is on to win the race against time and save lives. DRC's tenth Ebola outbreak is likely to last well into 2019, exceeding the duration of any previous outbreak in the country.