Making cash nutritious in Kenya
Diversity is one of the foundations of a healthy diet. Providing refugees with cash to buy food means that families have access to a wider range of products, but this doesn't necessarily translate into variety on the table. Here's how World Food Programme nutritionists are using education and communication to champion healthy diets.
, Simone Gie
Just outside the gates of Kakuma refugee camp in northwest Kenya, a bustling market sells a diversity of food. Fresh local fruit and vegetables, fish, meat, eggs and legumes are offered up by resident grocers, fishers and farmers.
"The town's market has been functional for the last 20 years," said World Food Programme (WFP) Nutritionist Elizabeth Owino, who works at Kakuma. "It serves the whole community — you can get almost anything you want."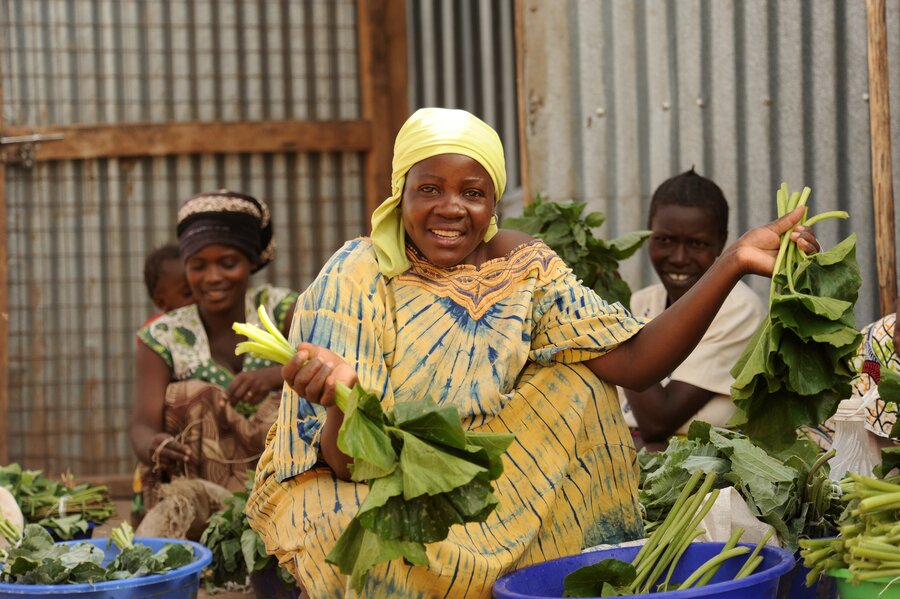 The camp is one of the longest-lasting humanitarian settlements in sub-Saharan Africa, and today hosts 160,000 people of over 20 nationalities. Most of the residents come from South Sudan and Somalia, after conflict or drought forced them to flee their homes. WFP has long been present in Kakuma, providing refugees with parcels of cereals, pulses, specialized nutritious food and vegetable oil.
In recent years, in places where markets are functioning and overall conditions are appropriate, the organization has been increasingly giving people cash to buy their own food. Cash gives people access to a wider range of products, while stimulating the local economy. Kakuma was therefore one of the settings considered ideal to introduce cash transfers: food was available but refugees couldn't afford it.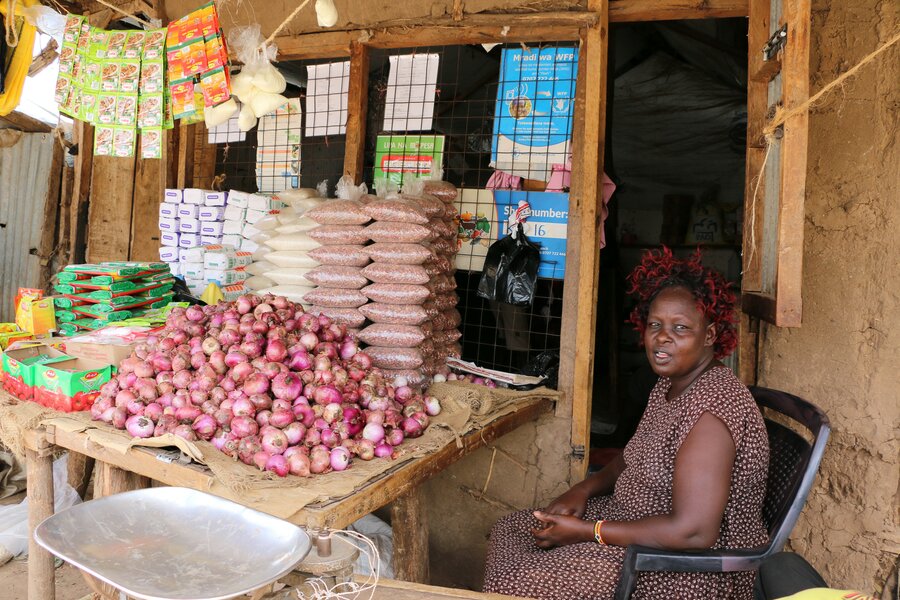 Introducing cash
In August 2015, in partnership with a local mobile network operator, WFP introduced a cash transfer programme to substitute part of the food parcel. The money — sent as an electronic voucher through mobile phones — could be redeemed for food at any of the local WFP-contracted market sellers including grocers and fresh produce stalls.
Variety is a cornerstone of a healthy diet, but nutritionists worldwide know that having a range of options available doesn't necessarily mean people will eat a diverse diet — there are many other factors at play.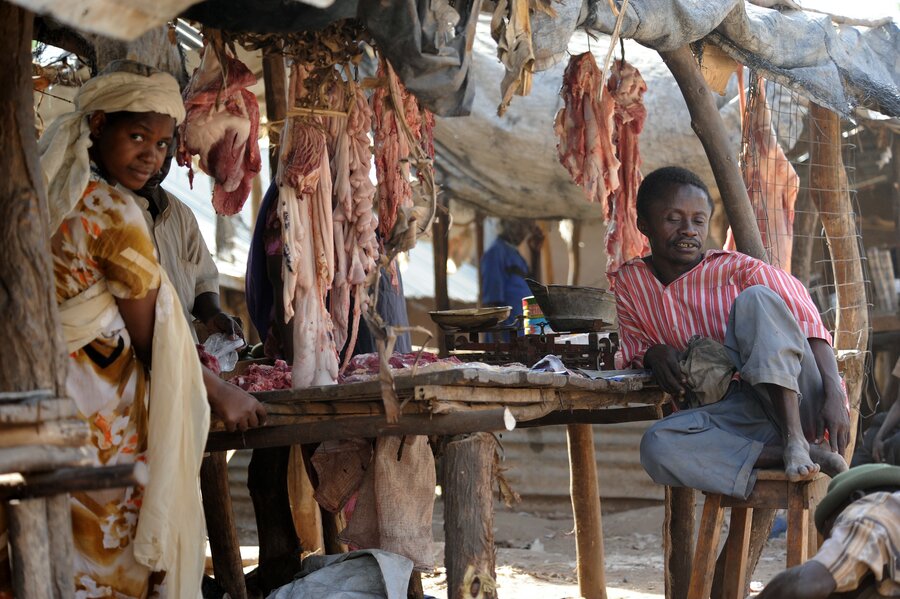 The cash programme was introduced at the same time as WFP was forced to reduce the size of the food parcel because of funding cuts. "When we first launched the cash transfers, many people used the vouchers to bulk-buy cereals such as flour or rice to make sure they had enough to last until the next distribution, and not other nutritious foods that were available," explained Elizabeth.
To encourage people to make healthy choices among the array of products available, WFP nutritionists gave advice to the heads of households and to caregivers, and in partnership with the International Rescue Committee, provided individual nutrition education and counselling to vulnerable people such as pregnant and breastfeeding women.
"We helped people understand what nutritious foods they could buy on the market, like rich sources of iron, taking into consideration their nutritional needs as well as what they could afford," explained Elizabeth. "We didn't dictate to people what to buy with their money, but rather gave them all the information. For example, we told them how certain types of foods would help their children grow, while other products like sugary soft drinks wouldn't provide any nutritional value."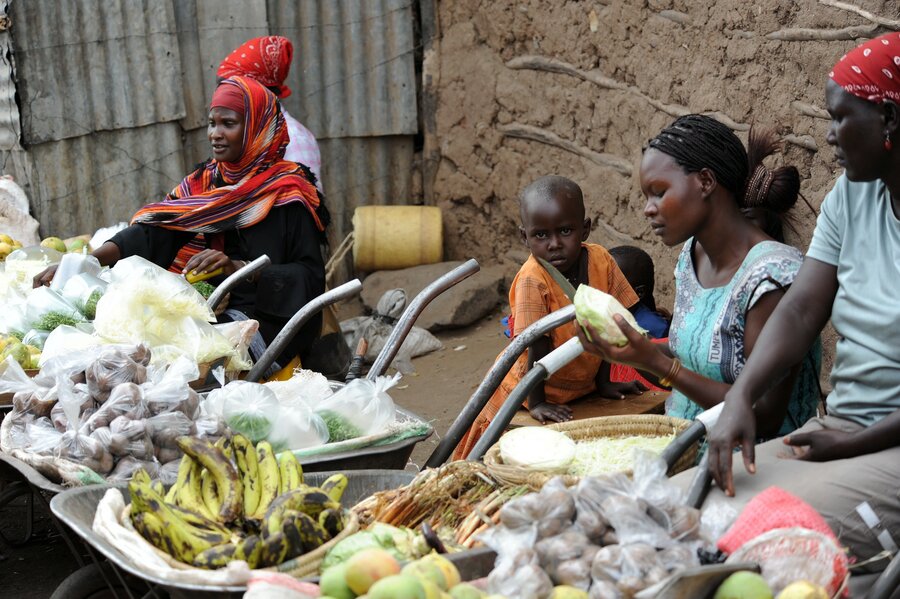 To help communicate the change, WFP worked with communications agency Film Aid International. Together they organized short film screenings, role plays, multi-language radio spots and radio talkback shows to communicate key messages such as how cash transfers work and why they were being introduced, as well as practical advice like what to do in the case of trader malpractice, and how to eat a varied diet.
More colours on the plate
The team's efforts are beginning to see results, says Elizabeth. "The families we are working with are starting to understand the importance of eating a range of food groups. They are using a part of the money to buy more vegetables, milk, sardines and beans, and occasionally small portions of fresh meat and fish, though not often since these are more expensive."
Habiba Mohammed, a mother of five, has been living in Kakuma for over a decade. "Before we were receiving things like maize, sorghum and split peas," she said. "But now I can buy other healthy foods for my children like vegetables and fruits, and even beans and fish."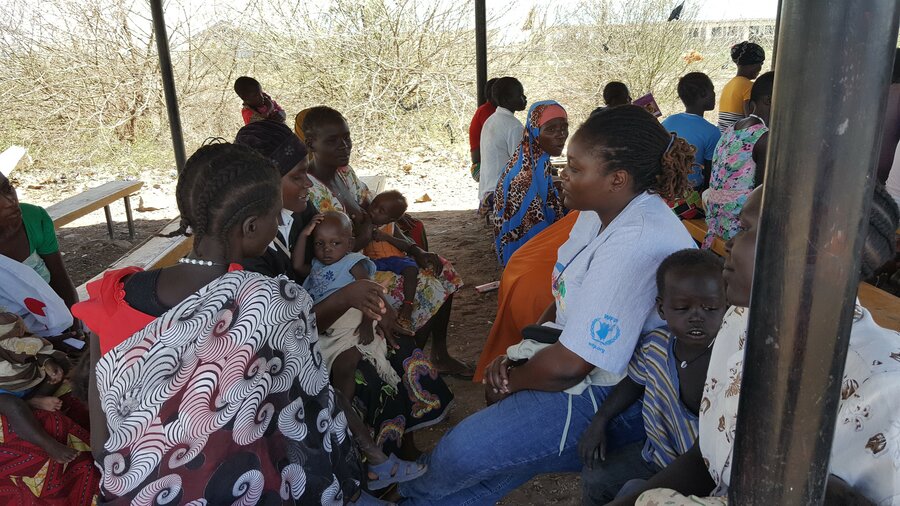 "Now when we remind the women that they used to spend their entire voucher to buy wheat flour, they laugh!" Elizabeth said. "If you give people the information and tell them what to expect, they feel respected and it's more likely that they'll embrace change."
Cash transfers in Kakuma are possible thanks to funding from ECHO, DFID, the German cooperation, People of Japan and Canada.
WFP is the largest humanitarian agency to implement cash programmes to buy food, with initiatives in 54 countries around the world. In 2015, the organization provided cash transfers to 9.6 million people, half of whom were living in Sub-Saharan Africa.
Additional reporting by Mica Jenkins.