The meaning of lost potential
"Feed Our Future" mission to Uganda
, Gladys kyotungire
My name is Gladys, and I play Miriam in the World Food Programme (WFP)'s "Feed Our Future" global cinema campaign ad, which raises awareness on the loss of potential the world experiences when children suffer from hunger. I recently travelled to Karamoja, Uganda, where WFP is supporting communities achieve Zero Hunger.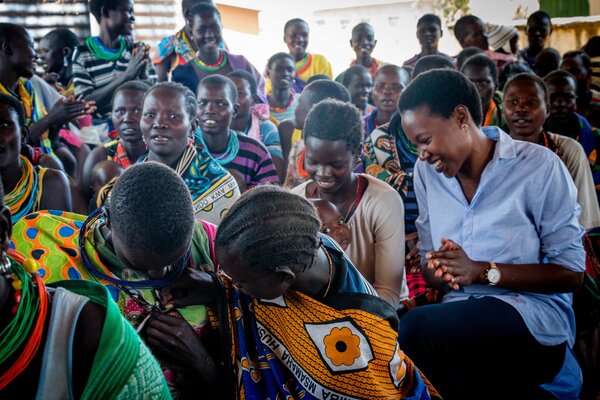 Growing up, there was a common saying in Uganda that went "we will not wait for Karamoja to develop." It meant that there was little or no hope for one of the poorest regions in my home country.
From the time I took off at Kajansi airstrip in Kampala to when I landed at Moroto airport in Karamoja, I kept drawing pictures in my head that matched that familiar saying: people without clothes, rundown roads and no water, all under a scorching sun. Poverty.
But what I found was the absolute opposite — apart from the scorching sun which is the nature of the region. Karamoja is developing, and people's lives are better than I imagined.
I wish I had known better.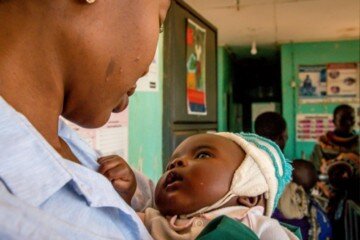 At Child Jesus Primary School, one of the 290 schools in Karamoja where WFP provides breakfast and lunch to students, I met a vibrant group of children who shared their hopes and dreams for the future. They had the kind of confidence that most adults can hardly express when we are asked about where they see themselves in five years.
Many wanted to become doctors, nurses, pilots, farmers and engineers, but what was most astonishing to me were their reasons why. Most of the aspiring doctors and nurses told me they want to work in their communities when they grow up because they know there is a shortage of medical professionals in Karamoja. One child who wanted to follow in his family's footsteps said, "I want to be a farmer like my grandfather so that I can sell food to schools and to WFP."
I joined a team of cooks, teachers and students during lunchtime. Posho, a type of porridge, and beans was being served. When I asked the children what their favourite food was, almost all of them said "posho and beans." For many, the breakfast or lunch WFP provides at school is their main meal of the day.
WFP has a programme that supports mothers and children for the first 1,000 days — the time from conception through age 2 — that sets the foundation for a child's physical and cognitive development. Before this trip, I did not know how essential this period is for a child so that they can reach their full potential as an adult.
I visited a Mother and Child Health Care Centre, where both mothers and their children looked happy. Mothers volunteer at the centre, which I thought was such an empowering opportunity for them. Babies smiled back when I smiled or played with them.
Some of the mothers told me how they come to the centre regularly for health check-ups for their babies and for nutritious food from WFP. Many said they rely on this support because what little milk that they get from the cows — for those that are lucky to have cattle — is not enough to feed their children.
While the women were collecting food, I sat with them, making conversation about their children and their families.
It was then that I met 17-year-old Maria who was carrying her 1-year-old son. I asked if she was in school. "I have never attended to school," she told me. I could not believe it. I asked how she could speak English as well as she did without ever going to school? She told me that she had learned English by working as a housemaid in the city centre.
I could not help but think about the potential she could have had if she had attained basic education! When we asked for her signature for consent, but she could not write her name, the meaning of "lost potential" became much more apparent to me.
This trip introduced me to driven and hardworking people. I met mothers who showed their determination to give their children the best start in life in their consistency in coming to the centre for food. I met young children eager to help their communities when they grow up. WFP support is helping people fuel their aspirations and feed their futures.
WFP, in partnership with SAWA, the Global Cinema Advertising Association, created the "Feed Our Future" campaign to highlight the potential that is lost every time a child dies of hunger. A 60-second ad is running in cinemas this autumn in more than 25 countries around the world. The ad contains a call to help end hunger through WFP's ShareTheMeal app and is at the heart of a year-long campaign.