'Peace is all we need to return home'
Refugees in Rwanda dream of no longer relying on others to feed their families and of going home
, Noel Dukuzumuremyi | WFP_Kigali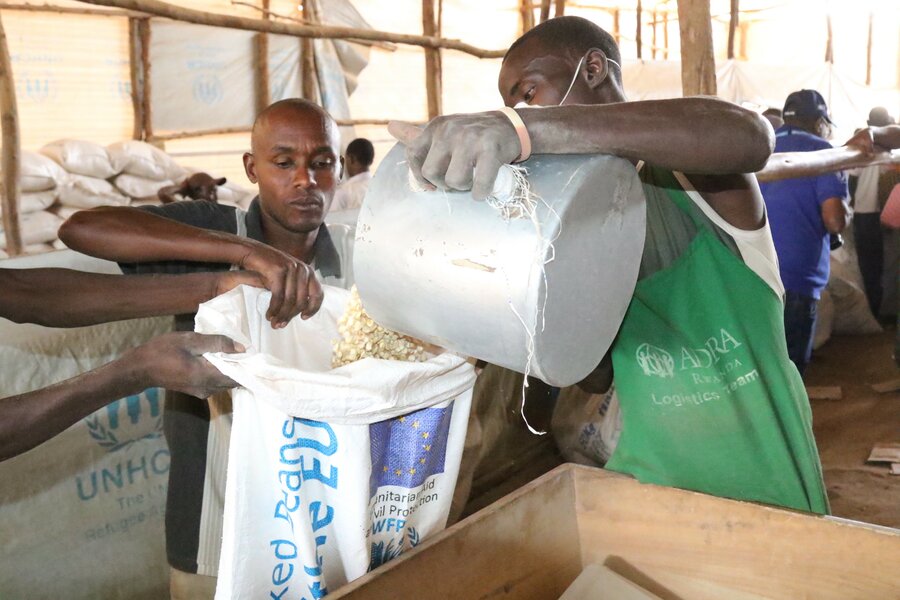 Hashakimana Valens and his wife live in Mahama Refugee Camp in eastern Rwanda with their four children. They left their home in Burundi after the 2015 presidential election and ensuing violence with the hope of returning after a few weeks. Valens and his family are among the nearly 58,000 refugees who have fled insecurity in Burundi and settled in Mahama camp.
"When the political campaign started in Burundi, our lives were threatened," says Valens. "The situation was very tense, similar to the civil war in 1993 in which my father was killed. I slept outside my home for over a month before I decided to flee to Rwanda."
Thomas Hakizimana, another Burundian refugee living in Mahama camp with his six children, recalls his own experience.
"Every night, armed people were patrolling the streets in my village, checking house by house. They even took away my pig, threatening me to stay quiet and not react."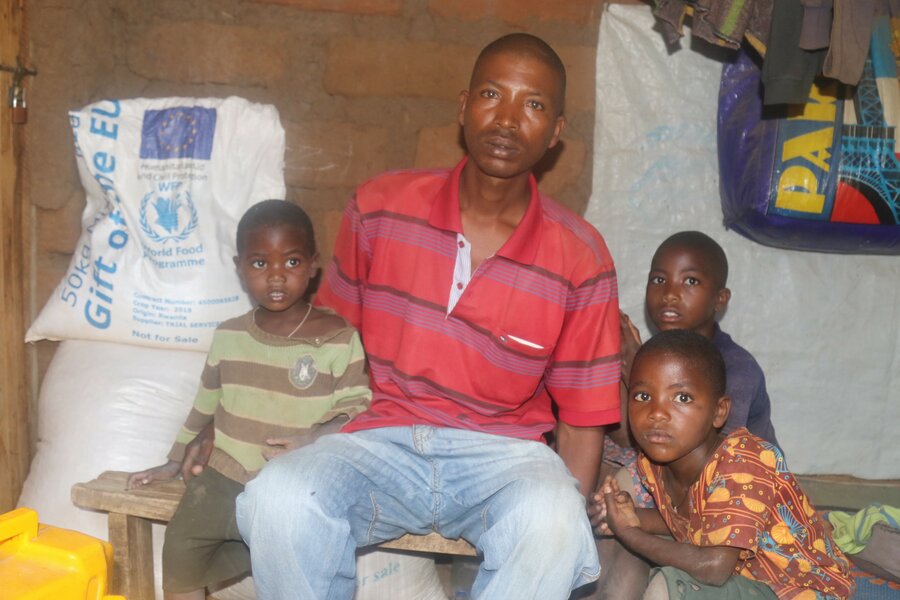 Seeking a safe haven
Rwanda hosts over 170,000 Burundian and Congolese refugees and asylum seekers who left conflict and political violence in their countries. The majority (79 percent) of these refugees live in 6 refugee camps in Rwanda. The remaining people known as urban refugees are less dependent on assistance because they have access to more resources and opportunities in the urban areas they live in. Almost 50 percent of the refugees in Rwanda are under the age of 18.
WFP is providing cash to people living in refugee camps, enabling them to buy goods directly from the local markets. In Mahama camp, WFP has been gradually moving towards this model as refugees will receive a mixture between traditional in-kind food assistance and cash starting in October 2018.
Refugees identified as particularly vulnerable including children under the age of five, pregnant and nursing mothers, and people receiving treatment for HIV and tuberculosis, receive specialized nutrition products from WFP. Children who go to school in the camps also receive daily meals from WFP on school days.
Dependence on WFP food assistance
A joint food security mission conducted by WFP, UNHCR and the Ministry of Emergency Management in August 2017 found that refugees are still highly dependent on food assistance, as livelihood opportunities continue to be limited. About 90 percent of the food consumed by refugees is provided by WFP, while 10 percent of the food comes from their own production or are gifts from friends and family.
Refugees face challenges in increasing their self-reliance due to a lack of appropriate skills, limited access to loans and start-up capital to either establish or expand a small business, and unequal opportunities and wages between refugees and host community members on the labour market.
The Ministry of Emergency Management and UN agencies are currently scaling up the implementation of a Joint Strategy on the Economic Inclusion of Refugees to increase their self-reliance while also contributing to the economic development of host communities.
"During the period when food rations were reduced [due to a lack of funding], I struggled watching my children cry of hunger," explains Thomas. "At that time, I would leave my house and spend a full day looking for jobs in the neighbourhood around the camp without any luck. It's difficult to survive as a refugee here as jobs are very limited; even Rwandan citizens are jobless."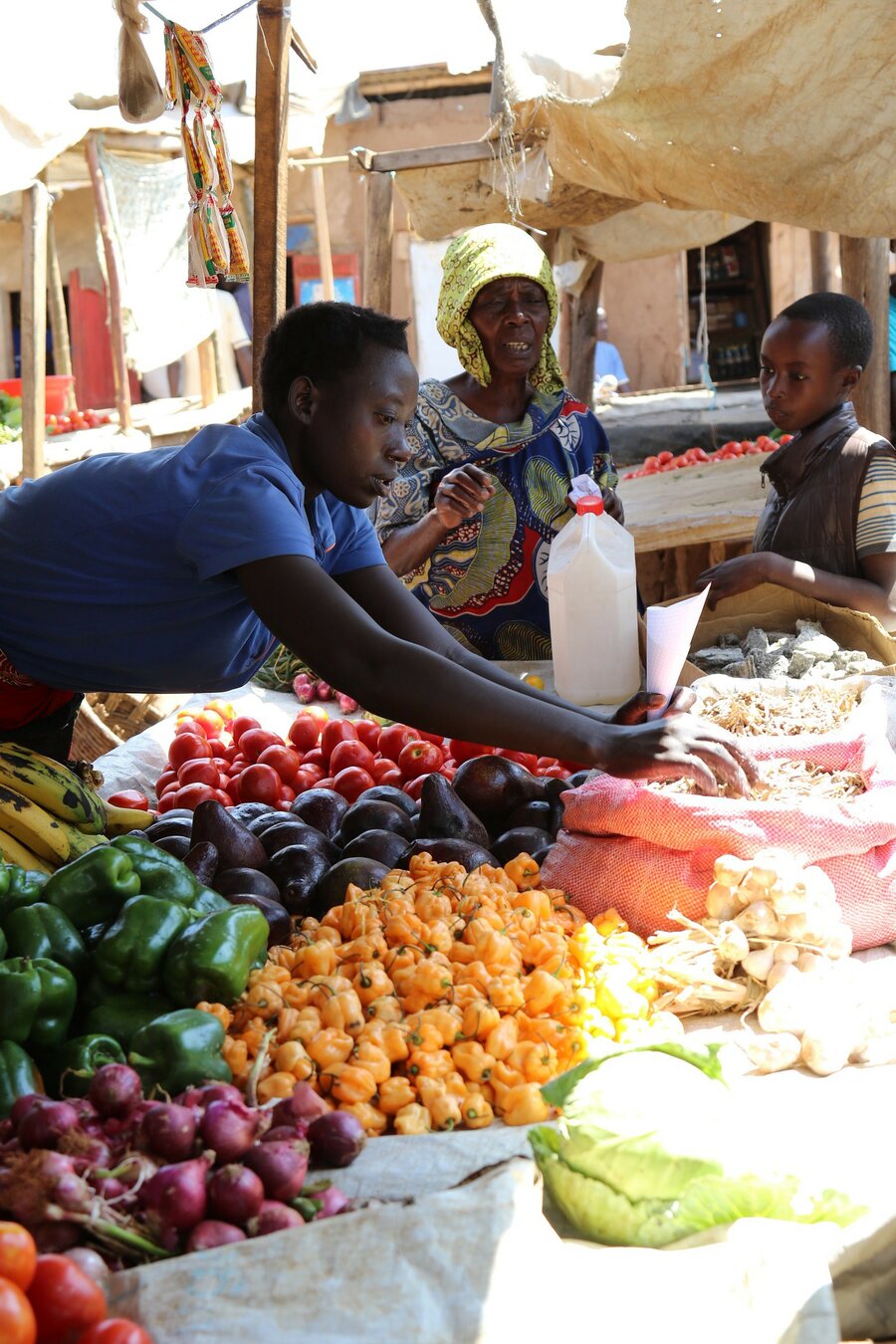 Thacienne Imunkurize, her husband and their two children also live in Mahama camp. During the camp's construction period, Thacienne's husband worked alongside humanitarian agencies to build the camp. He earned enough to support Thacienne in setting up a small business. Three years later, Thacienne is proud of her small business selling vegetables to other refugees in the camp.
"Through my business, I manage to make some extra money to support my children. However, it is not enough to support my whole family. I still require food assistance from WFP. We all depend on it for our survival," says Thacienne, as she breastfeeds her third child.
Going home?
It is unlikely that the refugees can return to their homes any time soon due to continued insecurity.
"To me, it's a shame that I live in the camp and depend on humanitarian assistance, as if I am disabled," says Thomas. "But at least me and my family are safe now," he adds.
"When I escaped, I was not thinking of where we were going or what would be waiting for us. All I needed was a safe place for my kids. If peace comes back to Burundi, I would go back immediately. I miss my home," says Thacienne.
WFP relies entirely on voluntary contributions for its humanitarian and development programmes in Rwanda, and requires US$ 31 million to continue to provide lifesaving food assistance to refugees in 2019.