The people of Kablewa — surviving violence
With the ongoing insecurity in the Lake Chad basin, many families remain displaced in Niger's Diffa region and continue to rely on humanitarian assistance
, WFP West Africa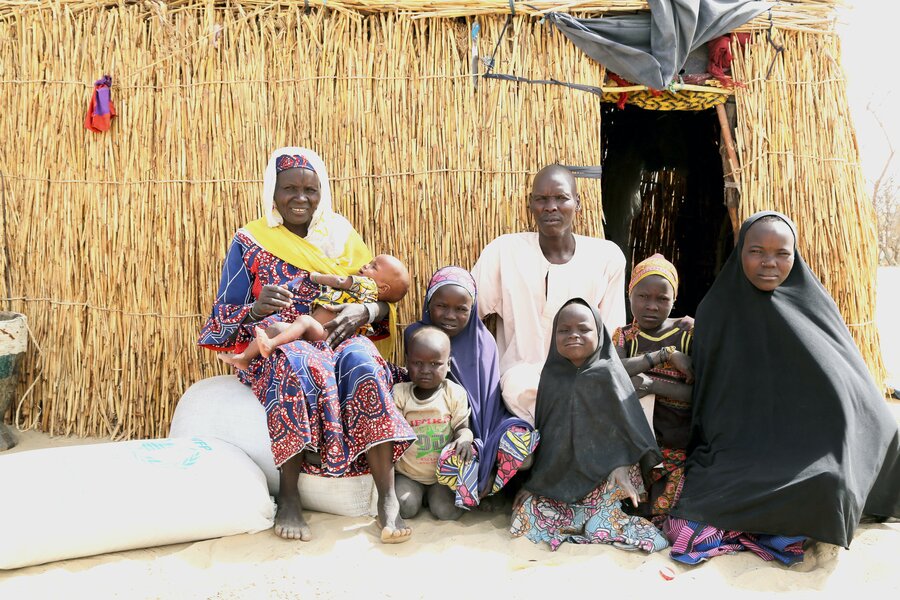 On a dusty day in the village of Kablewa in Niger's arid Diffa region, there are many men and women sitting in tents around a food distribution site waiting to collect their monthly ration of millet, cowpea, oil, corn-soya blend and salt in Kablewa.
Five thousand Nigeriens have settled here since 2014, soon after they were forced to flee their homes in the neighboring Bosso region due to violent attacks by armed insurgents.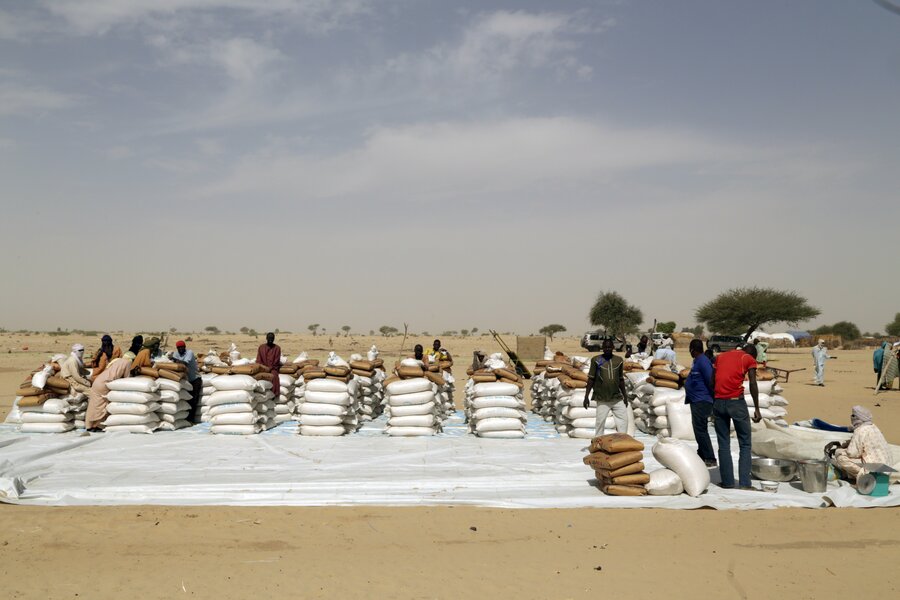 Madou Gabe, a father of eight, and his wife Basno Malam fled from Barwa Gana village of Bosso on the shores of Lake Chad. They are among the internally displaced (IDPs) here who depend on assistance from the United Nations World Food Programme (WFP).
"Living here is not easy for us. We can't provide for ourselves. The only food we get comes from WFP and we hope that it (WFP) will continue assisting us until we go back to our homes and resume our activities," says Madou Gabe.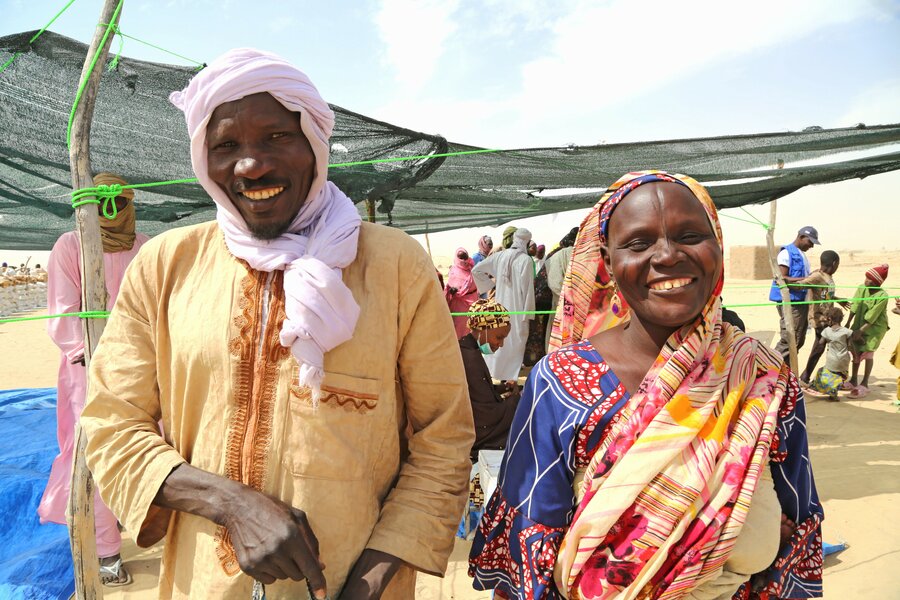 Gabe was a fisherman who smoked and sold fish in the weekly market in his village. With the income from his business he was able to provide for his family and take care of his children's education.
Everything was going well for the family until the day armed individuals came into their village firing shots, burning houses and destroying everything in their path.
Gabe and his family escaped unharmed; however, they were stripped of all their possessions and ordered to leave the village. They could not take anything from their home.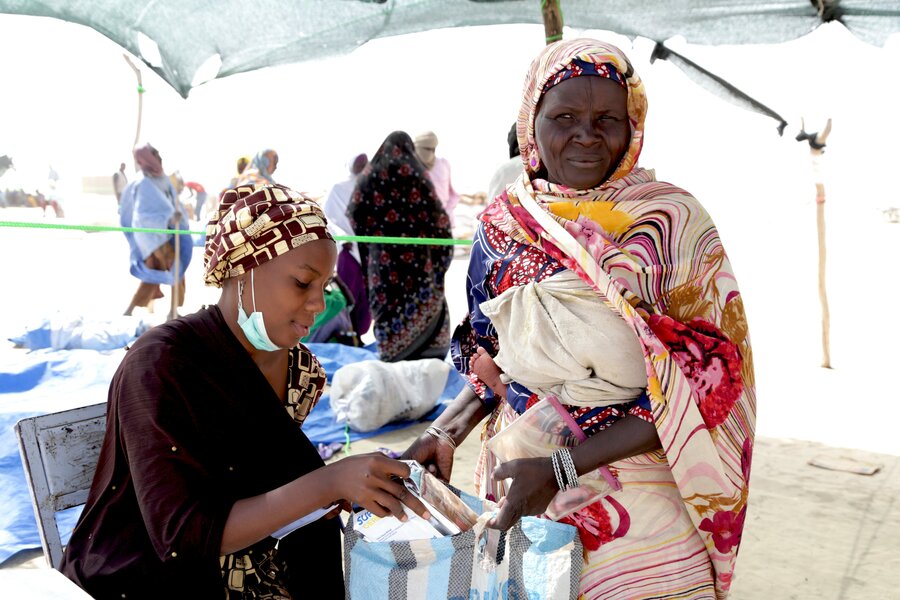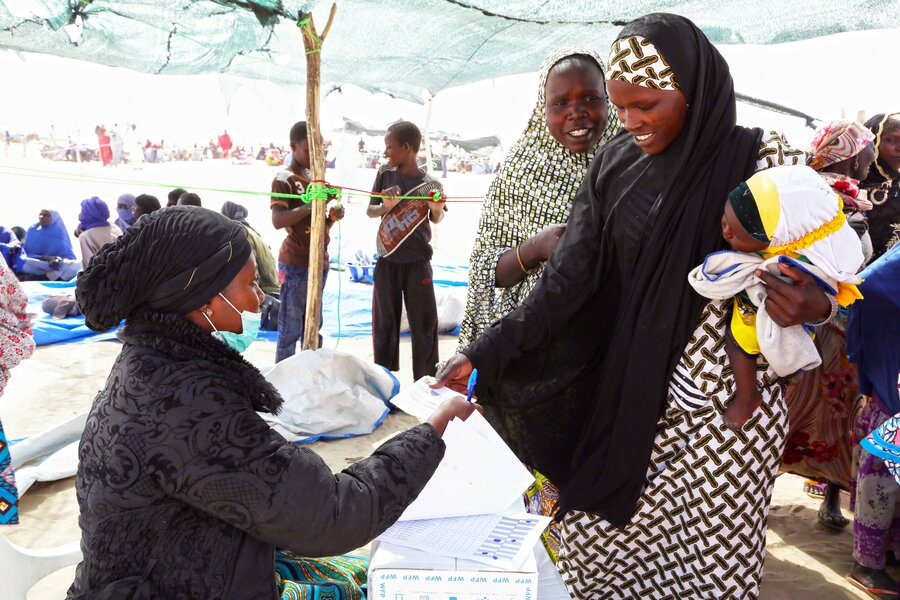 Gabe's family and other survivors of the deadly attack walked 60 kms in difficult conditions until they arrived in Kablewa, where they settled in an informal IDP camp on the west side of the village. They now live in emergency shelters built from millet stems, along with several other displaced communities who have also fled Boko Haram violence.
"Back home, with my fishing activity, I was one of the richest people in our community. But here we live in the middle of the desert and there is no activity we can do, so we are still dependent on food aid," Gabe recalls.
"The only joyful day in this camp is that of the food distribution. We all gather here early in the morning hoping to see the food trucks coming in which means we will not go hungry for the next month."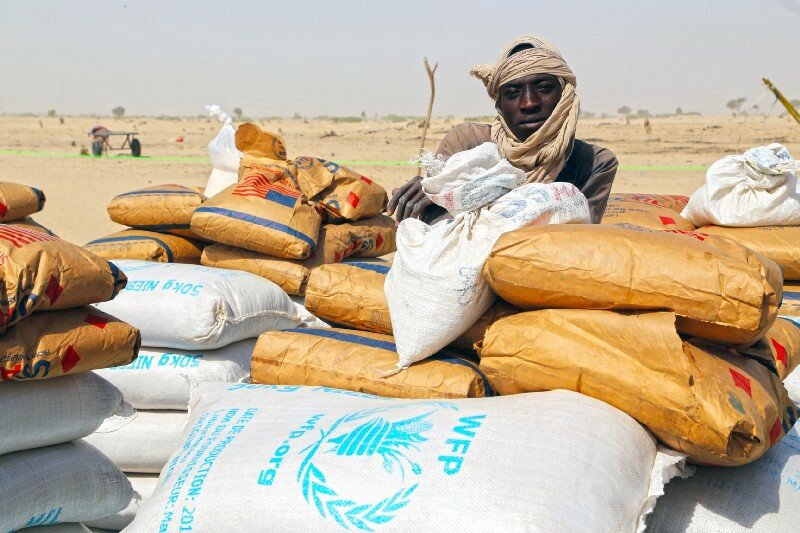 To help displaced children continue their studies, the government introduced a special programme in Kablewa primary school. After they take a refresher course, children can attend regular classes. WFP provides school meals for both displaced children and those from the host community. The three healthy and nutritious meals they receive each day helps them concentrate on their studies. WFP's school meals in emergencies programme is providing school meals to 67 schools in the Diffa region.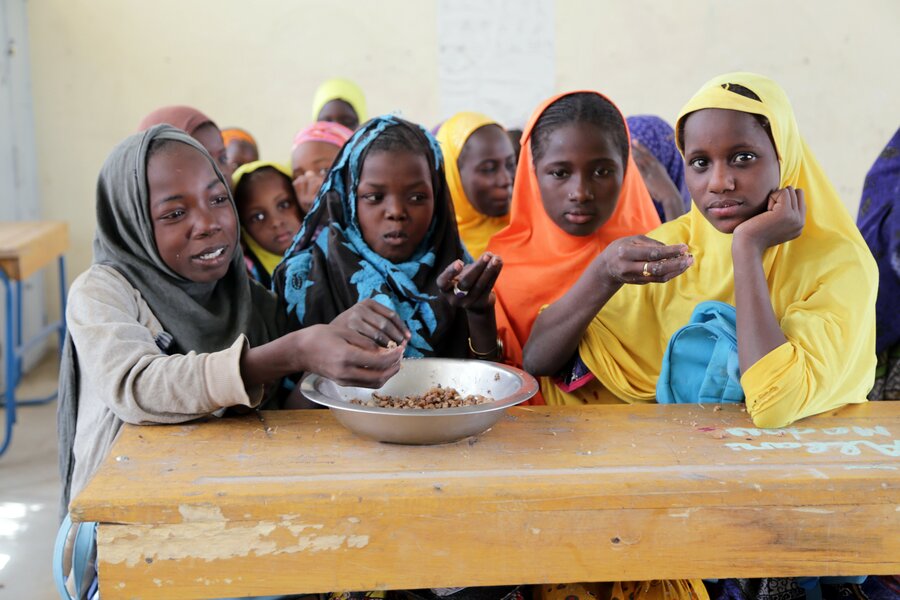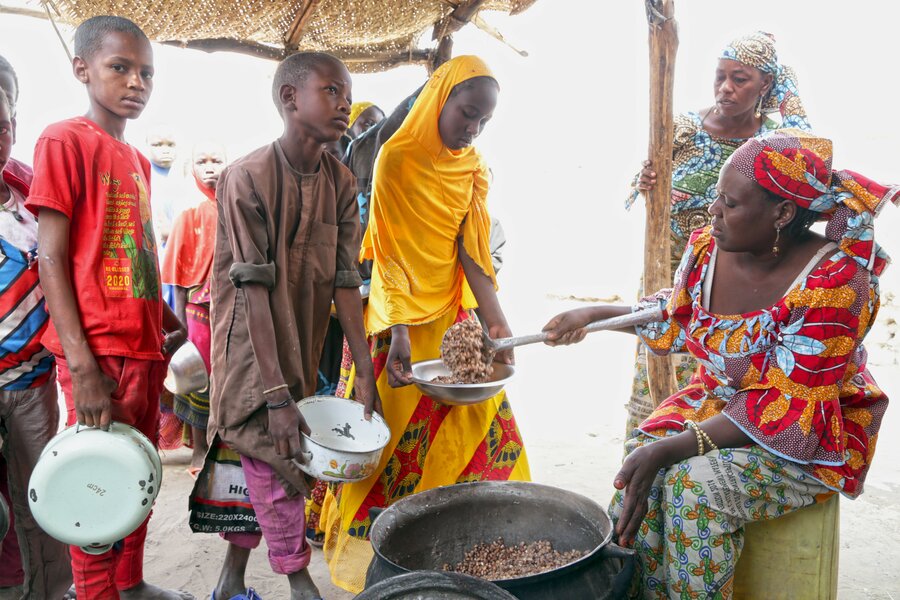 Hatcha Bande, 11, from Blatoungour, Bosso, is one of the displaced children who is benefiting from the meals.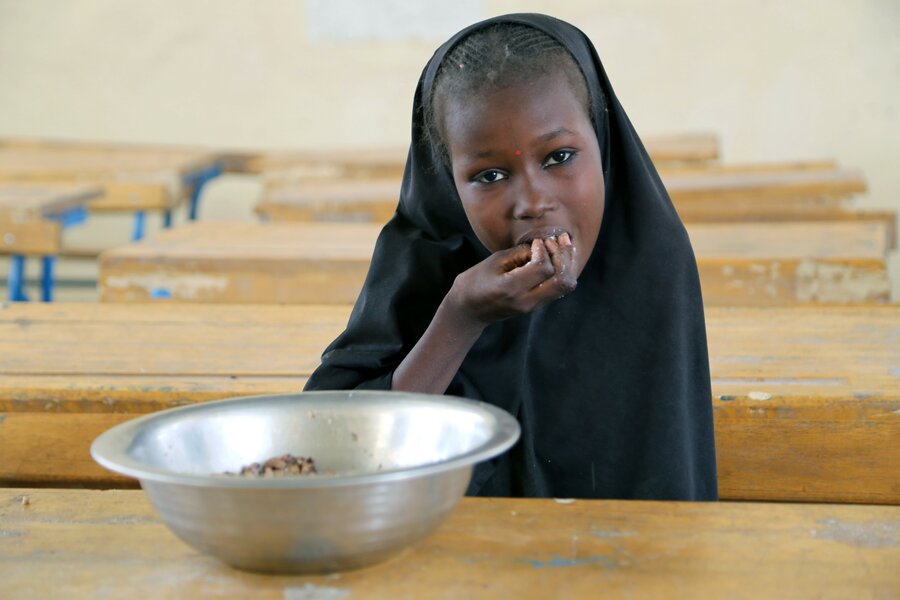 She was in class 4 when she was forced to abandon school and follow her parents to Kablewa. Three months after she arrived in Kablewa, Hatcha told her parents that she wanted to go back to school.
"I am happy to be able to continue my studies even though we left our village," says Hatcha.
"I am able to continue attending classes thanks to the meals I get at school. We eat three times a day and I only return home in the evening after having dinner at school. I would like to continue my studies and become a teacher to teach other children, and also help my parents," she adds.
Mahamadou Moustapha, 12, from Tchikoundi in Bosso is also able to continue attending school because of the school meals programme.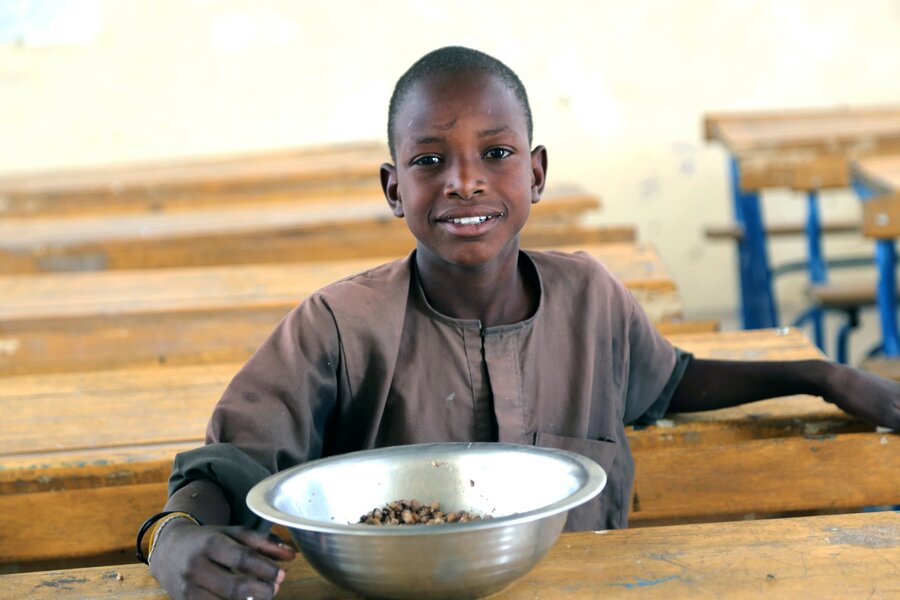 He lives with his parents and eight siblings in another IDP informal settlement near Hatcha's.
"Since I started attending this school, I have never missed classes because I never go hungry thanks to the food I get here. My dream is to become an aid worker and help others in difficult situation as you (WFP) do for us now," says Mahamadou.
Many displaced children like Hatcha and Mahamadou are able to attend school because of WFP's school meals programme. They hope to complete their education and become active members in their communities.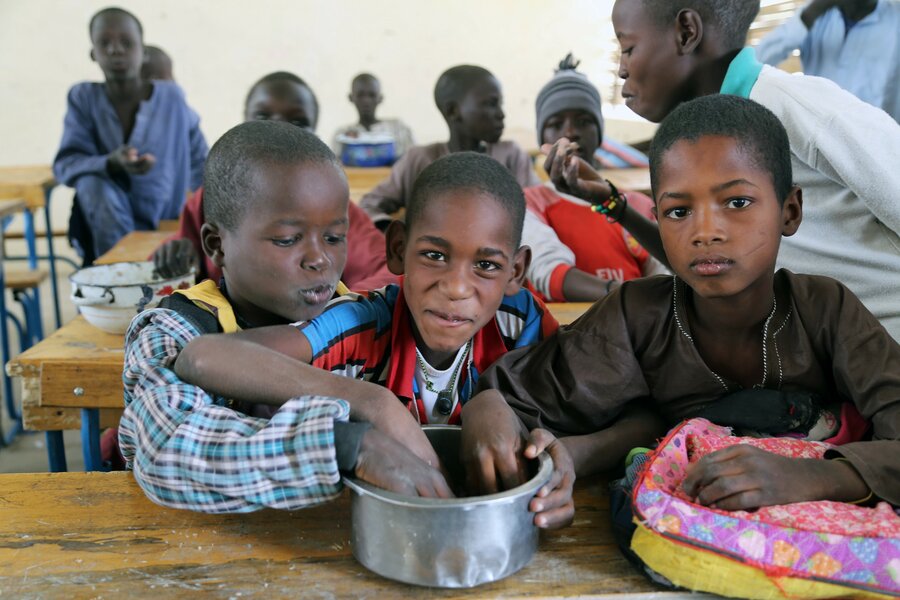 In emergency settings, school feeding is recognized as a unique instrument to support nexus implementation. Well-designed school feeding programmes play a vital role in crisis response as it provides a sense of normality in traumatic circumstances. For children living in fragile and conflict-affected states, where food insecurity and fragil­ity are mutually reinforcing, school feeding becomes an essential part, not only of humanitarian and protection assistance but also of the hope for a more peaceful future with stronger social cohesion.
WFP is providing food assistance to vulnerable communities in Diffa region thanks to support from Canada, Echo and UK Government.
Written by Amadou Baraze