In rural Sierra Leone, Fatmata's kids won't be eating tonight
As hunger reaches unprecedented levels in the West African country, school feeding is a lifeline for one woman raising a family singlehandedly
, Lydia Wamala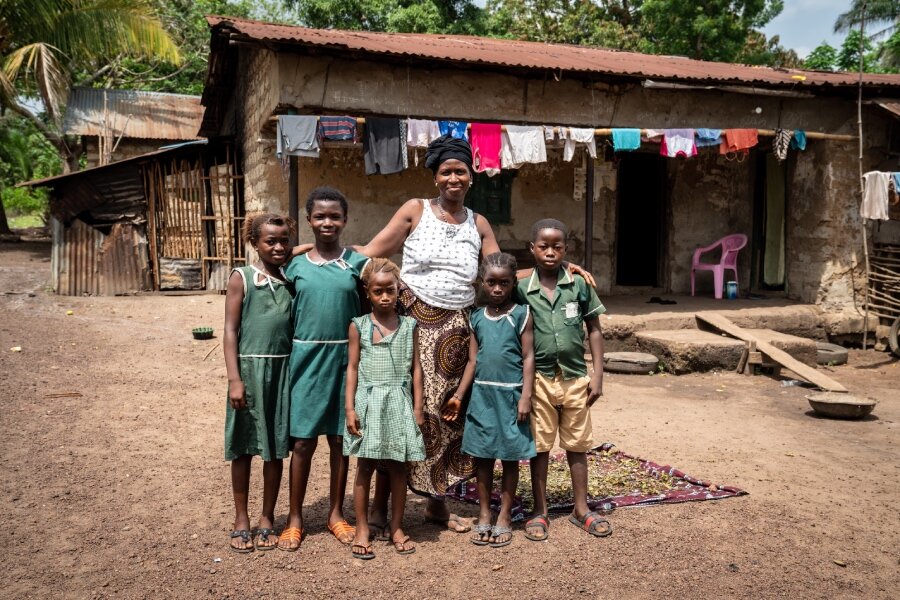 In a large courtyard at Dar es Salaam village in northern Sierra Leone, Fatmata Kamara watches as her three younger daughters arrive home from school.
She flashes just seconds of a smile, acknowledging them. Her main interest is that the girls immediately change their clothes so she can wash their uniforms to dry overnight for school the next day.
Asked if she might begin to cook supper, as the uniforms drain on a log fitted to her crammed verandah, Fatmata replies, "There will be none tonight." 
Drought in Somalia: The race to save lives as the climate crisis and conflict drive hunger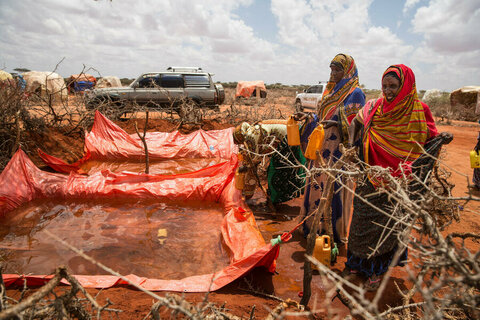 "My children know that when I have the means, I cook them supper and when I do not, like today, we skip it," she adds. "On such nights, we stay up talking until they fall asleep."
The only thing the family might eat tonight, Fatmata says, are mangoes – plentiful where she lives – cooked in palm oil.
In between harvests during the May-to-September lean season, it's already common for schoolchildren to go without supper or a proper breakfast.
For many, the single, hearty school meal provided by the World Food Programme (WFP) is the only one they can rely on to survive.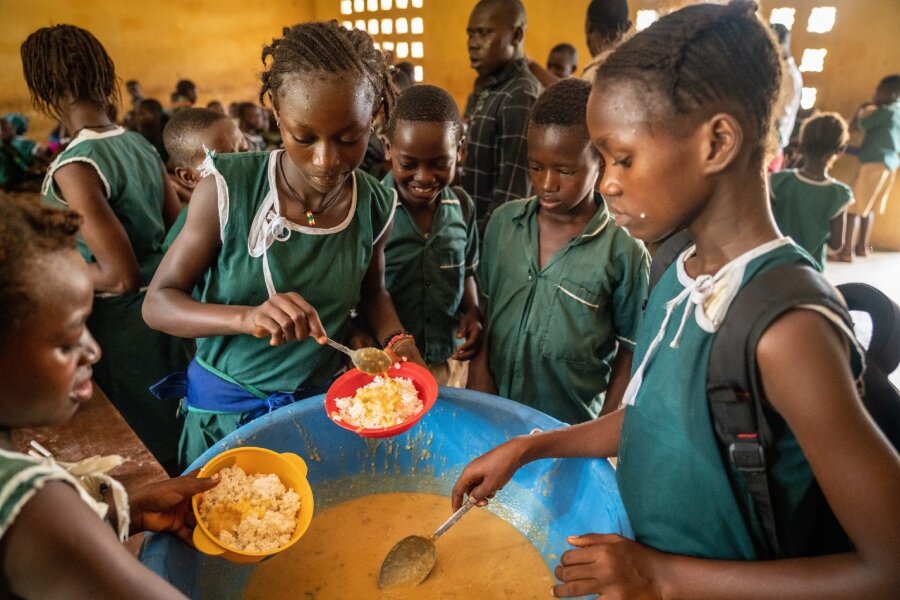 That is partly because most parents practise subsistence agriculture, reaping low yields especially during extreme weather events like droughts or floods. Good seeds and fertilizer are expensive and hard to come by, and post-harvest food losses are typically high.
Recent years have been even harder for many in the West African country that ranks near the bottom in basic human development indicators. Economic stagnation, widespread poverty, a rapidly deteriorating local currency and the fallout of COVID-19 have steadily pushed up hunger levels.
But the war in Ukraine, notching up global inflation, proved the tipping point, triggering a spike in fuel and food costs.
Choosing who eats
An August food security analysis by WFP and Government experts found four in five households countrywide were food insecure and 15 percent faced intense hunger – an unprecedented level for the lean season here. It also found a large majority of households spent three-quarters of their income on food.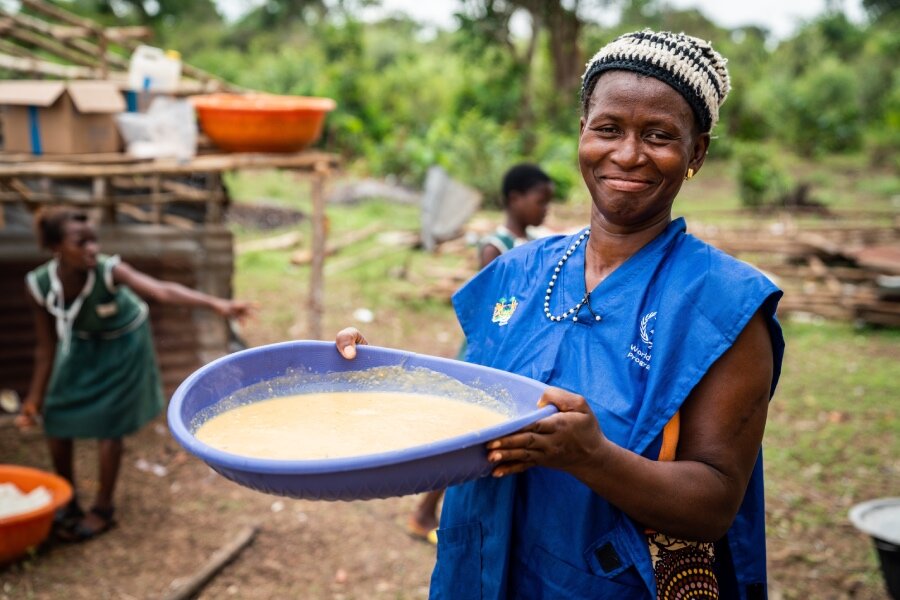 And costs keep going up. The price of staple rice, for example, increased by over 40 percent this year. Fish at the market – a favorite of Fatmata's family – is also more expensive.
Today, more than half of Sierra Leone's population resort to eating fewer or smaller meals, or to choosing who in the house eats and who does not – or going to the extreme of frying anything that is vaguely edible in palm oil.
"What it all means is a calm before the tempest – people are using any means to access food. But their means will run out if we do not intervene," says Ballah Musa Kandeh, WFP's vulnerability analysis and mapping officer in Sierra Leone.
"In rural areas, hunger levels and poverty will continue to rise also because fertilizer now costs so much more, due to the crisis in Ukraine, which, along with Russia, is a key grain and fertilizer exporter," Kandeh added.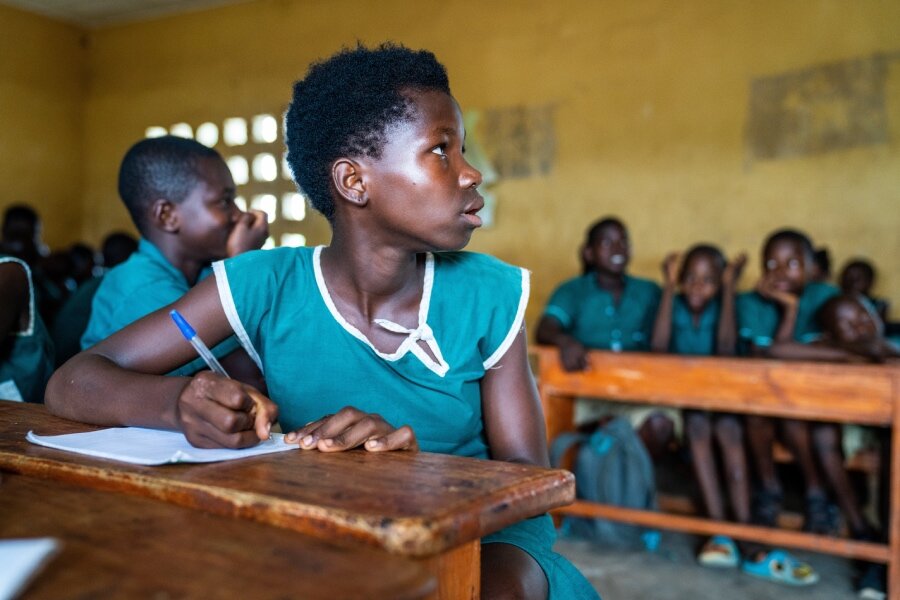 School feeding draws children to school, where learning can offer a pathway to a brighter future. But for Fatmata and many other parents, WFP school meals – composed of cereal, pulses and fortified vegetable oil and serving up one-third of daily minimum calorie requirements –  offer an extra asset. They are proving the best way to cope.
That's especially true since Fatmata's husband died of an illness earlier this year, leaving her to care singlehandedly for their five daughters and an orphan boy, her late husband's son.  
Along with other parents and grandparents, Fatmata serves as a volunteer cook at her daughters' primary school. Occasionally, they receive a small voucher for their support to the 495 children enrolled, most of whom face long treks to school. 
"We are happy because whatever I receive, I bring home, and the girls get to eat, because they attend school,"  says Fatmata.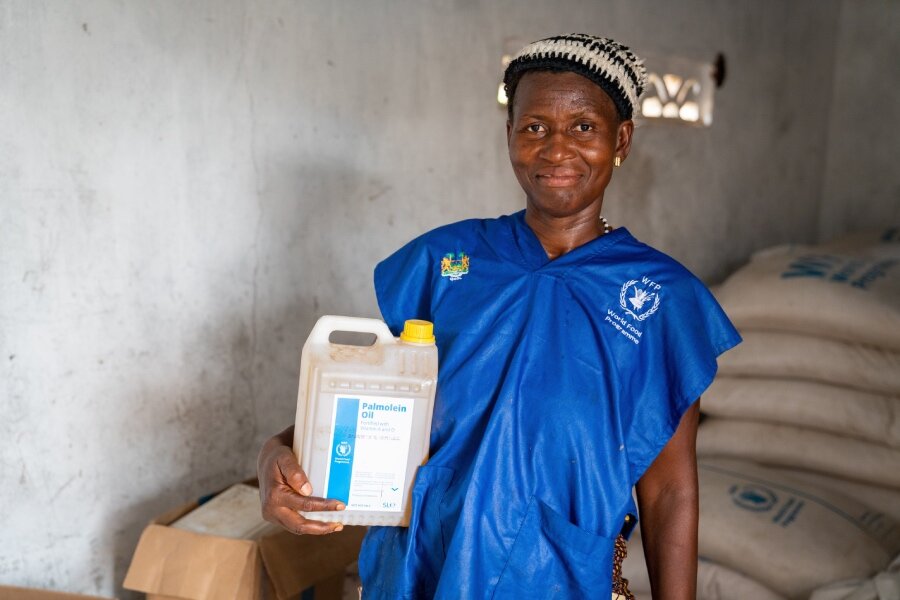 She also sells surplus produce from her garden at the market, earning roughly Le45 in a week – or less than half a US cent – some of which she likes to save for emergencies.
On good months, her children eat both school lunch and an evening meal. That was the case in September, when Fatmata cooked supper at least five evenings every week – although not before washing the school uniforms. 
Thanks to funding from Germany, Japan and Sweden, WFP provides one daily nutritious hot meal for 118,000 children in Sierra Leone. WFP needs another US$2.8 million immediately to assist an additional 115,000 vulnerable school children in the country's most food-insecure communities.
Now is the
time to act
WFP relies entirely on voluntary contributions, so every donation counts.
Donate today