Syria at six years — Responding to an unprecedented crisis
As the Syrian conflict enters its seventh year, the World Food Programme (WFP) continues its work to feed four million people across the…
, World Food Programme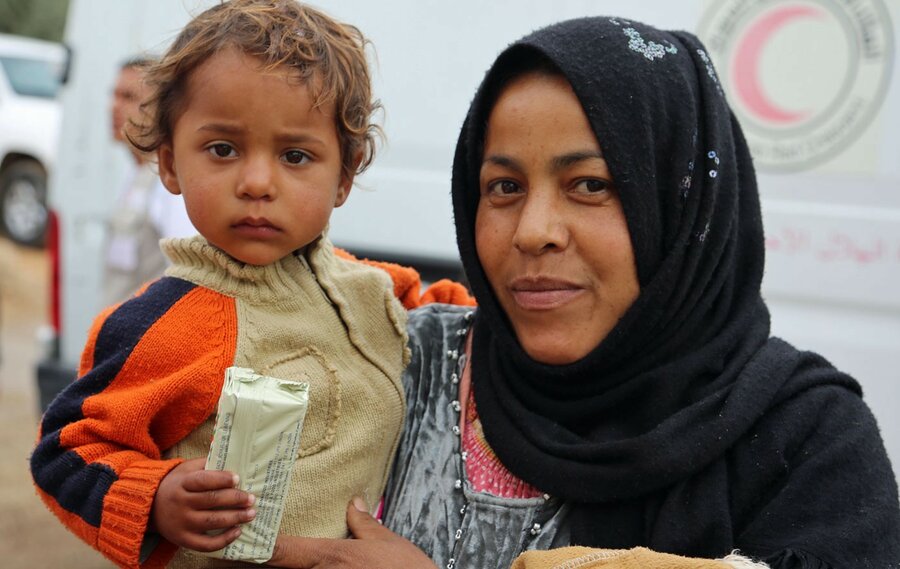 As the Syrian conflict enters its seventh year, the World Food Programme (WFP) continues its work to feed four million people across the war-torn country, and to provide support to millions more displaced throughout the region. At the six-year mark from when the conflict began, we trace both how the conflict unfolded and how WFP's response has evolved over time.
2011
In 2011, localized unrest and protests erupted across Syria, marking the initial stages of the conflict. The social upheaval prompted WFP, which had been providing assistance to Iraqi refugees and people in drought-prone areas in Syria, to launch an emergency operation that sought to provide food assistance for 50,000 people.
2012
The rapid escalation of the conflict in 2012 left 4 million people in need of humanitarian assistance, while another 400,000 people sought refuge in neighbouring countries. In response, WFP scaled up its operations to target 1.5 million people by the end of the year. WFP began to coordinate the food security and logistics response in support of wider humanitarian efforts.
2013
During the third year of the crisis, conditions drastically worsened. More than 9.3 million people — nearly half of Syria's population — were suddenly in need of humanitarian assistance. People became increasingly more vulnerable, depleting their life savings and resources to cope with the deteriorating situation around them. In order to meet the growing needs of Syrian families, WFP added wheat flour and yeast to the monthly food rations it was providing across the country. To strengthen food security among vulnerable segments of the population, WFP introduced a programme to prevent malnutrition in children by providing specialized support to children aged 6 months to 5 years.
2014
As the crisis dragged relentlessly into its fourth year, larger segments of the population became inaccessible from inside Syria. In response, the UN Security Council passed Resolution 2165, authorizing the UN to conduct cross-border deliveries into Syria from neighbouring countries. WFP immediately began to deliver assistance from Turkey and Jordan to opposition-held areas in northern and southern Syria.
Additionally, in response to the 'No Lost Generation' initiative that aimed to prevent the loss of a generation of Syrians to violence and displacement, WFP launched a school feeding programme at the start of the academic year. WFP also launched a nutrition programme for pregnant and nursing mothers, a population particularly vulnerable to the worsening conflict. Through this effort, women received cash-based transfers that enabled them to buy fresh food to improve and diversify their diet during pregnancy, in addition to food provided by WFP through existing programmes.
2015
The challenges in providing humanitarian assistance continued to grow in 2015, as the number of vulnerable people inside Syria increased to more than 12 million. Trapped in areas under siege, millions of people were cut off from functioning markets and were unable to be reached by WFP and partners.
Hundreds of thousands of Syrians crossed into Europe by the second half of the year, and by the end of December, 4.3 million people had left Syria. Despite mounting challenges on the ground, WFP continued to implement programmes throughout the country. To strengthen its humanitarian reach on the ground, WFP broadened its scope to include more than 40 partners by the end of the year. Across its different programmes, WFP supported 4.25 million people in 2015.
2016
As conflict escalated in its sixth year, so did the needs of Syrians, with 13.5 million people, or 75 percent of the population, requiring humanitarian assistance. Although millions of people remained trapped in areas across the country that could not be easily accessed, the UN and WFP managed to reach more people in these areas compared to previous years. To reach people that were — and remain — surrounded by ISIS, WFP launched a high-altitude airdrop operation in April, which delivered vital relief to thousands of people trapped in the city of Deir Ezzor.
WFP also established an airbridge operation in July, to bring food assistance to Al-Hasakeh governorate in the north, after all border crossings surrounding the governorate were cut off. To support resilience among communities and facilitate recovery, WFP introduced livelihood activities that provided Syrians with the opportunity to generate income, helping to introduce a sense of normalcy to their lives.
For a detailed overview of WFP activities in Syria in 2016, visit the 2016 — Syria Year in Review presentation.
2017
With the war entering its seventh year, WFP continues to provide support to 4 million Syrians per month, even in the face of tremendous challenges. In addition, WFP has begun looking to the future of Syria. WFP plans to assist in re-establishing and stabilizing livelihoods, as a means of helping conflict-affected populations inside Syria to rebuild their lives.
Over the coming two years, while WFP continues to provide general food assistance, it also aims to implement and expand programmes intended to gradually reach up to 5.74 million people, with an increased emphasis on livelihood and resilience activities to prepare for the post-conflict period.
Want to help WFP bring food and hope to Syrian families? DONATE NOW