Time to confess and #StopTheWaste
Celebrities around the world come together to reveal their wasteful habits and learn how to improve them
, Mert Er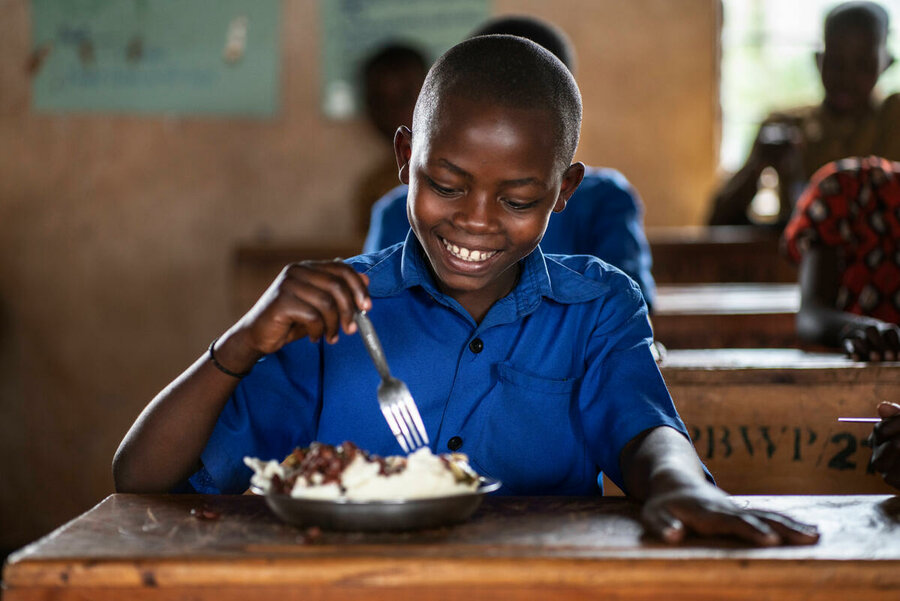 There is a key question to ask ourselves if we want to end hunger: If enough food is produced globally to feed the world's 7 billion people, why do 811 million people still go to bed hungry each night?
A critical factor is that one-third of food produced is lost or wasted throughout the supply chain. This equates to a financial loss of about US$1 trillion and causes more than 3 billion tons of greenhouse gases to be emitted. In developed countries, 40 percent of food is wasted after it is bought by consumers, as people are taking more than they need.
#StopTheWaste is a campaign launched by the World Food Programme (WFP), to raise awareness of food waste and solutions. You can take action by wasting less produce and by turning the money you save into food assistance, by donating to WFP.
This year, influencers, celebrities and Goodwill Ambassadors and Advocates of WFP are taking part in the campaign, confessing how they waste food and discussing easy ways to address this. As World Food Day is marked on Saturday 16 October, we take a closer look:
Kaká & Rita Lobo
Celebrity chef and TV host Rita Lobo met online with former footballer and WFP Goodwill Ambassador Kaká. "I have three kids and you know how difficult it is to make sure they eat vegetables," says Kaká. "So how can we cook these vegetables so that children find them more attractive and do not leave them on the plate?"
Rita's suggestion is to let the children help themselves to the food, because if some is left on the plate, it is likely to go in the bin. But what's on the serving plate goes back to the fridge and can be reused. Her second tip is to try to bring the whole family into the kitchen, because when you see the work involved in washing the spinach, preparing the cream and so on, you become more aware of the food and create a more positive relationship with it. Also, she indicates that it's no use telling children "eat your vegetables" if you are holding a can of soda or a shake to replace your meal. Also, eating together as a family helps to promote correct eating habits, as children look up to adults. She suggests making a weekly menu and sticking to it, and planning your grocery shopping based on that. Cooking food in advance and freezing it is another way to reduce your food waste.
Hend Sabry & Manal Al Alem
"How can we end world hunger?" ask Hend Sabry, actress and WFP Goodwill Ambassador. Manal Al Alem, celebrity chef and WFP Goodwill Ambassador, shares her tips on ways to help, through reducing food waste. Storage is one important aspect. For example, if you buy potatoes, keep them stored in their mesh bag, which has holes to keep the potatoes fresh. Keep fruit and vegetables separate, just as they are in the supermarket, including when they are in the fridge. Storing vegetables in paper bags will keep them fresh, and separate from fruit which emits gas and ripens other food more quickly.
It's time for Hend Sabry to confess her food waste! She holds a bunch of bananas that have turned black. She says her daughters love bananas but refuse to eat them when they become darker. 
Manal's suggestion is to buy greener bananas, which will ripen more slowly. To store them longer, wrap some cling film around the stem. "Even if it ripens, you can also peel it, cut it, put it inside a plastic bag and then store it in your freezer. You can use it in cakes, pancakes or juice. See how small these tips are but they are very useful to stop the waste and end hunger," Manal says. 
Pierre Thiam & Edmond Sadio
Pierre Thiam, chef, author and social activist, talks with Edmond Sadio, chef and restaurateur, about tips to avoid food waste in the kitchen or at the production stage. 
Chef Edmond Sadio reveals some pre-cooked vegetables. "I gather them when the customer needs them. When there is some left over, I grind them and I put them in my sauces, that always increases the taste and avoids wasting them." he says. 
"The less you waste, the more you save," Pierre Thiam responds, pointing out that food is also wasted at the production level. He gives an example of a cereal that he loves – the fonio which grows in the Sahel region and doesn't need much water. But a lot of fonio seeds are wasted during processing, while the inedible outer layer is being removed. "WFP has some solutions to help farmers. They are sourcing from the farmers themselves and they open markets for those farmers to sell their products. They reduce losses in this way," says Pierre.
Andrew Zimmern  
Chef, writer and Emmy-winning TV personality Andrew Zimmern shares an example of a tomato – a vegetable many of us likely take for granted and have found shrivelled in the back of our refrigerators. "Where WFP operates, this tomato, and crops like it, are lifelines and pathways to nutrition and resilience," says Andrew. "Mitigating waste here at home, with common household vegetables like this tomato, means you can save money and save lives, with a donation to put a tomato like this in the hands of a beneficiary in a region who needs it most."
In regions like the Sahel, which includes countries like Chad, Burkina Faso and Niger, WFP's resilience programmes work to create crops and livelihoods for the local community. WFP helps transform the dry, arid landscape into lush green crops that yield, in this case, tomatoes. This creates jobs, provides nutrition and feeds not only the community but the economy as well.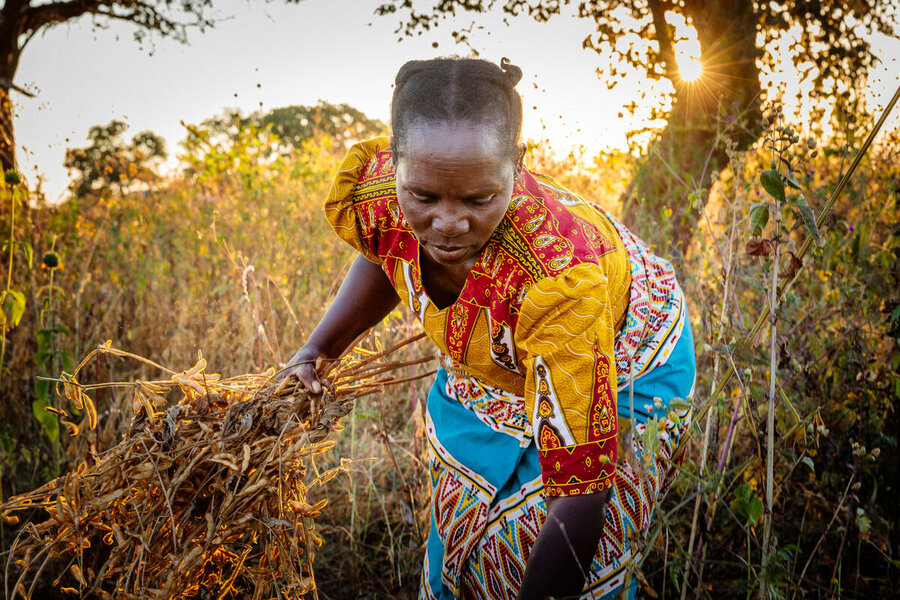 Chef and TV presenter Quique Sempere, MasterChef Australia contestant Kishwar Chowdhury, TV and radio host and WFP Goodwill Ambassador George Stroumboulopoulos, and TikTok creators Earthtopia and Minnie Bakes, have all added their voice to the cause in reducing food waste.
To take part in the campaign, you can post one of the cards below, and share a tip on reducing food waste, on social media. Watch WFP's the #StopTheWaste campaign video on TikTok and stitch it and share your #zerofoodwaste tip.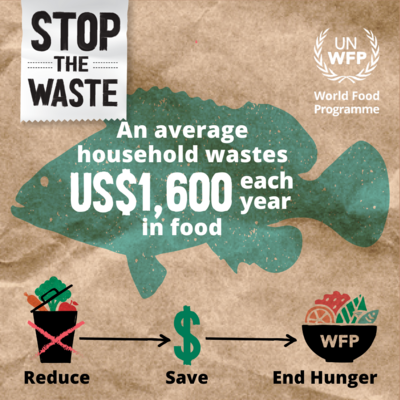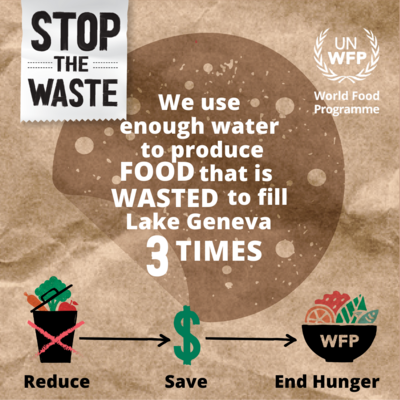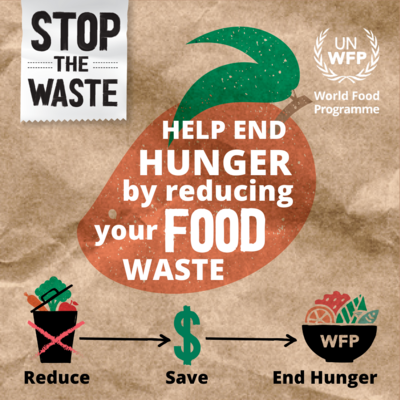 Now is the
time to act
WFP relies entirely on voluntary contributions, so every donation counts.
Donate today