'We had to eat water lilies'
People of South Sudan tell their stories as hunger reaches its most extreme levels since independence
, World Food Programme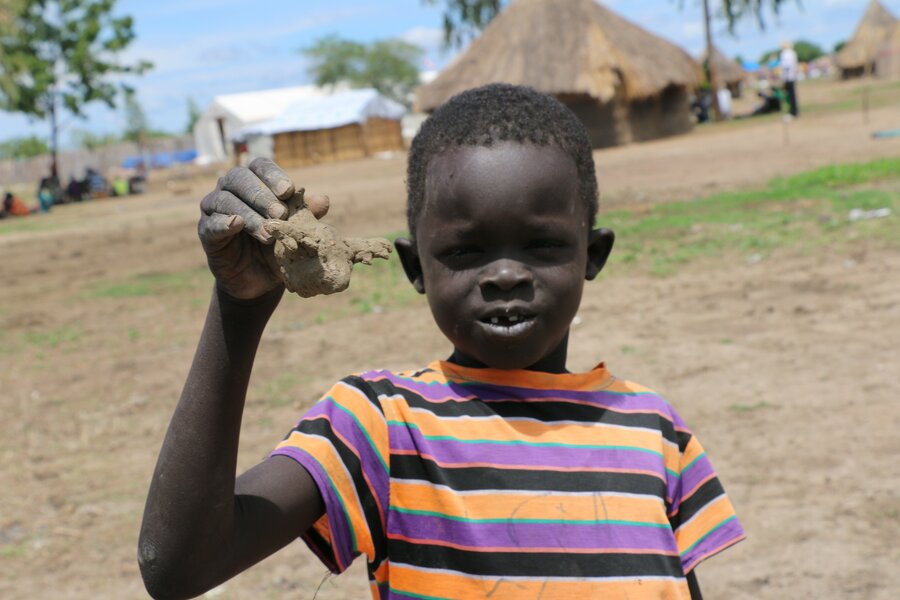 Seven-year-old Peter Mabor has seen the same plane so many times that he has built his own toy version from mud, and mimics the aircraft's movements as it flies low and begins to drop its load.
Here in Ganyiel they call the aircraft gwad, meaning "large wings". "It is white. It brings sorghum, oil, yellow beans (yellow split peas) and red sorghum," says Peter.
For people seeking refuge in the former Unity State, where famine was declared earlier this year, the World Food Programme-hired planes and their airdrops can be the difference between life and death.
These are families forced from their homes by South Sudan's devastating civil war, a war that claims the lives of husbands and wives, mothers and fathers, and their children, each day.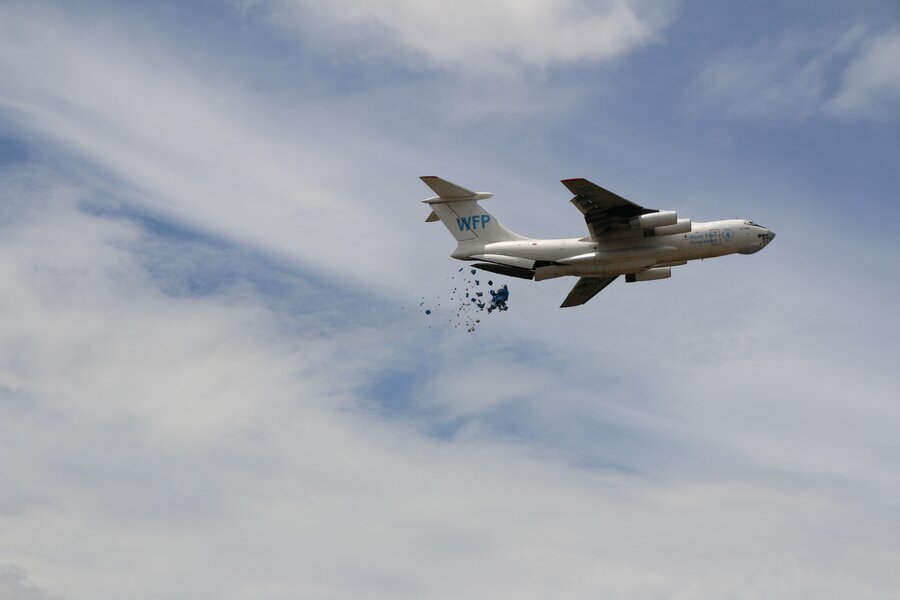 Among these families is Nyankon. When conflict erupted in South Sudan in late December 2013, she was living with her husband and their three children in the town of Bentiu.
Nyankon and her children fled into the bushes and trekked to Leer town, 115 kilometers away. Her husband sought refuge within the UN Peacekeepers' Base in what is now known as the Protection of Civilians (PoC).
Nyankon settled in Leer town as an internally displaced person, but when heavy fighting shook the town in 2015 she was forced to flee again with her children.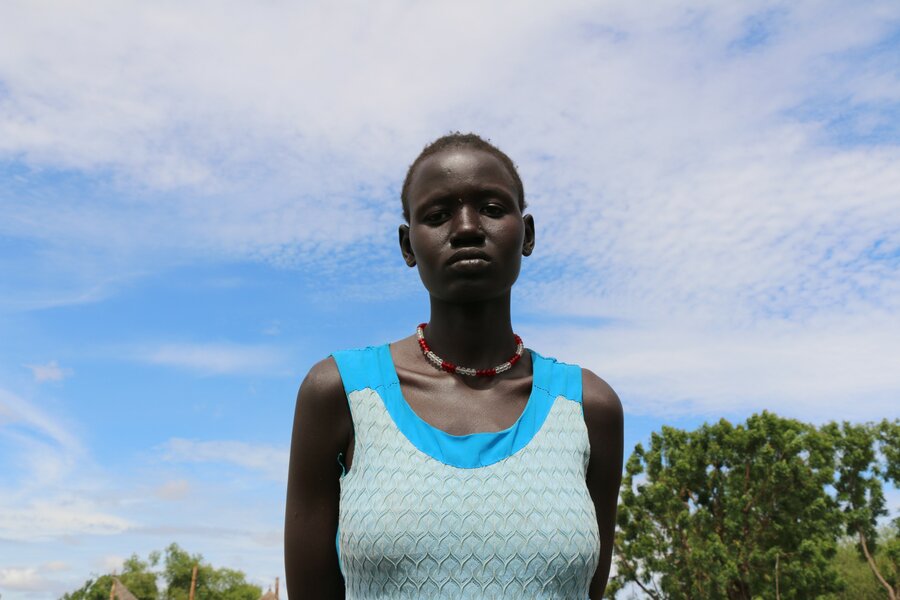 They trekked southwards towards the islets on the massive swampland in South Sudan.
"We used plastic sheets as surface on which to place the very small kids and then we would pull them across the swamps," Nyankon explained.
"Sometimes the water reached adults around our waists and at other times it reached our chests. It could be muddy but we moved on. We ate water lily and anything we could find."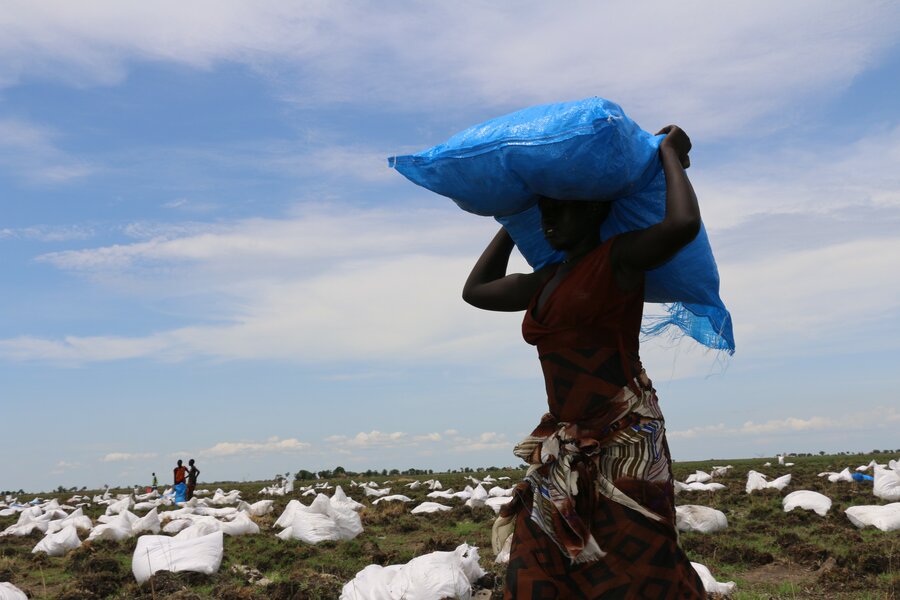 When Nyankon and the other people who had been displaced reached Panyjiar County, they learned that WFP was distributing food in Ganyiel.
"We walked until we reached Ganyiel. A kind person received us and helped us to register to get food. Since then we have been living in Ganyiel."
WFP has been carrying out airdrops here since March 2014, with roads and rivers largely impassable due to their physical condition or the security risk.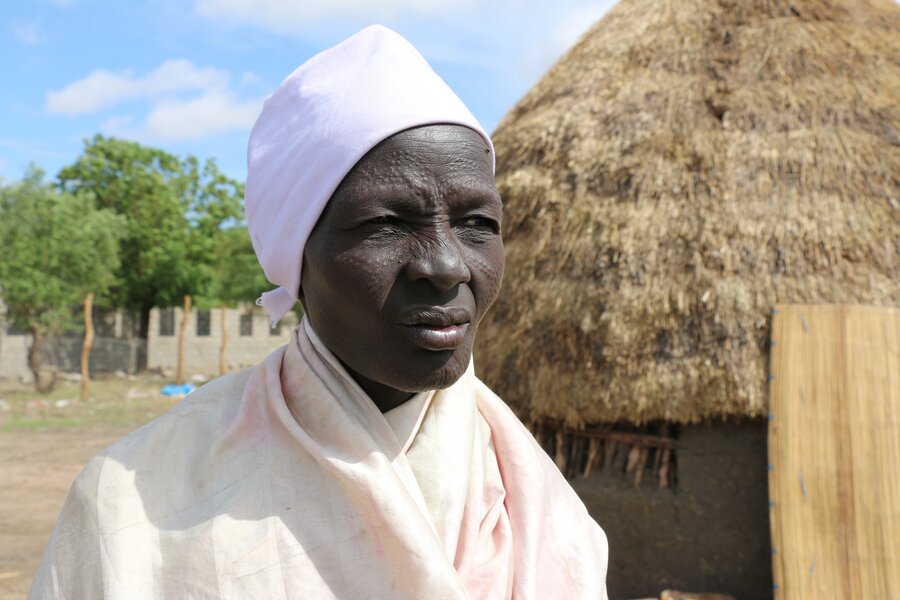 Nyakouth is a mother of nine children, and Ganyiel is her village. She welcomed people from other parts of Unity State who have sought refuge here from the fighting. Nyakouth has had enough of the more than three years of conflict in South Sudan, though.
"We are tired of this war," she said, standing outside her hut in Ganyiel. "We have been complaining and nobody seems to be listening to us. All our hope and trust are now in God. We hope that God will answer our prayers for peace. We are tired. Our children our dying every day from this war. We are tired of the endless peace talks, and there is no peace on the ground."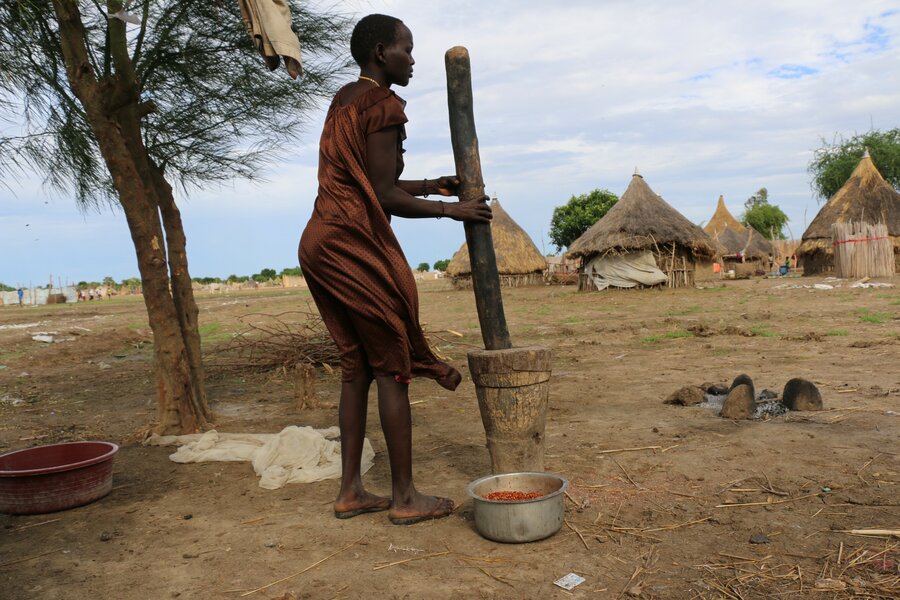 The quickly growing population here has created a great strain on the food supply. Without the regular support of WFP and its partners German Agro Action and the International Rescue Committee, many people here would be facing catastrophe.
"When we did not have food distributions, we had to go to the river to collect water lilies to cook and eat," Nyakouth added. "We depend on the food we get from the World Food Programme."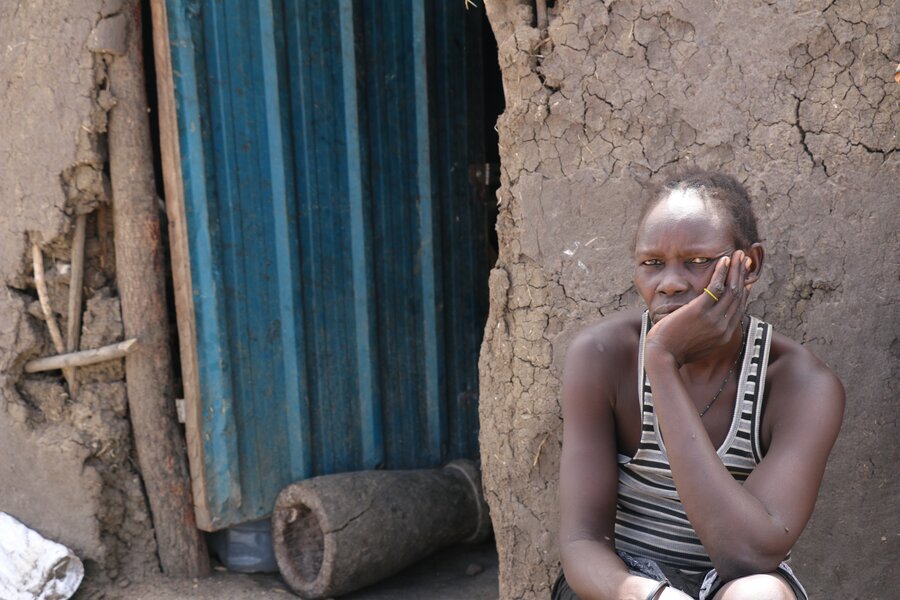 Nyandorom and Nyakon were living with their husband, a soldier who was based in Bentiu, when fighting erupted in December 2013. As the army split into factions, their husband became part of the opposition forces.
Both women fled to Leer town where they stayed until fierce fighting broke out in 2015. Amid the confusion, a neighbour reportedly ran to safety with Nyakon's four children.
She hasn't seen her children since. Both women fled towards the islands in the swamplands south of Leer. They lived there for months surviving on roots growing in the rivers, and on fish. Their husband, who had been deployed with opposition forces in another part of Unity State, learned of the fighting and displacement that had hit and headed to the swamps in search of his wives.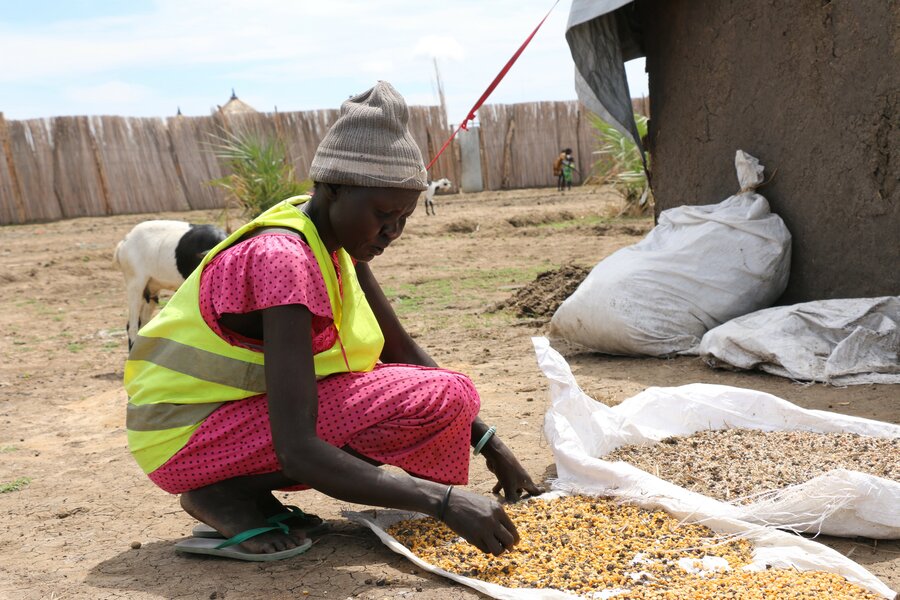 When he found both of them, they all walked to Ganyiel. Their husband was later shot during sporadic clashes in another part of Unity State in late 2016. He was taken for treatment and then released from duties. He died from his wounds in late April 2017.
"This war has killed our husband," said Nyandorom. "It is a war we don't understand. We are tired. We really want this war to come to an end. Everybody is losing someone in their family and the people fighting cannot tell you why there is war. We have lost contact with our children; others don't know where their brothers and sisters are. We just want peace so that we can go and look for our loved ones."
While Nyandorom focused on spreading out yellow split peas and sorghum to be prepared for their meal, Nyakon looked thoughtful, her left hand cupping her chin, as she sat in front of her hut in Ganyiel. She hardly uttered a word as children played around the homestead while the WFP-hired planes flew past.
— Story by George Fominyen
People are dying NOW in South Sudan. You can help us to save lives and defeat famine. DONATE TODAY >>