WFP backs snack securing livelihoods and nutrition in coronavirus-hit Congo
World Food Programme trains cooperatives to make a nutritious energy bar — which it then buys to supply to schoolchildren
, Jean-Martin Bauer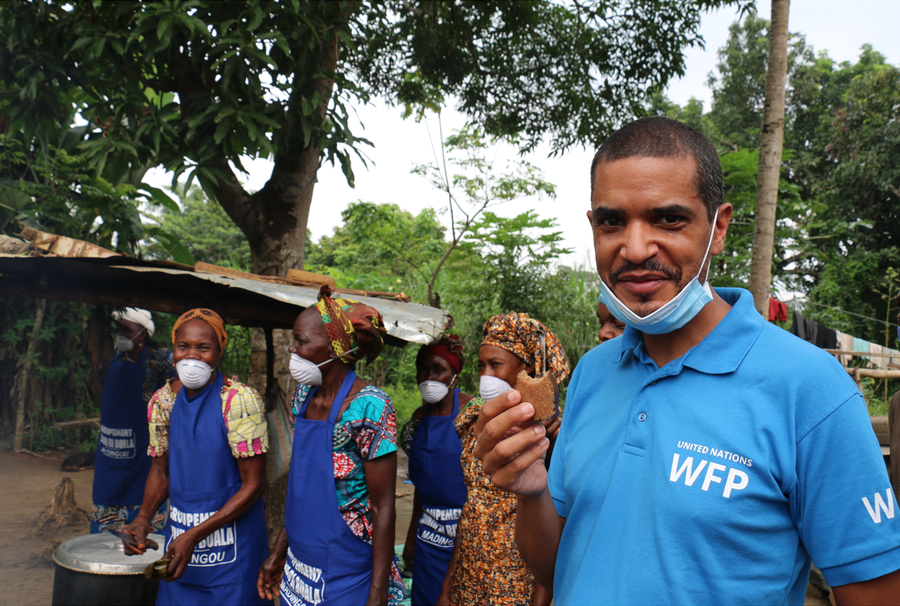 'Mbala pinda', a handmade savoury cassava and peanut bar, a delicacy in the Republic of the Congo, is reviving trade and bringing nutrition to vulnerable people in the country of 4.6 million people, where the World Food Programme (WFP) assists more nearly 73,000.
Misette leads the Bidiu Bi Buala cooperative in Madingou. She has fond memories of her grandmother making the snack — it's made from nutritious, locally sourced ingredients. A grandmother herself, Misette started making mbala pinda in 1994 to earn extra money. "This is how I survive when times are hard," she says. "I make, I prepare, I sell mbala pinda … this is how I feed my little family."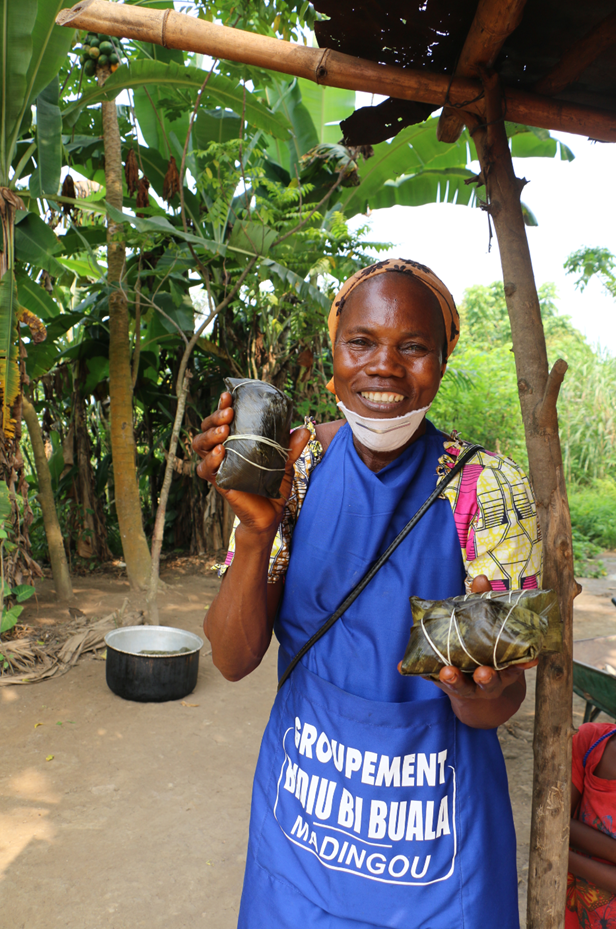 Misette and fellow cooperative vendors sell mbala pinda bars at the market for the equivalent of 18 cents (US$) apiece. They like the fact the product keeps for up to one week.
Farmers have been among the worst affected by coronavirus restrictions which have decimated livelihoods and women account for 60 percent of the rural labour force.
As it seeks to reach up to 138 million people with food assistance by the end of the year — beating last year's record of 97 million people reached with life-saving support — WFP is keen to support the Republic of Congo's agricultural response to COVID-19 by empowering women to produce better and sell more.
Thanks to a recent grant from Canada, WFP Congo is now working with 16 groups and 160 producers, including Misette and her colleagues. They will receive training in food safety and hygiene, as well as how to operate equipment such as peanut roasters and blenders. WFP will also create a ready market in buying the snack to supply to schoolchildren.
The COVID-19 pandemic has caused hunger to spiral in the Congo. During a 50-day nationwide lockdown in April and May, markets were closed three days a week, and transport slowed down, crippling supply chains. As a result, food prices in Brazzaville spiked by 15 percent. People working in the informal sector, such as traders, labourers and hairdressers, were not able to work regularly.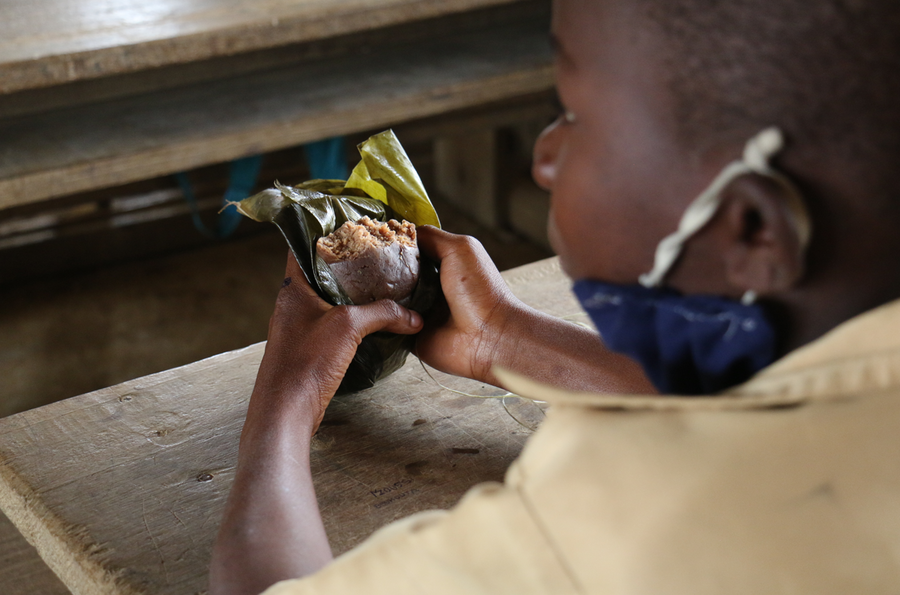 The combination of higher food prices and lost incomes is causing a surge in hunger. WFP estimates that the number of people in need of assistance in Congo's urban areas has doubled, from 150,000 to 300,000.
WFP is responding by providing cash transfers to over 80,000 vulnerable people in Brazzaville. WFP has also organized international flights to bring over 16 tons of medical cargo — including over 2 million face masks dispatched to eight hospitals across the country.
Kneads must
Misette invites me to watch as the group prepare a new batch. The process seems straightforward: under Misette's watchful eye, cassava flour and peanut butter, in roughly equal proportions, are blended by hand into a large, basketball-sized lump. Once both main ingredients are mixed, salt is added. (Half the batch has red pepper — the group also makes mbala pinda flavoured with dried fish.)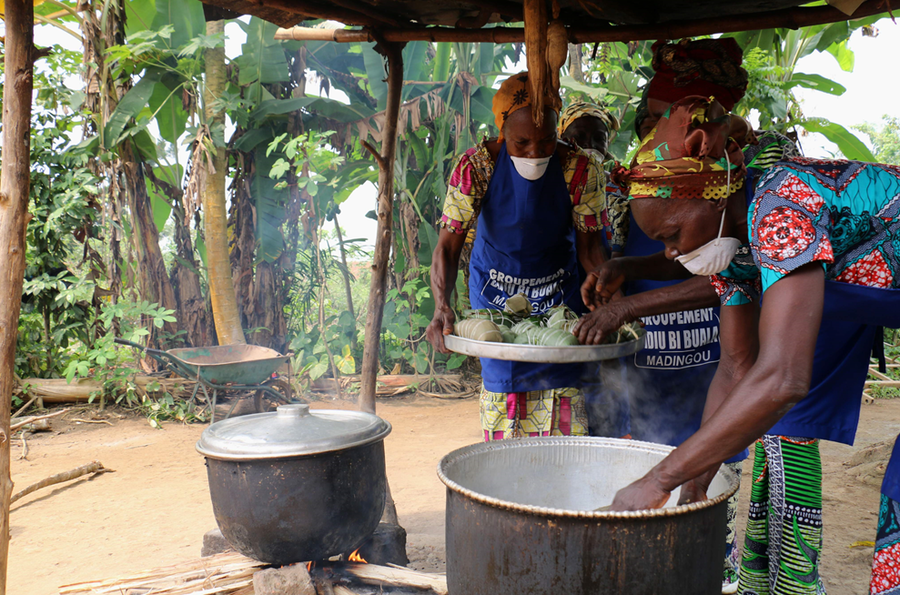 Misette tastes a sample. She mixes in a dash of salt. The dough is fashioned into smaller, grapefruit-sized balls, each rolled into a bar of approximately 100g, wrapped in leaves. Bundles are steamed together for around 30 minutes and then left to cool.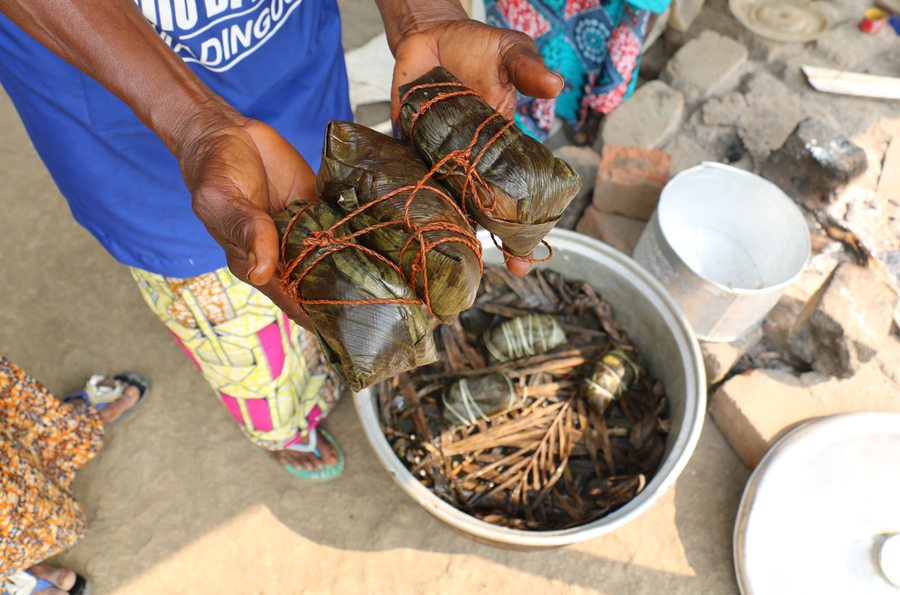 Misette asks if I want to taste. She hands me a mbala pinda bar. I untie the bundle. (Each bar is wrapped in a leaf — less litter!)
It looks like a bar of milk chocolate, because of all the peanut butter inside. I raise it to my mouth and take a bite; the texture is dense and slightly chewy, like dark bread. Behind me, Misette and her colleagues are rolling their eyes, laughing about the foreigner sampling their cuisine.
The recipe is from Southern Congo. During colonial times, men were forced to labour on construction or agriculture projects, far from home, for the first time. So women formulated this energetic snack that they could take on their travels.
Although the recipe emerged during a conflicted period, people associate mbala pinda with family and good times.