Why WFP is putting money in women's hands
In Somalia and in Haiti, World Food Programme mobile money transfers bring independence a step closer
, Gabrielle Menezes
Meet Halima
This story probably does not end in the way you might think. It starts in Somalia, a country ravaged by a drought that has caused over 1 million people to leave their homes. Halima and her family were among them. 
Halima fought a battle against the unrelenting sun to find enough water for her family. Gradually choices had to be made. She watched her crops wither to husks. Then she watched her 60 goats gradually die. The goats were the family's bank account, savings that could be sold to get some money during hard times, and dowries for the marriages she hoped her daughters would make. 
When they were gone, she was left with nothing. There was nothing to stay for, there was no food in the village and so Halima and her five children travelled to a camp for displaced people in Dolow in Somalia in the hope of finding food. 
People on the brink as hunger levels rise in Haiti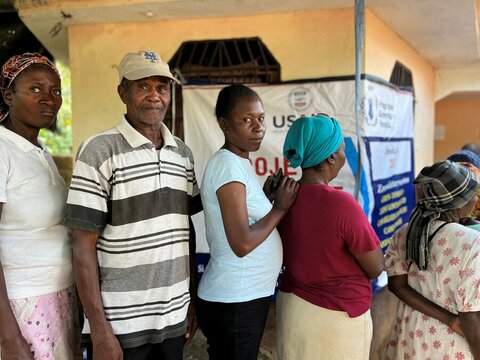 With thousands of others, Halima registered for WFP assistance. Halima has a mobile money account, so she receives her cash assistance as a mobile money transfer that she manages through her phone. Receiving humanitarian assistance in this way meant that Halima was able to change her circumstances for the better.
"Mobile money is an advantage for us because you can use it for many things in addition to food for the household. For example, if I get sick, I can use it for medication. I can also use it for health expenses for the children. It's something that I have in my hands, and I can save some to use for other purposes," says Halima. 
The 'other purpose' turns out to be a small business. After saving US$5 to U$10 from her mobile money transfer every month, and with some additional credit, Halima was able to build a small hut from metal sheets and wood. Now she sells small items like pens, batteries, tomatoes, and stock cubes from her little store.
"It's going very well, and when the stock in the shop is coming to an end, I get my assistance just in time and go to the retailer to pay off previous credit and purchase new stock," says Halima. 
Halima's story is echoed by her counterparts around the globe. Women who, despite overwhelming hardship, are able to build futures for themselves and their families when they receive money in their own accounts that they manage. 
When women are economically empowered, everyone benefits: economies grow, more girls are kept in school for longer, fewer children are married, and children's nutrition improves. Women's potential is enormous. Unleashing that potential means that poverty goes down and with it hunger.
Meet Pythshlande
 
Pythshlande is part of a women's cooperative in Haiti that sells rice. WFP helped the group increase their income by installing a mill for them. Unhusked rice sells more easily and at a higher price, so the group was able to increase their income. All of the women opened a mobile money account so they could save.
Their profits increased so much that most of the group opened regular bank accounts and took out loans to lease more land to grow more rice. Pythshlande stands in the middle of a field of pale-colored young rice, and points at how her crops now stretch across several fields.  She has become the main breadwinner in the family and is proud of the status it gives her.  
"When you are totally dependent on a man, he sees you in a different way. But when you work and have your own money, you can share the burden - so for example, they may pay for school fees, and you can pay for something else," she says. 
Last year, WFP distributed over US$3 billion to over 50 million people. Increasingly, we are designing our cash transfer programmes around women. We hope the women we support through our cash operations will go through the same journey as Halima and Pythshlande, and build a future where they no longer need to rely on humanitarian assistance. 
Learn more about WFP's work in Haiti and Somalia
 
Now is the
time to act
WFP relies entirely on voluntary contributions, so every donation counts.
Donate today