Working from Yemen's Green City
An interview with WFP's programme policy officer Itaru Furuta
, Annabel Symington
Japanese national Itaru Furuta has been in Yemen since August 2018 working from the southwestern city of Ibb as a programme policy officer for the World Food Programme (WFP). After stints in South Sudan and western Myanmar with WFP, when Itaru first arrived in Yemen he was struck by the beauty of the country, particularly the verdant green terraces of Ibb.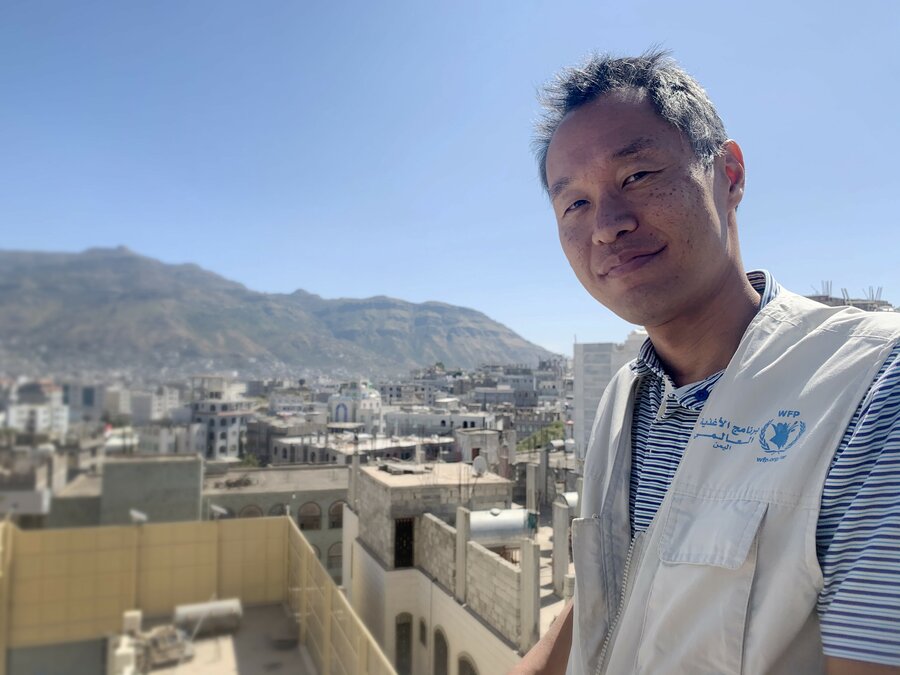 Ibb is known as Yemen's green city. The steep hills of Yemen's highlands have been cut into neat terraces that burst into an abundance of green after the mid-year rains. But life in Ibb city has stagnated as over four years of conflict have taken their toll. Ibb city itself is relatively calm, which has attached a large influx of internally displaced people. The surrounding districts continue to see sporadic clashes and the key frontline city of Taiz is just 60 km away.
Ibb is a vital hub for WFP's operation in Yemen. Forty staff — national and international — work from the office to provide food assistance and nutrition support to the surrounding districts, including over 1.7 million people in Taiz where intense conflict continues.
We sat down with Itaru to find out a bit more about life in Yemen's highland city of Ibb.
I have always wanted to visit Yemen since I was a backpacker during my college days…I wish that one day I can visit this country again when it is peaceful once more and move around freely!
What does a 'normal' day in Ibb look like?
My role is to manage the programme activities under our office. We assist more than 2.5 million people through in-kind food, vouchers and cash. I work with around 15 staff in my unit. Most of the time I am in office facing a computer, but I try to make a habit of visiting our projects at least once a week. I enjoy interacting with our beneficiaries and their kids always approach me with curiosity. They seem to feel pity when they learn that we cannot communicate in Arabic, as they clearly have many questions that they would like to ask me!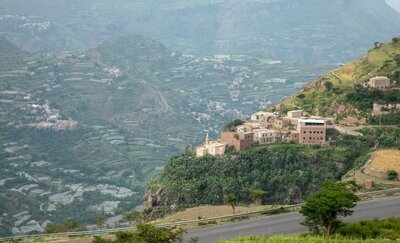 What were your first impressions of Yemen and Ibb?
My first impression when I landed at Sana'a airport was quite shocking. You see burned out planes on the side of the airstrip as you come into land. But when I left the airport, Sana'a seemed quite calm. Markets are active and it is sometimes easy to forget that the country is at war.
Ibb is one of the most scenic places in Yemen. It is surrounded by picturesque mountains and is known as the 'green city'. When I first arrived, I was fortunate that it was one of the greenest periods of the year, which comes after the land is blessed with abundant rains. The UN guesthouse where I live is located at the top of a hill, overlooking the valley and the surrounding mountains. My weekends always start with a cup of coffee on the rooftop, breathing in the fresh wind blowing from the mountains. At noon, it is quite impressive to hear the harmonious sounds of the "adhan" (call to prayer) from the hundreds of mosques down below in the valley.
What attracted you to work in Yemen?
I have always wanted to visit Yemen since I was a backpacker during my college days. I often feel sad that I only came here after the war broke out because my backpacker friends were always praising this country as one of the most beautiful countries of the Arabian Peninsula. I wish that one day I can visit this country again when it is peaceful once more and move around freely!
What's the hardest thing about working in Yemen?
I wish I could spend more time in the field and visit all of the places that I have dreamt of seeing in Yemen. With the volatile security situation, it is sometimes a challenge to reach all the areas we want to. It is a shame that we cannot enjoy the full hospitality of Yemenis as they often invite us to their homes but we are always on very tight schedules and itineraries because of the security situation.
What's the best thing about working in Yemen?
The team. My Yemeni colleagues, are one of the best teams that I have ever worked with. The team dynamics are built on respect and compassion.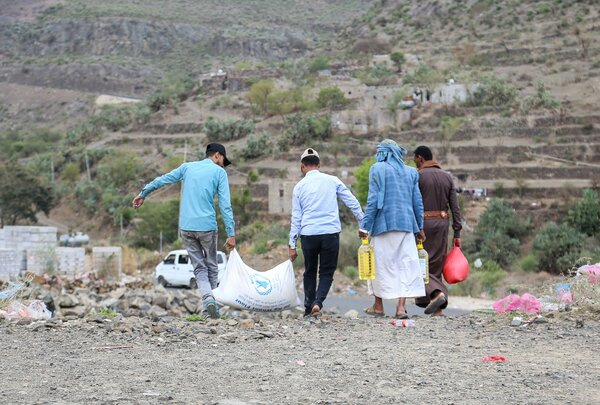 About WFP in Yemen
WFP in Yemen provides food assistance to 12 million people through direct food distributions, vouchers and cash. We also run nutrition programmes to support children and pregnant or breastfeeding women, as well a school feeding programme to help keep kids in school and livelihoods activities to help communities rebuild key infrastructure that has been damaged by the conflict. This is all possible thanks to the support of our donors, including Japan. Japan has been a strong and consistent supporter of WFP's operations in Yemen, contributing a total of US$84.8 million over the past three years.
Help save lives in Yemen. Donate here.