'You have to live and breathe it. You have to believe in it'
Logistician Jenna Lusaka is bringing her skills to some of the Pacific's most remote communities
, WFP Asia & Pacific
The first time you meet Jenna Lusaka and start chatting about work, it doesn't take long to figure out one thing: for Jenna, logistics is more than just a job.
"Anyone can be a logistician but not everyone can do the job well. Being a good logistician comes from having a love of it. Well, that, and being able to see into the future."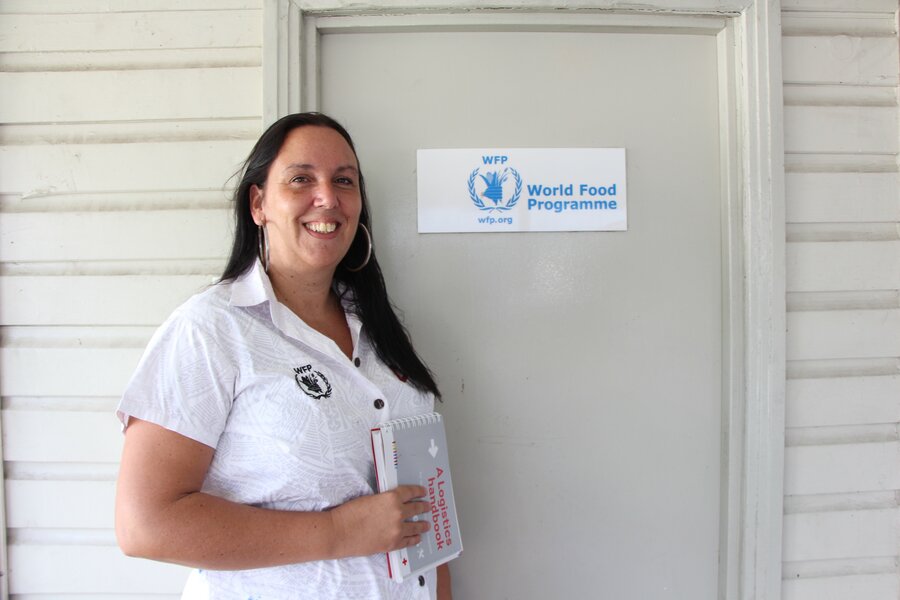 With her zest for the role, good-humored nature, and more than 10 years of field experience, Jenna is working with partners across the Pacific on building knowledge on logistics systems, tools, and operational planning for disaster preparedness.
While the Pacific Islands themselves might be small in size, their geographical area is huge. It's 2,8oo km from the Marshall Islands to Fiji, a journey that can take Jenna and her colleagues more than a day. The islands are on the forefront of a changing climate, and for families in these low-lying communities, preparing for disasters and changing weather is a vital step towards staying safe.
We chat to Jenna about her role as National Logistics Cluster Development Officer at the World Food Programme's Pacific office in Fiji.
Jenna you've had more than 10 years of field experience. Can you tell us a bit about your background?
I originally wanted to be a diplomat, but soon realized I wasn't very diplomatic (laughs).
I'd previously been involved in logistics for the 2000 Sydney Olympic Games, and so decided I would pursue that avenue in the humanitarian sector. And that was it! I quit my job and it just kind of snowballed. Before I knew it, I'd spent half a decade working on logistics in the Democratic Republic of Congo (DRC).
More recently, I've worked in humanitarian logistics in both Vanuatu and Australia, while also giving birth to my three beautiful children. Being a mum to three kids under four has only enhanced my logistics capacities. I'm not only living and breathing it for eight hours a day at work; I'm the family logistician for the other 16 hours of the day! They're really proud of their mamma which makes it even more worthwhile.
And your current role?
My role as the National Logistics Cluster Development Officer for WFP's Pacific office, as lead of the Logistics Cluster, is all about enhancing collaboration and making sure Pacific Island Countries have the logistics tools and knowledge needed to prepare for and respond to disasters. This generally entails working with the National Disaster Management Offices (NDMO) and their partners on strengthening coordination mechanisms and assessing what logistics processes are already in place, what they may need, and how we can support that.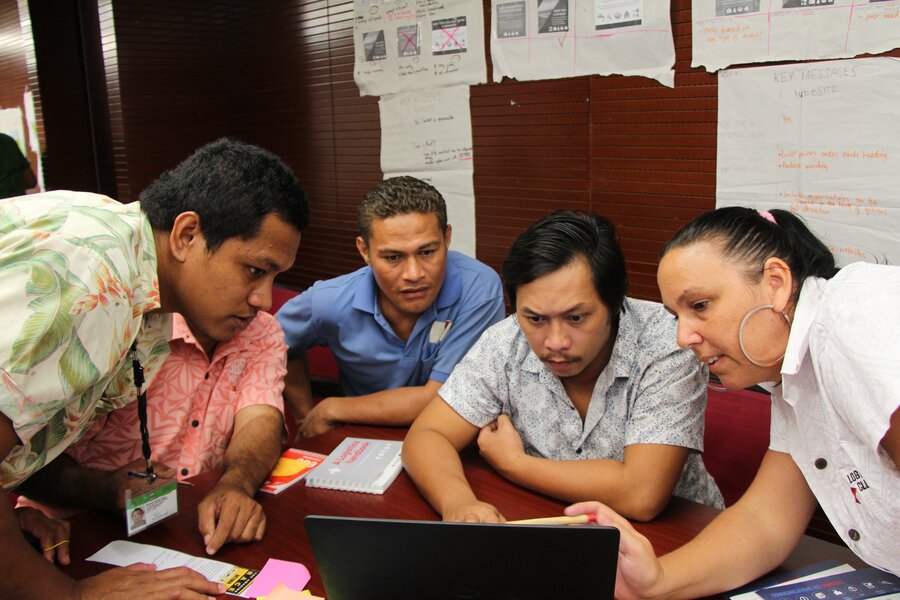 The Pacific Logistics Cluster works across 11 Pacific Island Countries. Can you provide insight into what it's like working across so many different contexts?
It's amazing! There are of course challenges: working across countries, islands (and several time zones!), travel schedules and distances can be tricky.
Something that's important to remember for my role is that no two countries or situations are the same. It's one of the reasons I love the job. I could be working on Minimum Preparedness Actions in Samoa, while at the same time reviewing logistics systems in the Federated States of Micronesia. It's always changing — there's always something new to contribute to.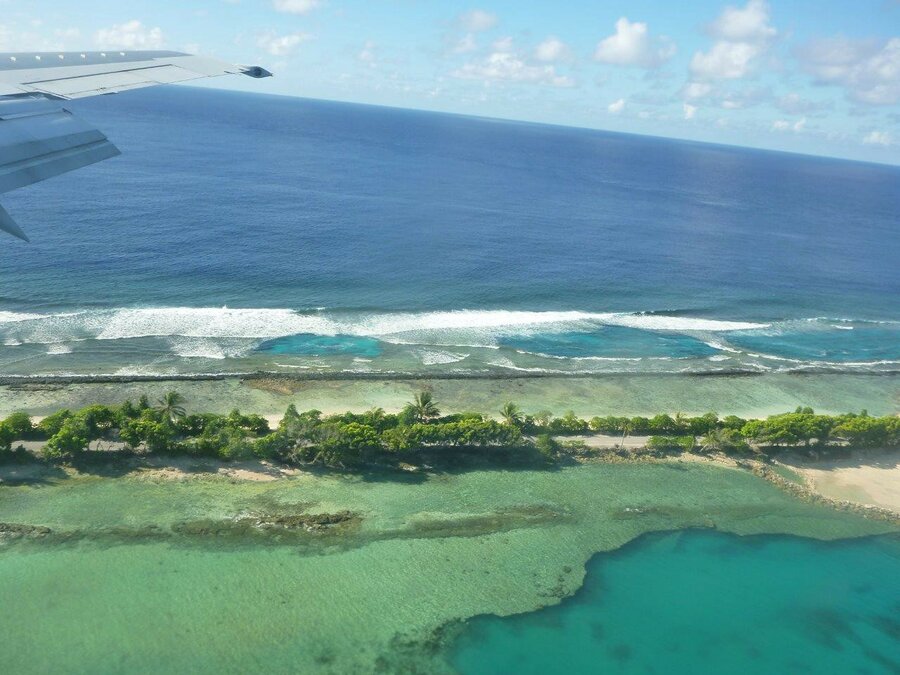 So flexibility is a must! Each Pacific Island Country is unique, and no solution is ever one size fits all. That's what I love about the approach of the Pacific Logistics Cluster — the region isn't considered one big country. There is a real focus on fostering localisation and championing ownership of logistics systems and data at the national, provincial and community level. This kind of approach to humanitarian logistics — and the sector more broadly — is something that I've been passionate about since I began working in the field in the DRC more than 10 years ago.
What are some of the other attributes for the role? Patience, a sense of humour and a love of logistics! It's never a 50 percent effort. You have to live and breathe it. You have to believe in it.
What have you enjoyed most about the role so far?
The people I work with! I was recently in Samoa and it was fantastic to see so many different government departments, NGOs and private sector collaborate on a number of logistics preparedness activities. It's during these workshops that my work is most memorable — when you see how your support can contribute to the sustained strengthening of local systems.
I also love that I'm constantly learning. Over the past few years the Pacific region has been faced with a hugely diverse range of disasters and challenges including cyclones, flooding and drought. Given this, I'm constantly learning from my national partners about the different constraints and we work together on seeking local solutions for each country's specific challenges.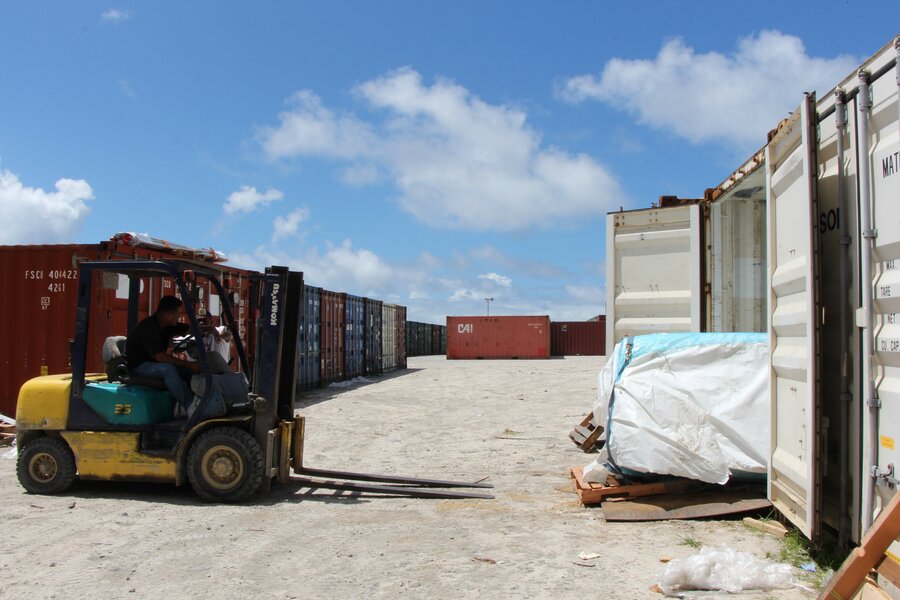 Do you have any advice for women wanting to get into this line of work?
Go for it! When I first started my logistics career women were few and far between but in the Pacific I've found there are some strong female logisticians in leadership positions which is really inspiring.
Overall, logistics isn't for the faint-hearted; there's speed bumps along the way. But what you're able to contribute to really makes a difference during response. You get to play a role in delivering important cargo to the middle of the jungle in DRC, or be part of the team getting lifesaving medicine to those who need it most. In the Pacific, I'm working with some amazing people striving towards the same goal as me. And that's why I do it!
Jenna Lusaka died on 23 July 2019, leaving behind three young children. WFP colleagues were deeply saddened at the news of her passing.
Written by Jemma Pietrus.