Specialized nutritious foods
Nutrition
© WFP/Chu Cancan
The World Food Programme (WFP) uses a wide range of specialized foods to improve the nutritional intake of the people we assist around the world. They range from Fortified Blended Foods (FBFs) and micronutrient powders to Ready-to-Use Foods and High-Energy Biscuits (HEBs). You can learn about these food types below. Or you can download the WFP Specialised Nutritious Foods factsheet.
Fortified Blended Foods (FBFs)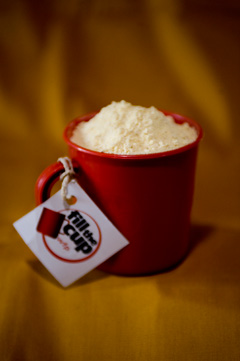 What are they?
FBFs are blends of partially precooked and milled cereals, soya, beans, pulses fortified with micronutrients (vitamins and minerals). Special formulations may contain vegetable oil or milk powder. Corn Soya Blend (CSB) is the main blended food distributed by WFP but Wheat Soya Blend (WSB) is also sometimes used.
When and where used?
FBFs are designed to provide protein supplements. In food assistance programs to prevent and address nutritional deficiencies. They are generally used in WFP Supplementary Feeding and Mother and Child Health programs. Also, to provide extra micronutrients to complement the general ration.
How are they used?
Usually mixed with water and cooked as a porridge
Nutritional value per 100g:
Energy min 380Kcal
Protein min 18%
Fat min 6%
Micronutrients added: Vitamins A, C, B12, D, E, K, B6, Thiamine, Riboflavin, Niacin, Pantothenic acid, Folic acid plus Zinc, Iron, Calcium, Potassium.
Ready-to-Use Foods (RUFs)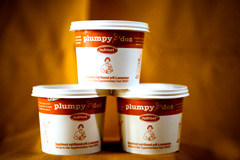 What are they?
RUFs are better suited to meet the nutritional needs of young and moderate malnourished children than FBFs. RUFs distributed by WFP may contain vegetable fat, dry skimmed milk, malt dextrin, sugar and whey.
When and where are they used?
Mostly in emergency operations or at the beginning of a WFP intervention for prevention or treatment of moderate malnutrition. RUFs are to be used in addition to breast milk and other food for children (6 to 59 months) which are at high risk of developing malnutrition due to severe food insecurity
How are they used?
One variety (Plumpy'Doz, by Nutriset) comes in tubs containing a weekly ration. Another (Plumpy Sup, also by Nutriset) comes in one-day sachets. Both can be eaten directly from their containers and are designed to be eaten in small quantities, as a supplement to the regular diet.
Ingredients
Plumpy'Doz: peanuts paste, vegetable fat, skimmed milk powder, whey, maltodextrines, sugar.
Supplementary Plumpy: peanut paste, vegetable fat, soy protein isolates, whey, maltodextrines, sugar, cocoa.
Micronutrients: vitamin A, E, B1, B2, Niacin, Pantothenic acid, vitamin C, B6, B12, Calcium, Magnesium, Selenium, Zinc, Iron, iodine, Copper, Phoshorus, Potassium, Manganese, Folic acid (Supplementary Plumpy also has Vitamin D, K and Biotin).
Nutritional value (per 100g of Plumpy'Doz / Supplementary Plumpy) Price
Energy 534Kcal / 545Kcal $0.20 / ration of Plumpy'Doz
Protein 12.7g /13.6g $0.33 / ration of Supp. Plumpy
Fat 34.5g / 35.7g
High Energy Biscuits (HEBs)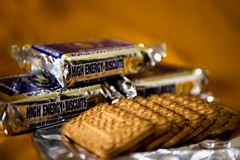 What are they?
Wheat-based biscuits which provide 450kcal with a minimum of 10 grams and max of 15 grams of protein per 100 grams, fortified in vitamin and minerals.
When and where are they used?
In the first days of emergency when cooking facilities are scarce. Easy to distribute and provide a quick solution to improve the level of nutrition.
Ingredients:
Wheat flour, Hydrogenate Vegetable Shortening, Sugar, Soy flour, Invert Syrup, High fructose, Corn Syrup, Skimmed milk powder, Sodium and Ammonium, Bicarbonates, Salt, Minerals and vitamins as : Calcium, Magnesium, Iron, Iodine, Folic Acid, Pantothenic Acid, Vitamin B1, B2,B6,B12b C,D,E, Niacine, Vitamin A-retinol.
Nutritional value per 100g:
Energy 450Kcal
Protein 10 to 15g
Fat 15 g
Price $0.12 per 100g packet
Micronutrient Powder Or "Sprinkles"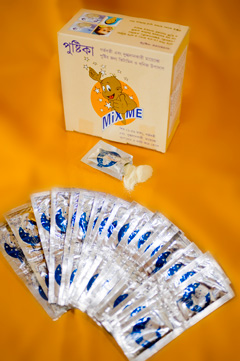 What is it?
A tasteless powder containing the recommended daily intake of 16 vitamins and mineral for one person. Can be sprinkled onto home-prepared food after cooking just before eating.
When and when?
Useful when fortification of cereal flour cannot be implemented or when it is inadequate for specific groups.
How to use it?
One sachet per person is sprinkled onto home prepared food. can also be used in school feeding programmes that provide a hot meal to children.
Nutritional value:
One individual sachet provides the daily intake of 16 vitamins and mineral for one person
Price: $2-3 per 100 sachets
Compressed Food Bars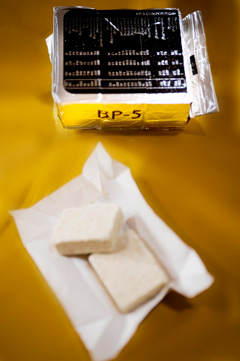 What are they?
Bars of compressed food, composed of baked wheat flour, vegetable fat, sugars, soya protein concentrate and malt extract.
When and when used?
Used in disaster relief operation when local food can't be distributed or prepared. Should not be used for children under 6 months and in the first 2 weeks of treatment of severe malnutrition.
How are they used?
Can be eaten as a bar straight from the package or crumble into water and eaten as porridge. Drinking water must be provided as the bars are very compact and dry.
Number of bars to be eaten depends on age, gender, weight and physical activity.
Ingredients : baked wheat flour, vegetable fat, sugars, soya protein concentrate, malt extract. vitamins and minerals: vit A, D3,E, C, B1, B2, B6, B12, Niacin, Folic acid, Pantothemic acid, Biotin, Calcium, Phosphorus, Magnesium, Iron, Zinc, Potassium, Sodium, Copper, Selenium, Iodine.
Nutritional value per 56 g bar:
Energy 250kcal,
Protein 8.1
Fat 9.4 g
Price $1.60 per unit (9 bars)