'Breastfeeding is a lifeline': Women in DRC, South Sudan and Syria talk nutrition
To mark World Breastfeeding Week, three women in three big humanitarian emergencies explain how World Food Programme support is changing their lives... and the lives of their children
, WFP Staff Writers
"It's precisely in emergency contexts, where it is most crucial, that breastfeeding can be most challenging," says Cindy McCain, Executive Director of the World Food Programme (WFP), as the organization marks World Breastfeeding Week.  
"Women may be constantly on the move, on physically exhausting journeys. Conditions may be overcrowded, or traumatic. Amid such chaos and hardship, breastfeeding stands as a lifeline for infants and young children, providing not just essential nutrition but also comfort and protection."
'I feel like the proudest mother in the world': WFP supports breastfeeding in Uganda
How the Swedish-funded NutriCash project, implemented by UNICEF and the World Food Programme, is the changing lives of refugee women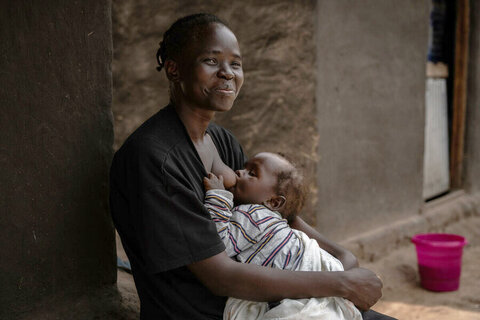 Currently, there are 27 million pregnant and breastfeeding women who are food-insecure and at risk of malnutrition around the world. 
Below, four breastfeeding women in countries hit by emergencies describe the immense challenges they face accessing the right nutritious foods for themselves and their families.
---
Democratic Republic of the Congo: Francine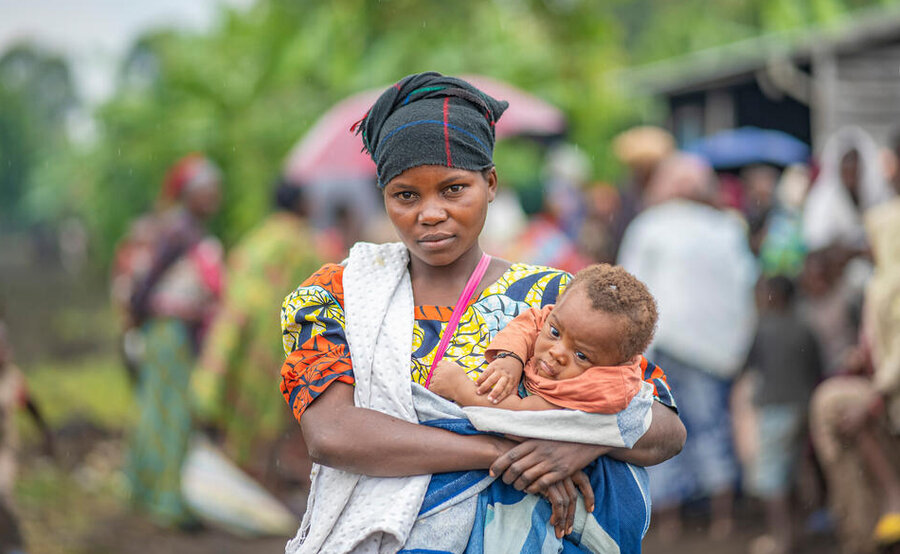 Francine and her family are among an estimated 100,000 people living in the Rusayo camp for internally displaced people (IDP) in the Democratic Republic of the Congo, one of WFP's biggest emergencies. 
"We used to grow beans, sweet potatoes and cassava," she says. "We ate part of our harvest and the other part was sold."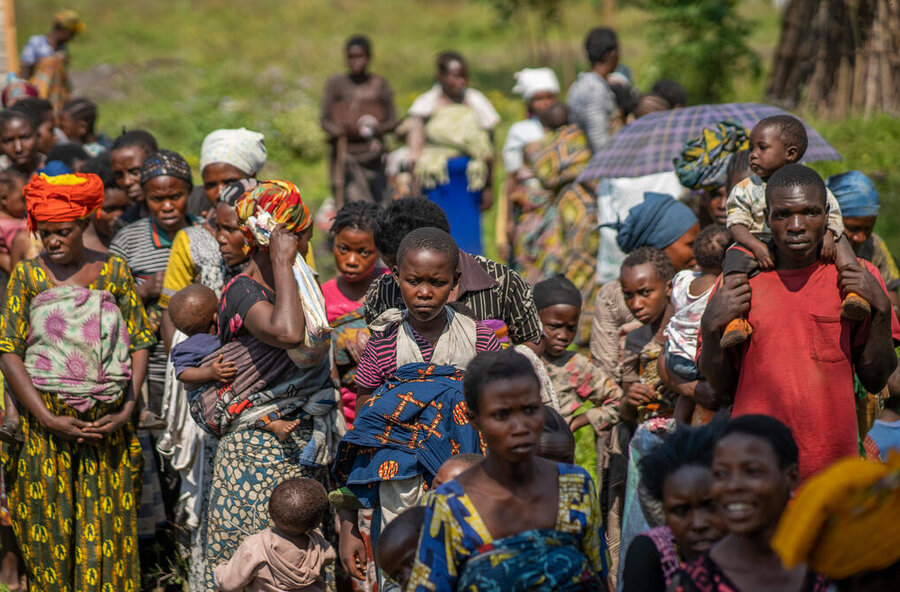 However, with conflict worsening in the east of the country over the past seven months "we haven't been able to send our children to school or feed them because we've lost everything as well as being displaced," she adds. 
So far this year, WFP's reached 249,000 children and women across the three conflict-affected provinces of eastern DRC and needs US$5 million to maintain assistance until January. 
More than a million people have been forced to leave their homes in eastern DRC since January, bringing to 5.5 million the total number of IDPs in the region. The World Health Organization has warned of a total breakdown of health services, landing people in the jaws of disease and malnutrition. Children and pregnant and breastfeeding women are in the front line in this respect. 
And, of course, it is not only conflict that people try to escape.
---
South Sudan: Adut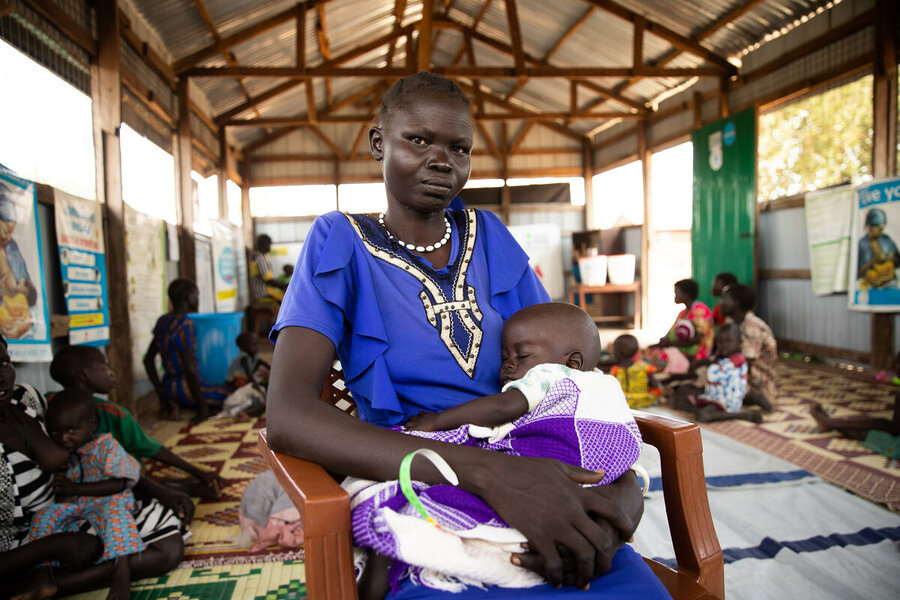 "The floods have affected everyone and every part of South Sudan and there's no high land to relocate to, the whole area is flooded," says Adut, who walks for an hour on foot with her baby Aachan to reach a WFP-backed clinic in Warrap state.
Along with health checks, medical attention and food-supplement programmes, women can access information about how to grow crops more effectively in the face of challenges posed by extreme-weather (the clinic has a busy demo garden), counselling and health and nutrition education.
"My crops were all destroyed and so it was difficult for me to afford food to feed my family,"  Adut adds. Along with sorghum she grows, her entire groundnut harvest was lost.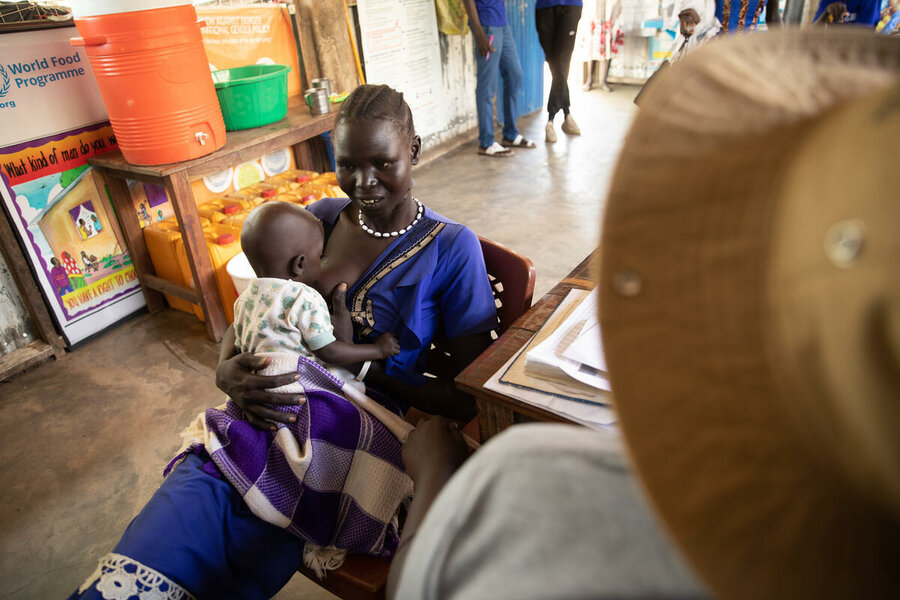 A massive US$405 million funding gap is forcing WFP to prioritize assistance for those closest to starvation in South Sudan.
The country is grappling with consecutive droughts on the one hand and floods on the other, with nearly 8 million people – two-thirds of the population – facing 'crisis' or worse levels of hunger on the global standard for measuring food insecurity. 
This means ration cuts of 50 percent across the country, and millions of families spiralling deeper into hunger. 
In March and April, rainfall was 50 percent above long-term averages over the Lake Victoria basin, the source of the flooding, so water levels are expected to rise further in coming months.
---
Syria: Salwa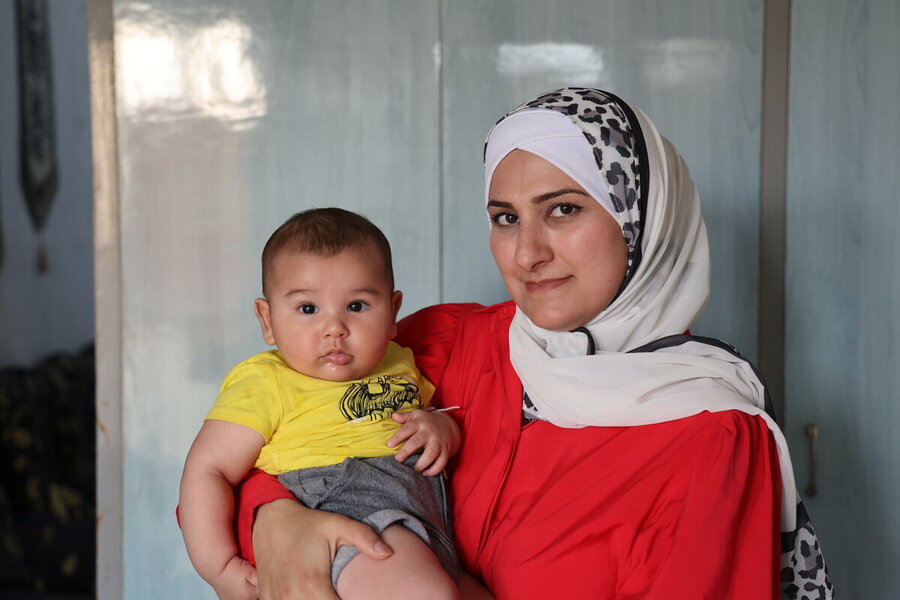 Interview by Lina AlQassab
"I was frustrated because I wasn't prepared," says Salwa in Deir Ezzor, Syria, who became pregnant while still nursing her first child last year. "I would think, 'This child I'm bringing to life, how will I provide for him? How will I support her? How will I raise him?' All these endless questions gave me headache."
Escalating needs in Syria have outpaced all available resources, making it impossible for WFP to maintain its current level of life-saving food assistance. WFP has just cut the number of people it serves in the country from 5.5 million people to only 3 million. 
Salwa fell into malnutrition during her recent pregnancy.  
On the advice of her gynaecologist, she signed up for malnutrition treatment at a clinic supported by WFP and partners. 
Six months into her pregnancy, in addition to nutritional support, she came to receive cash-based assistance supported by the European Commission to buy the foods she needs in designated shops.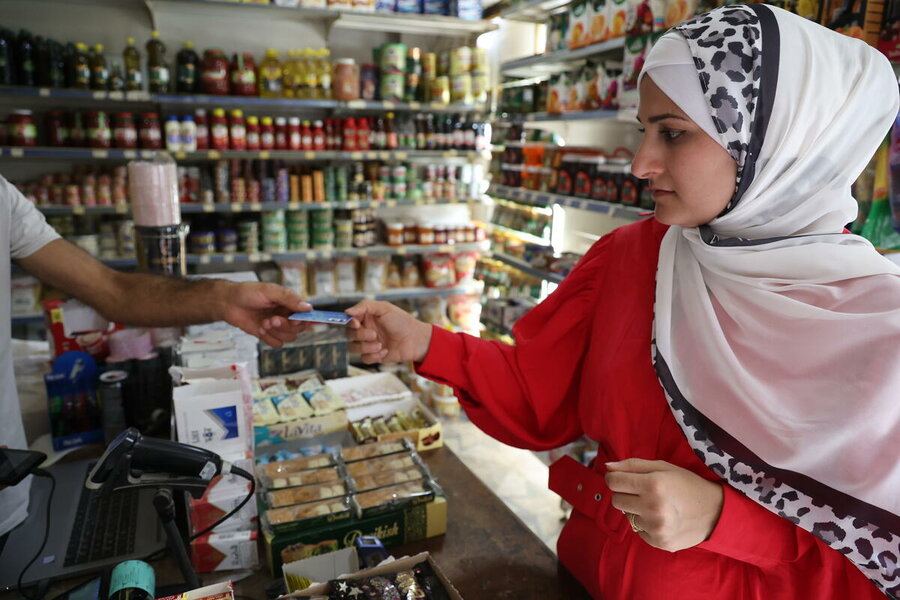 Within two months, she says, "I became more active. By the ninth month, the doctor told me that my baby would weigh 4kg at birth which is an excellent weight, and that's what happened. I gave birth to a chubby and healthy baby!"
Salwa used to live in an apartment that she rented with her husband. The couple now lives with her parents – her mother, who has diabetes, has lost her sight, she says. 
Her father works in a fast-food outlet while her husband is a schoolteacher – the two men's combined monthly income is US$30.
"That's not enough to feed a family of eight," she says – they eat two meals a day, a simple breakfast and lunch. The couple sell furniture from their old home to pay for essentials. "The other day my husband bought our daughter two bananas, I was thrilled! Then I thought, 'Two bananas? Since when did we start bringing only two bananas home ... it breaks my heart.'"
Learn more about WFP's work in Nutrition 
Now is the
time to act
WFP relies entirely on voluntary contributions, so every donation counts.
Donate today