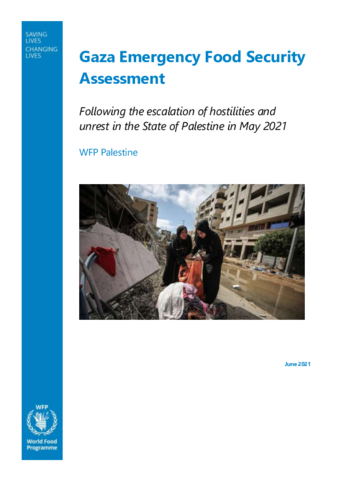 The assessment explores the impact of the escalation on food security across Gaza, drawing on primary and secondary data, available published reports, and results from focus group discussions and semi-structured interviews.
We are happy to share with you the newly released WFP Gaza Emergency Food Security Assessment undertaken in this period just after the escalation of violence in May 2021.
A few key observations:
The impact of the conflict varies in type and intensity, ranging from short-term to permanent economic consequences and limiting the ability to sustain livelihoods. The assessment results underline the critical economic situation in Gaza prior to the escalation of the conflict, with increasing poverty, unemployment and food insecurity levels.
Though availability of food in local retail markets was relatively unaffected during the conflict, access to markets was a challenge and prices of agricultural products significantly decreased due to the restrictions on product exports. This resulted in significant losses for farmers. Availability and prices of agricultural products may be further negatively impacted by closures of the commercial crossing and importation bans on agricultural inputs.
The study identified several groups that became vulnerable and food insecure as a result of the recent conflict escalation, including 2,000 internally displaced families, 20,000 laborers who lost their income, many owners of economic facilities, and farming communities. The escalation also affected the host community, the first line of support to those displaced and a group that also often requires support.
The assessment recommends reinforcing and expanding assistance programmes supporting livelihoods, resilience-building and income-generating opportunities for poor and food insecure households. Support both to those populations that were vulnerable prior to the escalation and to those newly in need will be crucial.