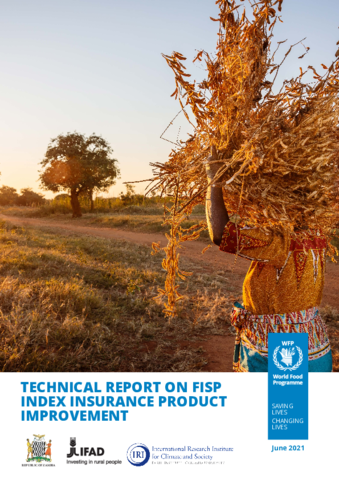 To increase uptake of weather index insurance in Zambia, the World Food Programme (WFP) is providing technical assistance to the Government to improve the design and management of the insurance product provided under the Farmers Input Support Programme (FISP)- the Government's agriculture input subsidy programme. This report presents main milestones and achievements of WFP and partners' technical support to the Government of Zambia
The Zambia Ministry of Agriculture (MoA), the International Fund for Agricultural Development (IFAD) and WFP, with the support of the International Research Institute for Climate and Society (IRI) and financial partners Mayfair, Zep Re and ACRE, collaborated on the design of an improved index insurance product for the Government of Zambia's Farmer Input Support Program (FISP) for the 2021/22 season.   
This improved product incorporates best practices from both the current FISP insurance product and WFP's Rural Resilience Initiative (R4) project. A key aspect of this "blended" index is incorporating the perspective of farmers to ensure that the product accurately reflects local patterns of vulnerability and risk. To this end, WFP and IRI supported MoA in the collection of focus group data from almost 1,000 agricultural camps across the country, the largest such exercise IRI has ever supported. This data was then used by the inter-ministerial technical working group to tune the index, using interactive tools developed by IRI.
This document presents an update on milestones, workshops and activities related to the FISP index insurance program in 2020/21, as well as a summary of the inter-ministerial technical working group on index insurance recommendations for the 2021/22 index.