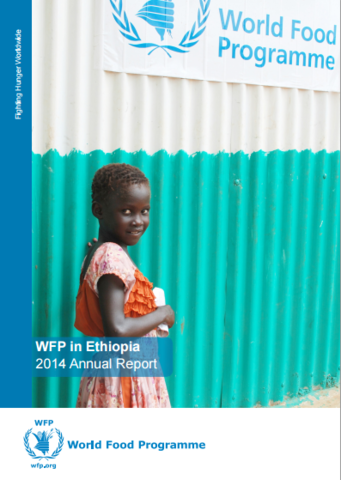 In 2014, the United Nations World Food Programme (WFP) assisted more than five million of the most vulnerable and food-insecure people in Ethiopia. Our assistance came in many forms, including regular food distributions, the use of cash and vouchers allowing people to buy food in local markets, and purchasing maize and beans from local smallholder farmers. 
One of WFP's largest operations, Ethiopia is a very important country for WFP globally in terms of innovation. The first humanitarian insurance policy was launched in Ethiopia 10 years ago and several resilience programmes, related to climate change have also emerged here.
The government's Agricultural Transformation Agency (ATA) has been a strategic partner and ally in making WFP Ethiopia the largest purchaser of local food through its P4P (Purchase for Progress Programme) among all WFP country offices worldwide. In this process, empowering women farmers has been a central objective.  
We are proud to say that after a three-year effort, more than 1,000 women joined four newly created women's cooperatives. More than 110 tons of maize and 18 tons of beans were delivered to WFP from these cooperatives, and -- weather conditions permitting -- women farmers are confident that they can boost production even further.  The capacity of a self-reliant Ethiopia is growing. 
In 2014, WFP purchased 34 percent of the food it used in Ethiopia, through its P4P programme and also through the local food procurement process. In 2014, cash distributions nearly doubled for refugee programmes and our logistics unit dispatched 486,000 metric tons of food for vulnerable Ethiopians but also for operations in the region: Somalia, Yemen and South Sudan. 
I would like to take this opportunity to thank all 779 of WFP's staff in Ethiopia, 92 percent of whom are Ethiopian nationals. Their commitment to getting the job done, whatever the obstacles, is the most essential ingredient in the success of our programmes. 
I would also like to express my gratitude for the continued generosity of our donors, without whom WFP could do nothing, and of course to our main partner, the Government of Ethiopia for its strong vision and close partnership around a common objective. 
Through the broad scope of our work in Ethiopia, we remain focused on one single mission; we are here to end hunger by improving food and nutrition security. And we welcome the opportunity to work with all those who share that vision and the collaborative spirit it requires.
John Aylieff,
WFP Ethiopia Country Director