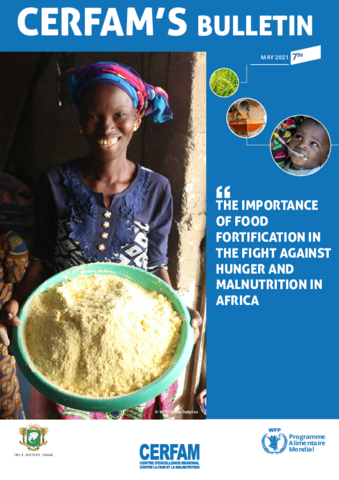 CERFAM's Bulletin published each quarter, is an opportunity offered to our partners to share information, in the form of an article or an interview. The seventh issue of the CERFAM's bulletin is under the theme of The importance of Food fortification in the fight against hunger and malnutrition.
This is the newsletter of the Regional Centre of Excellence against Hunger and Malnutrition. CERFAM's Bulletin is a quarterly publication intended to inform you of the progress of food and nutrition security in West and Central Africa and in Africa in general. This edition of the CERFAM bulletin is dedicated to nutrition with a focus on food fortification, with:
•           An interview of Mrs. Marie-Pierre POIRIER, Regional Director for West and Central Africa at UNICEF, who underscores the needs for essential strategies and measures to be implemented to fight against malnutrition in all its forms.
•           The President of the African Development Bank (AfDB), Mr. Akinwumi ADESINA underlines the importance of massive and sustained investments in nutrition which is a key factor for the development of human capital and economic and social growth in Africa.
•           Mr. Penjani MKAMBULA, Head of the Global Food Fortification Programme, at The Global Alliance for Better Nutrition (GAIN), reminds of the state of malnutrition and its main causes in Africa.
The bulletin also shares WFP's experience in food fortification in West and Central Africa, with a focus on rice, a key staple food in these regions.