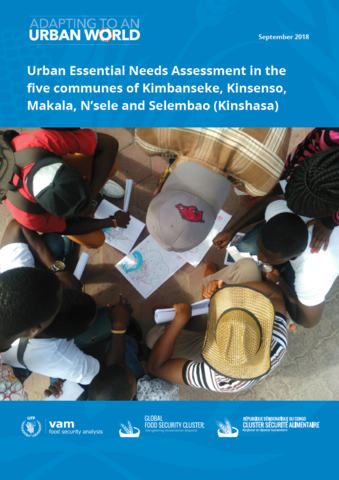 In recent years, the World Food Programme (WFP) has been increasingly operating in urban spaces in order to detect and respond to the limited access to food and other
essential needs of the most vulnerable urban inhabitants. Since October 2017, the WFP Country Office in the Democratic Republic of the Congo and the Vulnerability Analysis and Mapping (VAM) unit of WFP have been working together to design a comprehensive baseline assessment to inform programming and response planning by WFP or partners to any shocks that may occur in vulnerable communes of Kinshasa1 in the near future. These potential shocks include the effects of political instability which could affect the population's ability to access food and meet other essential needs.This report presents the results of a vulnerability analysis conducted through a food and essential needs lens. The first four chapters explore the socio-demographic characteristics of urban households, their livelihoods and their current level of vulnerability including monetary poverty, access to essential services and food insecurity. The fifth section provides estimates of how vulnerability could change in the event of instability. Various scenarios are presented with increasing levels of severity, from rumours to turmoil, enabling WFP and partners to have a sense of the consequences of a potential crisis.
The assessment has three main objectives. Firstly, it seeks to assess the prevalence and main drivers of vulnerability and food insecurity in the poorest communes (and within sub-communes) of Kinshasa. Secondly, it aims to show how people's access to food and other essential needs would evolve in the event of instability. Thirdly, it assesses the degree to which people can meet their essential needs as measured against a newly established minimum expenditure basket (MEB); in this way, the study serves as a baseline for continuous monitoring of the population's ability to access essential needs.