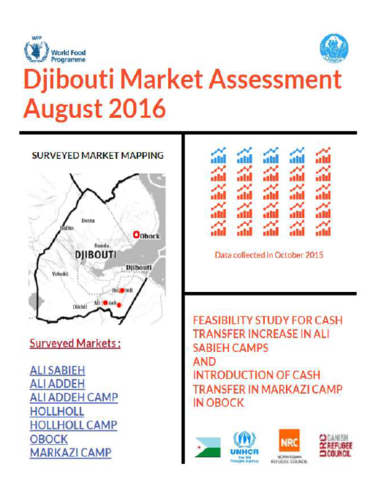 This report presents the findings of a market assessment conducted by WFP and partners1 during the last quarter of 2015 to determine the feasibility of cash based transfers (CBT) to refugees living in camps in Djibouti. Specifically, it aimed to: i) determine if the cash transfer implemented in Ali Addeh and Hol-Hol camps should be continued, and if the value of transfers should be increased; and ii) determine if cash transfers should be initiated in Markazi camp hosting Yemeni refugees.
The assessment used standard WFP market assessment methodology. Fundamentally, this seeks to establish if market conditions are conducive to assure consistent food availability and stable prices for key food commodities to guarantee cost effective access. It entailed secondary and primary data analyses.
The methodology used to gather this information included secondary data reviews; key informant interviews; focus group discussions; and the administration of a trader survey questionnaire which also included observations. The trader survey questionnaire, a key element of this assessment, was administered by 18 enumerators and 3 supervisors in October 2015 covering seven (7) markets around the three refugee camps. Data was captured using Open Data Kit (ODK) apps for mobile data collection on android tablets. Some 213 traders were interviewed using a structured questionnaire that covered: trader profile; commodities, sources and stocks; supply and demand conditions; price conditions; constraints to trader capacity to expand supply; and trading in refugee camps.