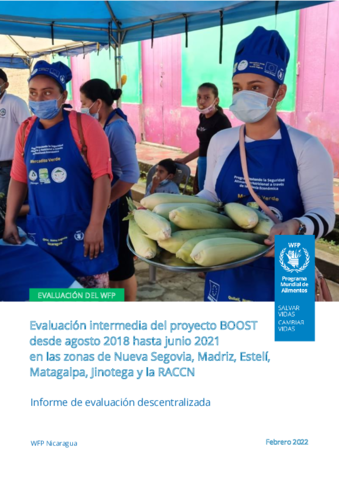 El presente informe de evaluación corresponde a la evaluación intermedia del proyecto Boosting Rural and Urban Economy in Times of Crisis and Beyond (BOOST). La evaluación descentralizada ha sido comisionada por la oficina de país de WFP en Nicaragua a Particip. La evaluación se ha encargado en un momento oportuno para informar la implementación de la siguiente fase del proyecto, con miras a un diseño más eficiente y eficaz, en base de los resultados intermedios del proyecto (antes de su evaluación final, que se realizará en 2023-2024).
La evaluación encontró que a pesar de un contexto adverso y de una crisis económica agravada por huracanes y la pandemia del COVID-19, el BOOST ha implementado las actividades programadas y ha atendido a más personas beneficiarias que lo planificado. El proyecto ha contribuido a la seguridad alimentaria de los pequeños productores/as y familias vulnerables, ha incentivado el acceso de la niñez a la educación gracias a la merienda escolar, ha apoyado la producción para la comercialización y para el autoconsumo y ha promovido la diversificación productiva.
La evaluación ha confirmado la pertinencia de los objetivos, la estrategia y el área geográfica del BOOST. Por otro lado, el informe encontró que el BOOST genera un entorno favorable al EEM y las mujeres acceden mejor a los productos del proyecto, pero que aún falta reforzar su control sobre los recursos y su participación en la toma de decisiones. Además, destaco que el proyecto puso en marcha prácticas innovadoras con ayuda de las TICs, que pueden ser oportunidades para mejorar el acceso de PPs al mercado y otros efectos.
El informe brindó 3 recomendaciones operativas y 3 recomendaciones estratégicas, enfocadas en la mejora del desempeño del proyecto:
Rec 1: Reforzar el apoyo del BOOST a la resiliencia y a la reducción de la vulnerabilidad de PPs ante el cambio climático.
Rec 2: Capitalizar las inversiones del BOOST en las capacidades tecnológicas de las cooperativas y avanzar hacia la reflexión sobre el rol de la digitalización en los sistemas agroalimentarios (incluyendo a PPs con una perspectiva de género).
Rec 3: Intensificar la capacitación sobre temas relativos a la nutrición en las actividades llevadas a cabo con personas beneficiarias del BOOST e integrar un enfoque de pueblos indígenas en el componente de merienda escolar.
Rec 4: Avanzar hacia el empoderamiento económico de las mujeres con un enfoque más transformador e integrar el tema de género de manera transversal en las actividades de sensibilización destinadas a los integrantes de los CAEs.
Rec 5: Acompañar a las OPRs hacia una mayor autonomía en sus procesos financieros y de refuerzo de capacidades.
Rec 6: Acompañar a las OPRs para que se apropien de una estrategia orientada a reducir la vulnerabilidad en las comunidades en las que están implantadas, llevando a escala la actividad de huertos familiares.