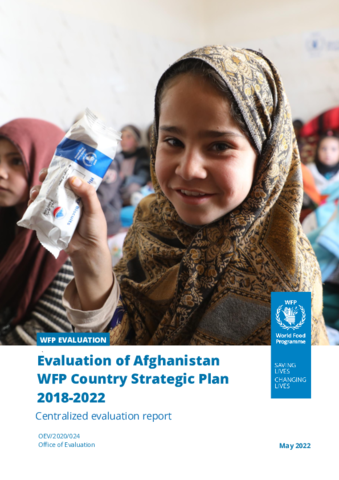 The evaluation was commissioned by the independent Office of Evaluation to provide evaluative evidence for accountability and learning and was originally timed to inform the design of the following WFP country strategic plan (CSP) in Afghanistan. It covers WFP activities implemented from January 2018 to May 2021.
The evaluation is based on data collected in April-May 2021. The findings, conclusions and recommendations were developed before the Taliban consolidated control over Afghanistan in August 2021. The evaluation assesses WFP's strategic positioning and role and the extent to which WFP has made the strategic shift expected by the CSP; WFP's contributions to strategic outcomes; efficiency and factors that explain WFP performance
It concluded that: 
WFP broadly responded to the growing and massive needs of the most vulnerable people by drawing on its comparative advantages despite increasingly fragile governance and extreme insecurity.
Some progress was made towards zero hunger through the various strategic outcomes, and WFP's contributions to the CSP strategic outcomes were the strongest in crisis response. This is not surprising considering the deterioration in the food security situation resulting from the increase in violence, the drought and the pandemic.
In increasingly challenging circumstances, WFP's contribution to strategic outcomes depended on deeper and more long-term partnerships.
WFP was able to adapt its response to COVID-19, notwithstanding some delays and pipeline breaks that were unavoidable.
| Document | File |
| --- | --- |
| Summary evaluation report | |
| Rapport succinct | |
| Informe resumido | |
| Summary evaluation report (Arabic) | |
| Overarching management response | |
| Réponse globale de la direction | |
| Respuesta general de la dirección | |
| Overarching management response (Arabic) | |
| Post-hoc quality assessment | |
| Terms of reference | |