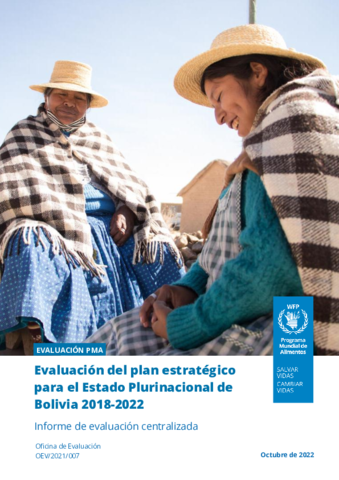 The evaluation was commissioned by the independent Office of Evaluation to provide evaluative evidence for accountability and learning to inform the design of the next WFP country strategic plan (CSP) in Bolivia. It covered WFP activities implemented from 2018 to September 2021.
Conducted between March 2021 and February 2022, the evaluation assessed WFP's strategic positioning and contributions to strategic outcomes (SOs); efficiency and factors that explain performance; and the extent to which WFP was able to respond to emergencies, including the COVID-19 pandemic.
It concluded that:
Overall assessment: The evaluation revealed specific contributions to each of the intended strategic outcomes throughout the CSP period. While the emergency response component was prioritized; nutrition, resilience and capacity strengthening were not addressed to the extent necessary to ensure the sustainability of achievements and limited WFP's ability to implement a clear long-term strategy.
Strategic positioning: significant and continuing obstacles to the operationalization of the CSP — limited resources, socio-political and COVID-19 crises — constrained WFP's ability to develop and implement a clear long-term strategy.
Focus of the CSP: Overall, the scope and quality of WFP's contribution to CSP strategic outcomes were significantly greater in respect of emergency response and CCS than resilience, nutrition or cross-cutting objectives.
Partnerships: the current level of joint effort with other United Nations entities is not deemed sufficient for the achievement of long-term intersectoral results and joining forces with strategic partners to provide comprehensive support is necessary.
Funding and advocacy: Resource mobilization efforts were not fully successful in part because of a lack of fully-fledged funding and communication strategies to facilitate engagement with Government and donors. The role played by WFP as a facilitator vis-à-vis the Government required great negotiation capacity and sensitivity, beyond the mere provision of technical expertise.
Efficiency: WFP made good use of limited capacity (in terms of quantity) and resources and WFP generally implemented activities in a timely manner; however, the limited coverage and the small-scale and dispersion of activities did not favour synergies or economies of scale.
Participatory vulnerability analysis and targeting: The short-term interventions aimed at meeting immediate needs have not yet led to community ownership or facilitated strategic links between humanitarian and development work. Some limitations were observed in the learning dimensions of the monitoring system.
| Document | File |
| --- | --- |
| Summary evaluation report | |
| Rapport succint | |
| Informe resumido | |
| Summary evaluation report (Arabic) | |
| Management response | |
| Réponse de la direction | |
| Respuesta de la dirección | |
| Management response (Arabic) | |
| Post-hoc quality assessment | |
| Summary terms of reference (English) | |
| Summary terms of reference (Spanish) | |
| Terms of reference | |