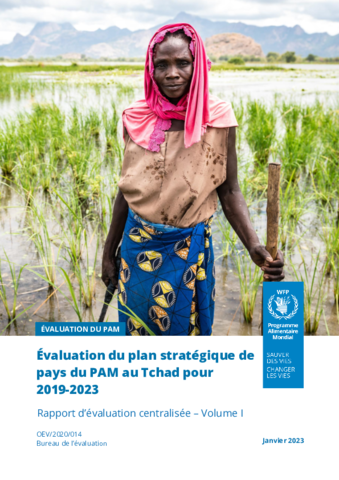 The evaluation was commissioned by the independent Office of Evaluation to provide evaluative evidence for accountability and learning to inform the design of the next WFP country strategic plan (CSP) in Chad.
It was conducted between June 2021 and June 2022, covering activities implemented from 2019 to October 2021. It also considered preceding operations to assess the strategic shift expected with the introduction of the CSP.
The evaluation concluded that: 
The first CSP for WFP in Chad has been implemented in an extremely challenging context characterised by multiple crises. The extent of these crises was unforeseeable, and the level of financial and human resources anticipated in the CSP were insufficient to respond. Resources did not augment in proportion to increasing needs limiting WFP's ability to address them.
Overall, WFP achieved stronger results in the strategic outcomes oriented towards crisis response than for those with a focus on building resilience.
| Document | File |
| --- | --- |
| Summary evaluation report | |
| Rapport succint | |
| Informe resumido | |
| Summary evaluation report (Arabic) | |
| Management response | |
| Réponse de la direction | |
| Respuesta de la dirección | |
| Management response (Arabic) | |
| Post-hoc quality assessment | |
| Terms of reference | |