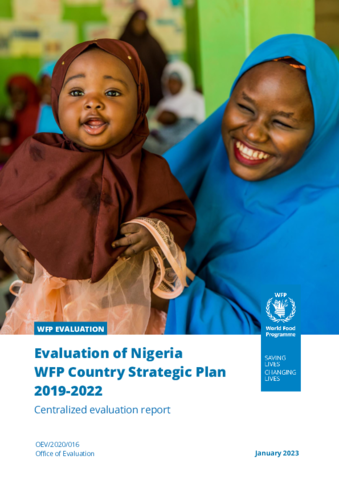 The evaluation was commissioned by the independent Office of Evaluation to provide evaluative evidence for accountability and learning to inform the design of the next WFP CSP in Nigeria.
It covers WFP activities implemented between 2019 and 2021 and assesses continuity from the previous programme cycle, the extent to which the CSP introduced strategic shifts and implications for such shifts for performance and results.
The evaluation concluded that:
WFP can report on major achievements as part of the first Nigeria CSP. Against the background of a deteriorating humanitarian situation, WFP managed to refocus and scale-up its efforts to respond to growing emergency needs, but this came at the expense of implementing the anticipated strategic shift towards development support. WFP was at times challenged in fully adhering to humanitarian principles and there is still room for strengthening WFP's approach protection, accountability to affected populations and gender equality.
Performance against targets was solid with the available resources in mind and WFP was capable to play its part in preventing a humanitarian catastrophe. However, significant numbers of people in need remained without assistance, due to funding shortfalls, unclear division of responsibilities between agencies, and beneficiary management challenges.
Nascent initiatives in resilience building, capacity strengthening and policy coherence have put WFP on the map locally and have cemented WFP's good reputation with national and local authorities and partners but are yet to mature in sustainability.
| Document | File |
| --- | --- |
| Summary evaluation report | |
| Rapport succint | |
| Informe resumido | |
| Summary evaluation report (Arabic) | |
| Management response | |
| Réponse de la direction | |
| Respuesta de la dirección | |
| Management response (Arabic) | |
| Post-hoc quality assessment | |
| Summary terms of reference | |
| Terms of reference | |