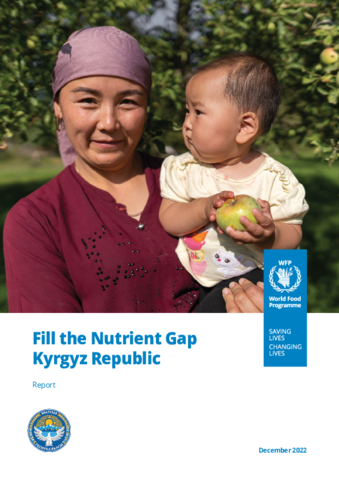 The Kyrgyz Republic is facing a complex challenge in improving nutrition. Households face a triple burden of malnutrition with individuals suffering from micronutrient deficiencies, overweight and non-communicable diseases.

Nutrient-adequate diets cost three times more than diets that meet only energy needs.
In 2020, almost all households in the Kyrgyz Republic were able to afford a diet that meets energy needs, but at least 2 in 5 households (38 percent) were unable to afford a nutritious diet.
Poor diets contribute to all forms of malnutrition in the Kyrgyz Republic. Rates of overweight and stunting in children are similar and consumption of unhealthy foods is prevalent.
National social protection programmes are essential to supporting the most vulnerable households to afford nutritious diets. However, without vertical and horizontal expansion, these programmes alone cannot close the affordability gaps.
School feeding offers an opportunity to prevent malnutrition in children. School meals that include fortified food items and foods from a diversity of food groups (such as cereals, animal-source foods, pulses and vegetables). improve micronutrients intake.
Women of reproductive age suffer from micronutrient deficiencies, overweight and obesity. Micronutrient supplementation can improve nutrient intake which can support good nutrition.
Large scale food fortification is an effective mechanism to deliver essential micronutrients through commonly consumed staple foods. Adherence to fortification standards is essential to providing access to fortified foods. Improving national fortification standards within legislation can increase the impact of fortification on nutrition.
Bean and fish production has potential to grow. Increasing accessibility to fish and beans can support consumption and improve access to key micronutrients.
Household assistance programmes help households to cover the cost of a nutritious diet. By providing fortified products, in-kind assistance has a higher potential to cover the cost of a nutritious diet.
The impact of cash transfers on dietary quality can be maximised if a household uses the cash to purchase diverse nutritious foods. Social Behaviour Change (SBC) is needed to encourage that households receiving the transfer use it to purchase diverse, nutritious foods.
There is no single solution to improving nutrition outcomes in the Kyrgyz Republic. Combining nutrition-sensitive interventions with social protection and assistance programmes can contribute towards closing a household's affordability gap.