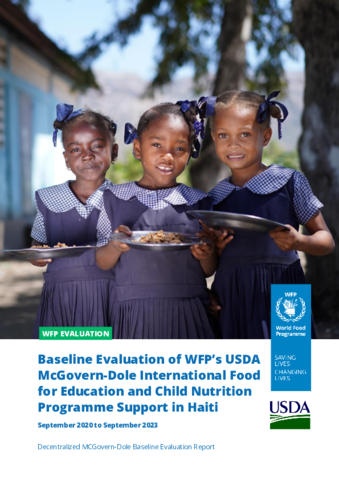 Findings and recommendations to inform new policies and country strategic plans


This is the baseline evaluation for the World Food Programme's (WFP) McGovern-Dole International Food for Education and Child Nutrition Programme support in Haiti. The programme will run from September 2021 until June 2023 and is financed by the Foreign Agricultural Services (FAS) of the United States Department of Agriculture (USDA). This baseline study was commissioned by WFP's country office (CO) in Haiti and was executed by The KonTerra Group. It will be followed by an endline evaluation in 2023. The baseline data collection took place between November 16 and December 15 2020. The objective of both the baseline and the endline evaluation, for which the evaluation team has also been commissioned, is accountability to beneficiaries and donors as well as learning.
Besides the USDA and the WFP's CO, the main intended users of this evaluation at the institutional level are the Ministry of Education (MoE) (ministère de l'Éducation nationale et de la Formation professionnelle - MENFP) and the National School Canteens Programme (NSCP) (Programme national de cantines scolaires - PNCS), both of which are directly concerned with the subject of the programme. Other intended users are the direct implementing partners: Catholic Relief Services (CRS), the Bureau national de développement (BND),[1] the Ananda Marga Universal Relief Team (AMURT),[2] and Plan International. The WFP Regional Bureau (Panama) (RBP) may use the report for regional learning.
The baseline sets out the starting values of WFP's McGovern-Dole programme in Haiti and a situational analysis of the baseline conditions. The baseline values and situational analysis are framed with the objective of informing the final evaluation questions that will analyse the coverage, relevance, effectiveness, efficiency, sustainability and impact of the intervention. Three questions from USDA's learning agenda will also be answered in the final evaluation: 1) School meal programme implementation: What community-level systems of governance and management are required for the successful implementation and sustainability of school meal programmes?; 2) Agricultural evidence gaps: How can a combination of local procurement at harvest time be supplemented with international food aid to promote a locally and/or nationally sustainable school meals programme?; and 3) Government investment: What types of incentives (and in what contexts) are most effective for securing local or national government investment in school meal programmes? What are the barriers and challenges to securing investment?
A recommendation on monitoring was formulated to enable better endline evaluation; and five further recommendations provide strategic insights into the programme's rationale and implementation.